Chelsea Clinton attends New York protest against Donald Trump 'Muslim ban'
'Yes. We will keep standing up for a country that matches our values and ideals for all,' says Hillary Clinton's daughter
Maya Oppenheim
Monday 30 January 2017 11:28 Comments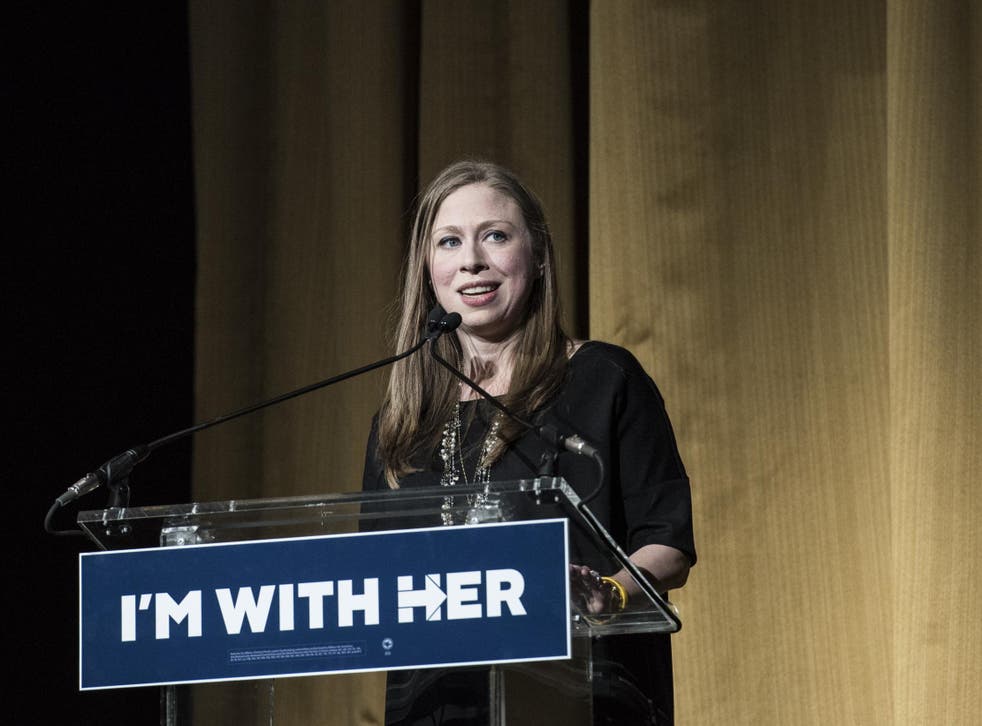 Chelsea Clinton has joined mounting protests in New York City against Donald Trump's immigration ban.
The former First Daughter, who is the only child of Hillary and Bill Clinton, shared a series of photos from the demonstration in Battery Park on Sunday afternoon.
Thousands of people gathered at the park in lower Manhattan which is in sight of the Statue of Liberty to denounce the President's "Muslim ban". Across the US, protests were held at over 40 locations protesting the billionaire property developer's controversial executive order.
Chelsea posted a photo of a protester holding a sign which read "Love Trump's hate" - the emotional plea made by her mother Hillary Clinton just hours before she went to the polls in November. She also shared a picture of a placard which read "get used to this picture Don".
"Yes. We will keep standing up for a country that matches our values and ideals for all," the 36-year-old said on Twitter.
The former Democrat presidential candidate also expressed her support for the protests which swept across the US at the weekend.
"I stand with the people gathered across the country tonight defending our values & our Constitution. This is not who we are," Ms Clinton wrote on Twitter.
Last week, Mr Trump signed an executive order which suspended the entire US refugee admissions system for 120 days and halted the Syrian refugee programme indefinitely. It also banned entry for people from seven majority-Muslim countries: Syria, Iran, Yemen, Iraq, Sudan, Libya and Somalia for 90 days.
The controversial orders Donald Trump has already issued

Show all 9
Mr Trump said he would prioritise Christian refugees over those of other religions. Despite this, in a statement on Sunday, the President insisted the executive order was not a "Muslim ban" of the kind he pushed for on the campaign trail.
The ban has unleashed chaos and outrage across the world, with people blocked from boarding US-bound flights and detained in American airports.
Chelsea recently came to the defence of the President's 10-year-old son, Barron Trump, who was subject to a barrage of memes mocking his facial expressions and accusing him of looking bored on inauguration day.
"Barron Trump deserves the chance every child does-to be a kid. Standing up for every kid also means opposing @POTUS policies that hurt kids," she wrote on Twitter.
Register for free to continue reading
Registration is a free and easy way to support our truly independent journalism
By registering, you will also enjoy limited access to Premium articles, exclusive newsletters, commenting, and virtual events with our leading journalists
Already have an account? sign in
Join our new commenting forum
Join thought-provoking conversations, follow other Independent readers and see their replies