Chicago has a new Public Enemy No 1 - Joaquin 'El Chapo' Guzman... the world's most powerful drug trafficker
Drugs overlord Shorty Guzman becomes the first person to be given the dubious distinction since Al Capone
Tim Walker
Friday 15 February 2013 20:09 Comments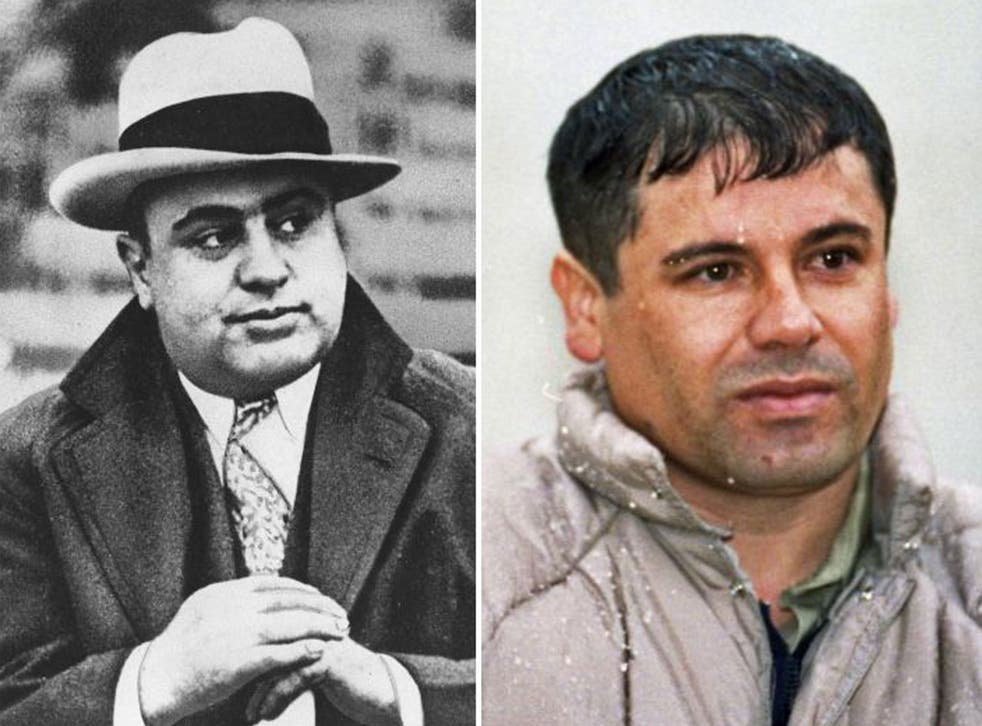 It is a title that has gone unclaimed for more than 80 years, since Al Capone was named Chicago's Public Enemy No 1 following the 1929 St Valentine's Day massacre, which left seven rival mobsters dead.
The Chicago Crime Commission chose Valentine's Day this year to award the same dubious distinction to a new recipient: Joaquin "El Chapo" Guzman, leader of a vicious Mexican cartel, and – according to the US Treasury Department – the world's most powerful drug trafficker.
The 5ft 6in Guzman – whose nickname means "Shorty" in Spanish – is the boss of the Sinaloa cartel, which federal agents believe supplies most of the drugs sold on the streets of Chicago. Though Guzman is thought to live at least 1,500 miles away in the mountains of western Mexico, Jack Riley, the top Chicago agent for the US Drug Enforcement Administration, said on Thursday that the city's law enforcement personnel have to act as if they were on the Mexican border.
Chicago is not simply a destination for narcotics, it is also a distribution hub, from which they are shipped to the rest of the US. "This is where Guzman turns his drugs into money," Mr Riley said.
Drug trafficking is also blamed as the underlying cause of gang violence that has sent the homicide rate in Chicago soaring. There were 506 murders reported in the city last year, a 16 per cent increase on 2011. The same period saw 414 homicides in New York and just 297 in Los Angeles.
The non-governmental Chicago Crime Commission (CCC), founded in 1919 to address a crime wave, was the first organisation to create a list of "Public Enemies". Al Capone topped the first list in 1930; CCC president JR Davis said in a statement this week that not since then "has any criminal deserved this title more than Joaquin Guzman … His agents are working in the Chicago area importing vast quantities of drugs for sale throughout the Chicago region and collecting and sending to Mexico tens of millions of dollars in drug money."
Forbes magazine has included Guzman on its list of global billionaires since 2009, and estimates his fortune at approximately $1bn (£644m). The US has indicted him on federal trafficking charges and demanded his extradition if he is ever caught; the reward offered by the US for his capture currently stands at $5m, while the Mexican government has offered 30m pesos (£1.5m) for information leading to his arrest.
Guzman, who was born in Sinaloa province on the Mexican Pacific coast some time in the 1950s, rose from his poor background to become the head of the cartel, following the arrest of its former boss, Felix Gallardo, in 1989. He was jailed himself four years later, but broke out of the maximum security Puente Grande prison in 2001, after he bribed guards to help him escape hidden in a laundry cart. His organisation transports marijuana, cocaine, methamphetamine and heroin from Latin America to the US by road, air and even through tunnels. South of the border, the Sinaloa cartel is engaged in a bloody turf war with the rival Zetas cartel, a conflict that has killed tens of thousands. A number of his deputies have been arrested on both sides of the border, but Guzman has managed to evade capture.
Al Capone gained notoriety during a similar, if somewhat smaller gang war, when he built a criminal empire based on bootlegging in Chicago during Prohibition. He was designated the city's Public Enemy No 1 the year after his South Side Italian gang killed seven associates of the North Side Irish gang led by George "Bugs" Moran, in an attack Capone ordered on 14 February 1929.
Capone was eventually jailed for tax evasion in 1931. "Compared to Guzman, Al Capone looks like an amateur," said Mr Davis.
Mr Riley told the Associated Press news agency that Guzman was considerably more ruthless than his iconic predecessor. "If I was to put those two guys in a ring, El Chapo would eat [Capone] alive," he said.
Windy city's most wanted: Capone vs Guzman
Scarface v El Chapo
Al Capone gained his Scarface nickname after his left cheek was slashed in a saloon bar that doubled as a brothel. Some say Joaquin Guzman is a more ruthless character but the reason for his nickname is less imposing: it means "shorty".
Five Points Gang v Sinaloa
Al Capone joined the Five Points Gang under Johnny Torrio, who brought him to Chicago in 1919 to help him run his brothel empire. But it was the onset of Prohibition that allowed Capone to gain power through bootlegging alcohol after Torrio retired. Guzman was introduced to the Sinaloa drugs cartel by his uncle and became an expert in trafficking narcotics across borders. He has been on the run since 2001 when he escaped from a Mexican jail in a laundry cart.
$100m v $1bn
Capone was estimated to be worth $100m in 1927, while Guzman's current fortune is put at $1bn.
Seven v 70,000
Capone is remembered for the brutal killings of seven gangsters in the St Valentine's Day massacre. The drugs war in which Guzman is entangled has caused an estimated 70,000 deaths.
Register for free to continue reading
Registration is a free and easy way to support our truly independent journalism
By registering, you will also enjoy limited access to Premium articles, exclusive newsletters, commenting, and virtual events with our leading journalists
Already have an account? sign in
Join our new commenting forum
Join thought-provoking conversations, follow other Independent readers and see their replies