'A little bit of normalcy': Chicago River dyed green after mayor reverses St Patrick's Day decision
City opted 'to honour the long-standing tradition' despite pandemic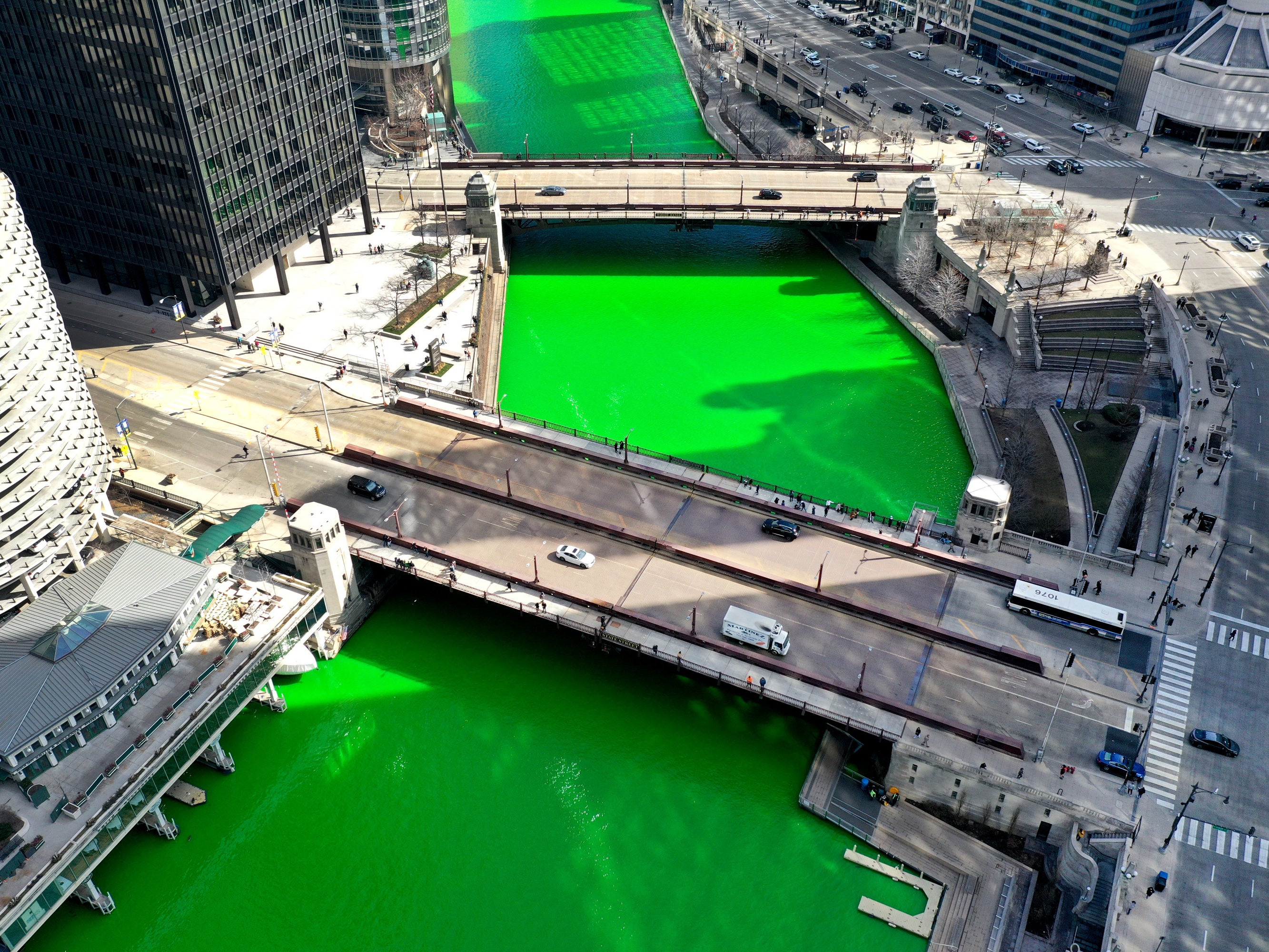 The Chicago River has been dyed bright green in celebration of St Patrick's Day in a surprise decision reversal by the city's mayor.
Bold green dye was dumped into the river on Saturday despite mayor Lori Lightfoot's earlier insistence that the waterway would not be tinted for a second year due to coronavirus fears.
In 2020, the mayor cancelled the city's 2020 parades and the river dyeing just days before they were set to take place as the coronavirus pandemic began to take hold of the US.
As the pandemic lingers across the country, the mayor called off the parades again this year and announced that the river would not be dyed. Chicago has recorded nearly 250,000 cases of the virus since the pandemic began, according to the government.
However, in a surprise reversal, a mayor's spokesperson told The Chicago Tribune in a statement that they opted "to honour the long-standing tradition" and partner with the city's plumbers union to dye the river.
"We're happy that Mayor Lightfoot decided to continue with this tradition because we truly missed it last year, as a lot of other things in 2020," one observer, Lori Jones, 59, told The Tribune.
Thomas Bender, 51, told the newspaper that the city's surprise decision brought with it a "little bit of normalcy that I'm sure is sadly missed by a lot of people."
The spokesperson confirmed that the event was not publicised in advance "in order to minimise crowds and avoid congregating."
"Furthermore, the Riverwalk will be closed on Saturday and Chicagoans looking to see the River during the day are urged to 'keep it moving' and celebrate safely and responsibly," the spokesperson said.
"The beauty of it was normally there's a ton of people up here, you can hardly get to the railing, so it made it a little more convenient this year," city resident Mike Smith, 69, told The Tribune. "Just one of those traditions we don't ever want to pass up. It's a biggie."
According to the newspaper, the tradition dates back to 1962, when Mayor Richard J Daley reportedly suggested turning part of Lake Michigan green for the annual celebration.
A plumbers union official is said to have suggested a downtown stretch of the river instead and the unique custom began.
Additional reporting by the Associated Press
Join our commenting forum
Join thought-provoking conversations, follow other Independent readers and see their replies