Chicago sees six days without gun deaths despite President Trump's claims about urban crime
City is constant focus to justify President's claims of rising crime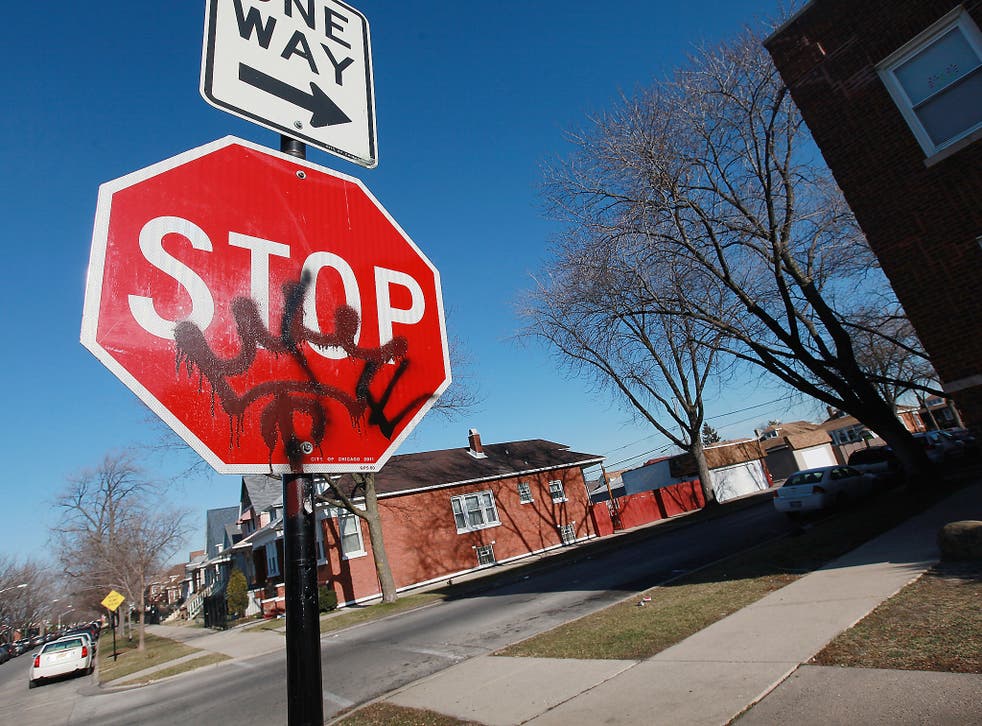 The city of Chicago - long plagued with a level of gun deaths that have garnered international headlines - has just marked six days without any gun-related killings.
From 26 February to 4 March there were no fatal shootings. The last time it enjoyed such a period free of gun deaths was between 3 and 9 December 2012 and the last single day without a homicide due to gun violence was 28 February 2015.
At this point in 2016 there were 520 shootings and 109 resulting homicides. In 2017 thus far, there have 539 shootings and 103 deaths, said the Chicago Tribune.
Though the streak is seen as positive by police and community groups, Maria Moser, Senior Director of Teaching and Learning at the National Council of La Raza, a Latino civil rights advocacy group, said it was somewhat of "a random fluke; it's not like there weren't any shootings at all in those six days."
Ms Moser, who lives in the Beverly neighborhood of south Chicago, said the underlying issue that gives her pause about celebrating the record is a real lack of trust in police in neighbourhoods where the highest concentration of gun homicides are taking place, the predominantly black and Latino areas of the south side.
In January 2017, the Department of Justice issued a report on the Chicago Police Department that outlines problems with community relations and recommendations for law enforcement officials to take.
The controversial orders Donald Trump has already issued

Show all 9
"I don't see any indication that the police are changing anything to improve lack of trust...or address any of the issues laid out in the [DOJ] report," she told The Independent.
She explained that politics and the state budget crisis were also to blame for the number of deaths and why six days without a gun homicide is a record in the first place.
Illinois has not had a state budget in nearly two years and as a result of prior budget problems in 2011 and newer cuts and uncertainty, several social service programmes, mental health facilities, and 50 schools have been closed.
Ms Moser cited one particularly successful program called CeaseFire. The organisation essentially treats gun violence as an infectious disease and goes about finding a cure for it as they would any other health-related problem. Founded by former World Health Organization director Dr Gary Slutkin, CeaseFire reduced shootings in the West Garfield Park neighbourhood by 67 per cent in the first year of implementing its model.
Chicago pushes for police transparency
However, CeaseFire relies in part on state funding for operations and because of budget cuts, the group is unable to be fully staffed in most of the southside neighbourhoods where they operate. The group also works around police efforts because of the high levels of distrust in violent areas and so Ms Moser noted that Mayor Rahm Emanuel's political favour with the Chicago Police Department could have played a part in budget cuts to give police more influence in those communities.
The University of Chicago's Crime Lab also issued a report in January that tried to explain the spike in Chicago gun violence between 2015 and 2016 and could be looked to in order to explain the decrease in violence over the six day period.
Crime Lab Director Jens Ludwig told UChicagoNews that the report took into account factors often cited by the media for an explanation of high levels of gun violence in the city like "lax gun laws in nearby states, how local courts handle gun cases, or social conditions in the city like poverty and racial segregation" but that none of those really explain the rise because "these factors did not change abruptly at the end of 2015." None of these factors seemed to have abruptly changed before the beginning of the six days either.
Though both the DOJ and University of Chicago reports point to a need for a change in police procedures to increase trust, community groups are doing their part. The University of Chicago's hospital has opened an adult trauma center, putting a Level 1 trauma center closer to the southside communities most affected by shootings.
Previously, victims would have to be taken across the entire city to hospitals in the northern part of the city to receive treatment for gunshot wounds. Mothers Against Senseless Killings is a group of women hold community cleanup events, 'sit ins' taking over blocks to act as a neighbourhood patrol, and support groups for families of victims.
Join our new commenting forum
Join thought-provoking conversations, follow other Independent readers and see their replies