Three children and 245 animals found in 'deplorable living conditions' with rotting food, dead rodents and feces
Police charged three adults with cruelty and abuse after entering 'the worst' house in Edgewater, Florida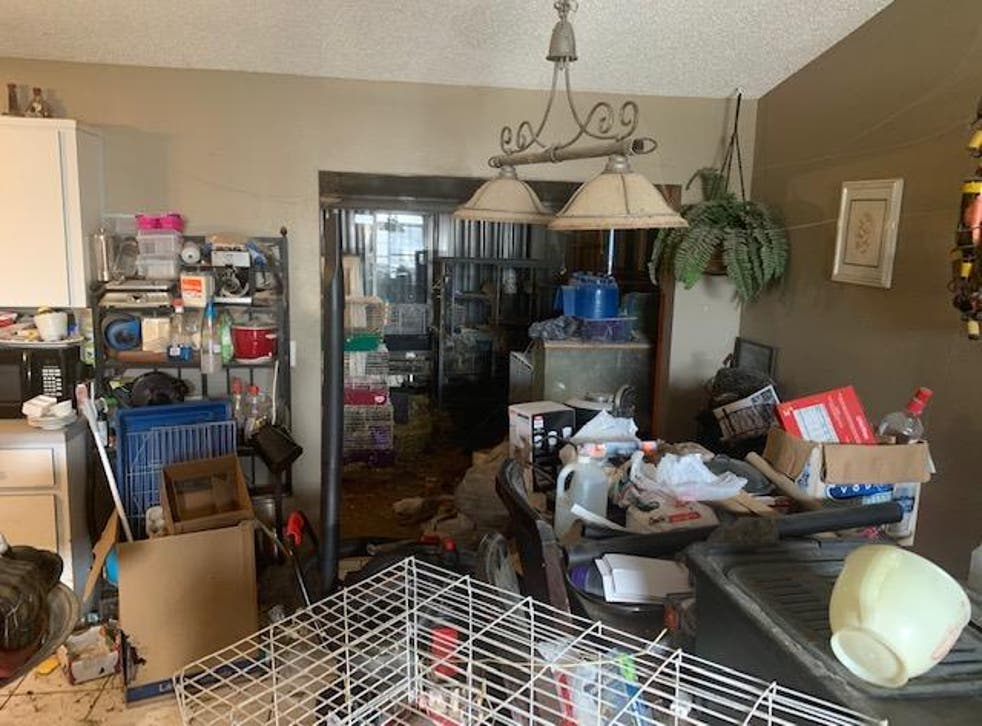 Three children and 245 animals were removed from a Florida home after police found them in "deplorable living conditions" on Sunday.
Following medical and mental health evaluations, Melissa Hamilton, Greg Nelson and Susan Nelson will each be charged with three counts of child abuse and 66 counts of animal cruelty after police discovered the children — ages 8, 9 and 10 — living among hundreds of animals, as well as rotting food, animal urine and feces, and a dead guinea pig in a cage.
The children were placed in the custody of the Department of Children and Families and housed with a responsible family member, according to the Edgewater Police Department.
Edgewater Animal Control discovered four dogs, two cats, nine guinea pigs, a dozen rabbits, four hamsters, 10 sugar gliders, 14 birds, two geckoes, seven bearded dragons, a tortoise, a hedgehog, 95 mice, and 60 adult rats as well as 23 rat pups.
World news in pictures

Show all 50
Police initially were dispatched to the home on Sunday afternoon to check on the wellbeing of the children after Mr Nelson had called police after his girlfriend, Ms Hamilton, had threatened to kill herself. It was the local police department's fifth visit to the house this year.
Mr Nelson told police he had intended to end a relationship with his wife, Ms Nelson, as well as Ms Hamilton, when Ms Nelson tried to stop him from removing the children from the home.
Upon entry, "it was immediately evident neither the children nor the animals were being cared for properly," according to police.
Edgewater Police Chief Joe Mahoney said the home was "probably the worst house" he has ever entered.
Ms Nelson was booked into Volusia County Jail on charges of child abuse and animal cruelty.
Mr Nelson was admitted to an area hospital with chest pains and will be booked into the jail upon his release.
Police said Ms Hamilton underwent a psychiatric evaluation after taking 17 Xanax pills and telling authorities she doesn't want to live.
Amanda Leclair, managing veterinarian at the Edgewater Animal Shelter, told local newspaper the Daytona Beach News Journal that the city's Animal Control Department called the shelter after responding to a "hoarding case" that she believes was an illegal animal breeding operation.
Leclair coordinated with shelter workers, rescue groups and friends to remove the animals on Sunday night.
The animals were taken to the shelter, which successfully placed the birds and reptiles with foster caregivers while shelter workers delivered medical care to the remaining animals. As of Tuesday morning, the shelter had been inundated with donations and has raised more than $5,400 for necessary medical care.
Independent Minds Events: get involved in the news agenda
The shelter is "in the process of evaluating and treating all of these animals and will advise when they are available for adoption."
Register for free to continue reading
Registration is a free and easy way to support our truly independent journalism
By registering, you will also enjoy limited access to Premium articles, exclusive newsletters, commenting, and virtual events with our leading journalists
Already have an account? sign in
Register for free to continue reading
Registration is a free and easy way to support our truly independent journalism
By registering, you will also enjoy limited access to Premium articles, exclusive newsletters, commenting, and virtual events with our leading journalists
Already have an account? sign in
Join our new commenting forum
Join thought-provoking conversations, follow other Independent readers and see their replies