Child marriage chart reveals girls can wed at 12 in some parts of the US - as lawmakers battle to raise age to 16
Several states - including Massachusetts - allow children to get married 'in exceptional circumstances'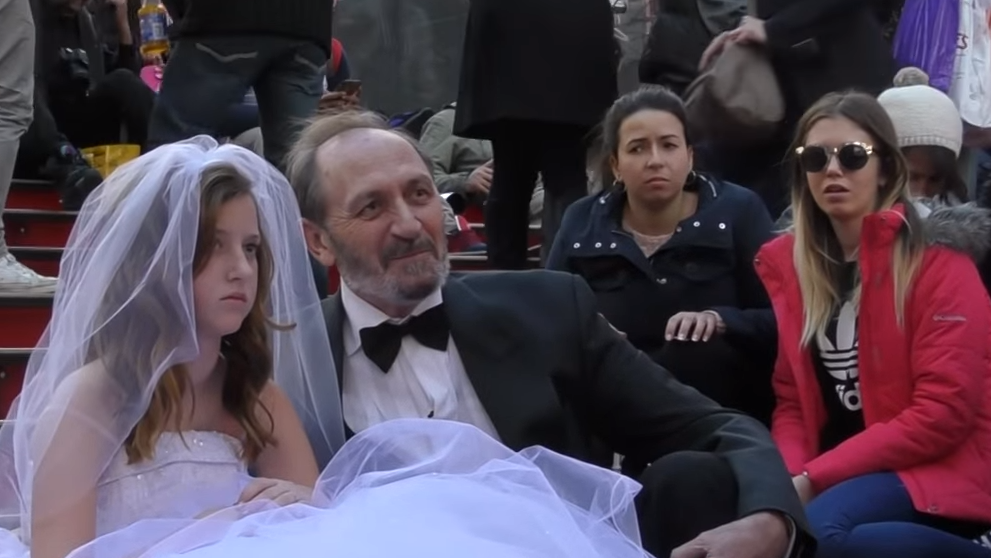 Lawmakers in America are battling to overturn some of the country's most archaic laws, which stipulate that children as young as 12 can be married.
In the state of Virginia, it is officially still legal for girls as young as 12 or 13 to be brought to a courthouse with evidence of a pregnancy and wed, a practice that has come under increased scrutiny thanks to the Virginia Senator Jill Vogel R-Fauquier.
Legislation she introduced, which is now moving through the Virginia General Assembly, seeks to raise the minimum age for marriage to 16 to bring it in line with other states - and similar moves are under way in Maryland and New York, where 3,853 minors were married between 2000 and 2010, according to State Health Department data published in the New York Times.
In Virginia itself, according to state health statistics, more than 4,500 minors were married between 2000 and 2013, including about 220 who were 15 or younger.
And a separate Statista chart plotting the minimum legal age of marriage for girls worldwide reveals that the US is one of the lowest on record, with several places - including Massachusetts - allowing girls as young as 12 to be wed with the consent of a judge.
It is matched only by Saudi Arabia and Yemen, where age of consent for marriage ranges between nine and 13 years old.
"It's rarely the case that the 13-year-old is marrying a 17-year-old," Ms Vogel told Washington Top News.
"It's more often the case that it is a child marrying somebody decades older than they are."
Ms Vogel pointed out that often, young women who go on to be abused in early marriages are not old enough to go to court to get a protection order - and aren't even old enough to drive.
She said officials should be looking out for what's in the child's best interests - not handing out marriage licenses.
"Someone should be asking the question, 'Well if this 13-year-old is pregnant, isn't that evidence of statutory rape?'" Ms Vogel said. "Is that not a crime? They are truly victims in every way."
Child Bride social experiment in NYC
Senate Bill 415, which passed in the Senate last month, has passed in a House sub-committee and in a full-committee and is due to face a vote.
The bill would see those between 16 and 18 having to petition courts for a marriage license - at which point a judge would need to determine whether or not they were mature enough or were being coerced.
The judge could also grant emancipation as part of the petition, giving teens similar rights to adults under the law.
But Ms Vogel said she was surprised at what she found when researching marriage laws in other states, which she said acted as a "veil" to sex abusers to protect themselves from prosecution.
Meet Thea, Norway's 12-year-old child bride
Show all 4
There is currently no minimum age for marriage in the Commonwealth.
In the UK legal consent can be given as young as 16 - as long as it's with parental consent.
In July last year, the Spanish government announced it was to raise the marriage age from 14 to 16 to bring it into line with the rest of Europe.
Estonia now has the lowest marriage age in Europe with teenagers able to wed at 15 with parental approval.
Globally, the average legal age of marriage for boys is 17 and 16 for girls but many countries permit them, particularly girls, to marry much younger.
According to the campaign group Girls Not Brides, one in three women in the developing world are said to be married before they turn 18.
Social experiment reveals people's reactions to seeing a child bride
In Niger, for example, where the age of legal marriage for girls is 15, 76 per cent of girls are believed to be married before their 18th birthday.
And some countries only permit marriage among the young for certain groups.
According to the US state department's humans right report on Trinidad & Tobago from 2014, though the official marital age is 18 for men and women, Muslims and Hindus have a separate Marriage Act.
Muslims are permitted to get married at 16 for men and 12 for girls and Hindus at 18 and 14.
Join our commenting forum
Join thought-provoking conversations, follow other Independent readers and see their replies