Children separated from families face higher risk of being trafficked, US state department warns
'Removal of a child from the family should only be considered as a temporary, last resort'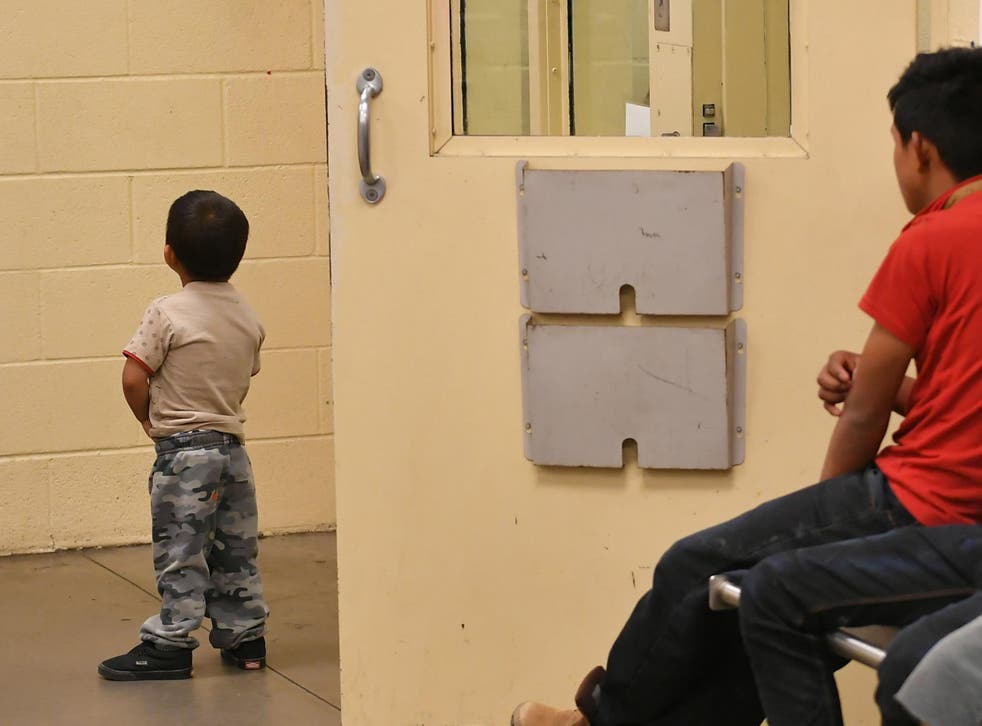 The US State Department is warning that children removed from their families and placed in institutional care are at heightened risk of being trafficked.
The State Department's annual Trafficking in Persons report comes as the Trump administration faces backlash over its "zero tolerance" immigration policy at the US-Mexico border, where more than 2,300 families have been forcibly separated and children have been placed in state-run detention centres.
The report ranks foreign governments in their efforts to combat slavery and sex trafficking.
According to the report, removal of a child from the family "should only be considered as a temporary, last resort". It also explains that children held in "government-run facilities, can be easy targets for traffickers".
The report states that children separated from their parents are especially vulnerable targets as "residential institutions are unable to meet a child's need for emotional support that is typically received from family members or consistent caretakers," and that traffickers may exploit "a child's need for emotional bonding stemming from the absence of stable parental figures".
World news in pictures

Show all 50
Donald Trump has justified the severity of his "zero tolerance" policy on purported evidence of child smuggling, saying it is "the worst it's been in history...you think back 200, 500, 1,000 years ago--the worst it's ever been. Women smuggling, child smuggling."
However, the report makes no specific mention of historic records of child smuggling across the US-Mexico border. Countries are ranked in "Tiers" 1-3, with an additional "Tier 2 watchlist," 1 being most compliant with anti-trafficking standards, 3 being the least. Mexico is ranked as tier 2.
Melania Trump visits Arizona border patrol facility: 'I'm here to support you'
The president recently scaled back his policy, ending family separations with an executive order after facing bipartisan criticism.
The report is introduced in a signed letter by Secretary of State Mike Pompeo. Formerly the director of the CIA, Mr Pompeo has been in office just over two months, replacing the former Secretary of State Rex Tillerson after he was fired following months of tension with the president.
In an interview with CNN on Tuesday Mr Pompeo said: "I am not at all concerned that anyone in the world can look at the United States and understand it to be anything but a beacon of hope, democracy and freedom."
"We have a long history of that and it has continued under the Trump administration," Mr Pompeo added, dismissing concerns about the uproar over the Trump administration's border policy.
"I have the amazing blessing of being the foreign minister for the most generous nation in the history of civilization."
The US State Department did not immediately return request for comment.
Register for free to continue reading
Registration is a free and easy way to support our truly independent journalism
By registering, you will also enjoy limited access to Premium articles, exclusive newsletters, commenting, and virtual events with our leading journalists
Already have an account? sign in
Register for free to continue reading
Registration is a free and easy way to support our truly independent journalism
By registering, you will also enjoy limited access to Premium articles, exclusive newsletters, commenting, and virtual events with our leading journalists
Already have an account? sign in
Join our new commenting forum
Join thought-provoking conversations, follow other Independent readers and see their replies