Father flies hundreds of miles to apologise to family after his son steals their Christmas lights
The three assailants, in their 20s, stole a dinosaur wearing a Santa hat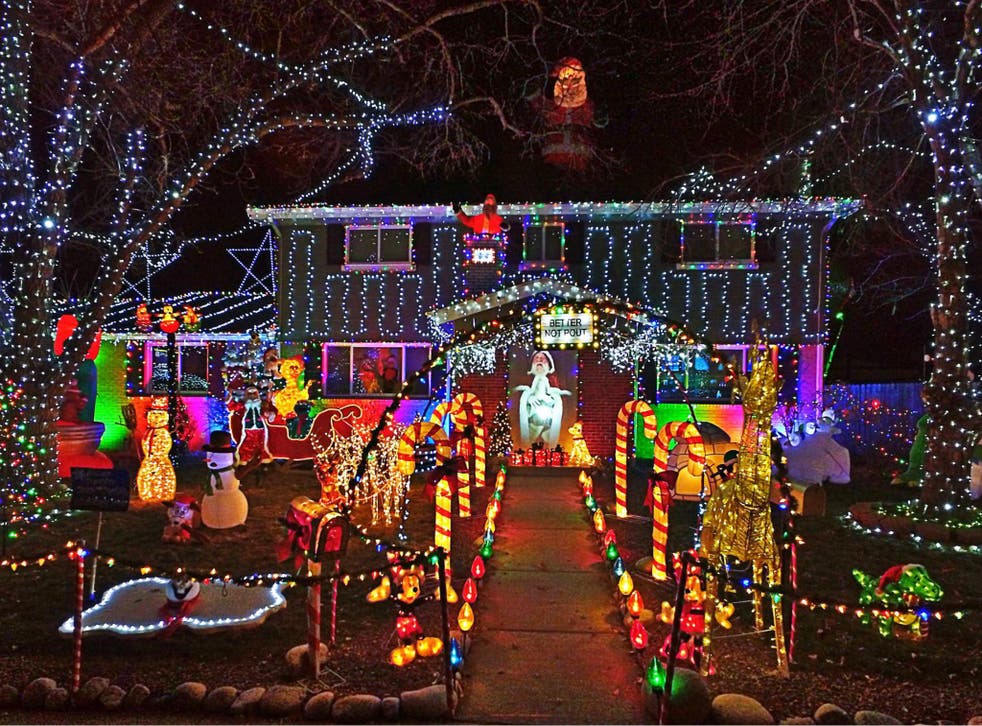 A father recognised his adult son stealing Christmas decorations on a viral video and flew hundreds of miles out to Colorado to make his child set things straight with the owner of "Stricker's Winter Wonderland".
Joe Stricker and his family live in Centennial, Colorado and have made a habit of creating an incredible Christmas light and decoration display outside their home which they leave on from Thanksgiving until New Year's Day.
It is so well known in the town that it has been dubbed "Stricker's Winter Wonderland". It even won the Denver Post's 2015 Holiday Lights contest.
This year was no different until surveillance video caught three people destroying some the much-celebrated decorations and stealing at least one of the statues - a dinosaur wearing a Santa hat.
Mr Stricker said the family uses any money raised from the display to help the local elementary school.
He sent the video to a local news station and thousands of people viewed it.
It turns out that one viewer, an out-of-state father, recognised his son in the video which he saw on Facebook.
He was on a plane to Colorado within hours.
Mr Stricker sent an update to the local news station detailing what happened next.
World news in pictures

Show all 50
"Eight people from two different families" were on his doorstep later that day to confess to the crime - the three assailants and their "equally embarrassed and ashamed parents".
The three people - aged 27, 22, and 21 - were not identified in reports.
They were not arrested at Mr Stricker's request but given citation for theft and vandalism, will have to appear in court, and pay fines.
"The individuals couldn't believe the outpour on social media and the impact of their actions on the community. We can't believe this outcome and are at a loss of words at the remorse of these individuals," he said.
Mr Stricker, in true holiday spirit, said: "we ended on great terms and we forgave them for their actions. It was very honorable for them to take full responsibility for their actions."
Join our new commenting forum
Join thought-provoking conversations, follow other Independent readers and see their replies