Charlottesville: White supremacist Christopher Cantwell surrenders to police over pepper spray violence
Far-right blogger wanted on two counts of illegal use of tear gas and one of malicious bodily harm using 'caustic substance' in battle with counter-protesters in Virginia
Sarah Rankin
,
Steve Helber
Thursday 24 August 2017 06:15 Comments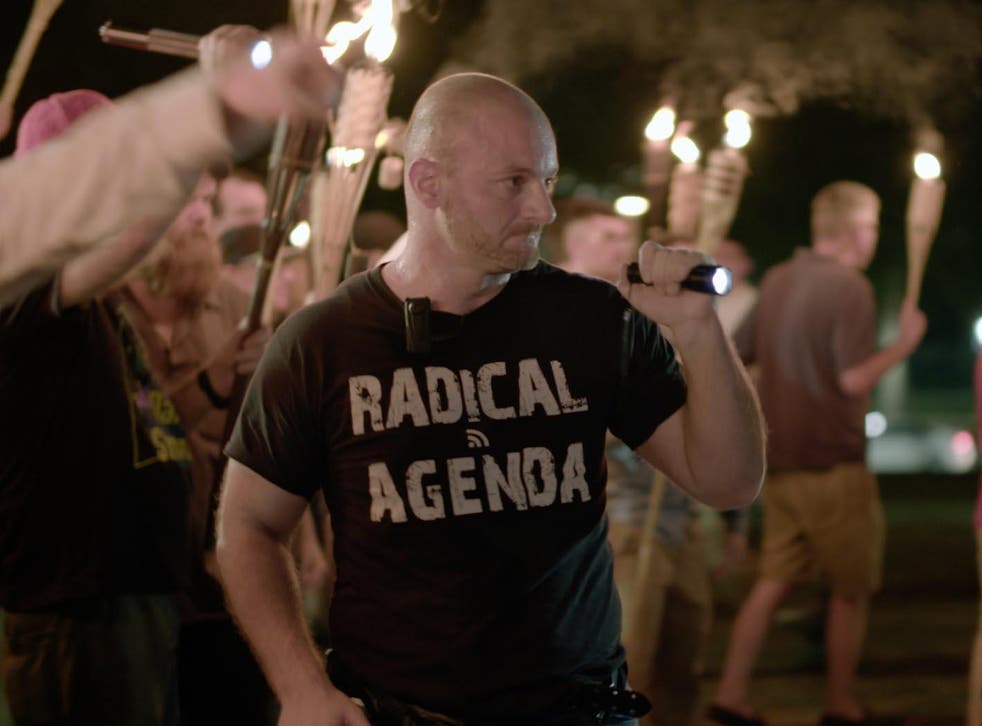 Christopher Cantwell, a white nationalist from Keene, New Hampshire, has turned himself in to face three felony charges in Virginia, authorities said.
Cantwell was wanted by University of Virginia police on two counts of the illegal use of tear gas or other gases and one count of malicious bodily injury with a "caustic substance," explosive or fire during the violence in Charlottesville earlier this month.
University police issued a brief statement late on Wednesday saying Cantwell turned himself in to police in nearby Lynchburg, Virginia, where he was being held at Blue Ridge Regional Jail pending transport to Charlottesville.
It wasn't immediately known if Cantwell has a lawyer.
Contacted by the Associated Press on Tuesday, Cantwell acknowledged he had pepper-sprayed a counter-demonstrator during the 11 August protest on the campus of the University of Virginia. But he insisted he was defending himself, saying he did it "because my only other option was knocking out his teeth." He also said he was looking forward to his day in court.
Cantwell appeared prominently in a Vice News documentary about the neo-Nazi clashes, weeping openly and expressing his belief in an "ethno-state". He also described the death of counter-protester Heather Heyer, 32, who was run over during the clashes by domestic terrorist James Alex Fields Jr, as "more than justified".
Violence on the streets of Charlottesville

Show all 9
Lynchburg police, contacted by AP late on Wednesday, declined to release further information about Cantwell.
AP
Register for free to continue reading
Registration is a free and easy way to support our truly independent journalism
By registering, you will also enjoy limited access to Premium articles, exclusive newsletters, commenting, and virtual events with our leading journalists
Already have an account? sign in
Join our new commenting forum
Join thought-provoking conversations, follow other Independent readers and see their replies