Climate change: President Obama orders US to cut greenhouse gas emissions by 40 per cent
Executive order also calls for a 30 per cent increase in use of renewable energy
Payton Guion
Thursday 19 March 2015 19:17 Comments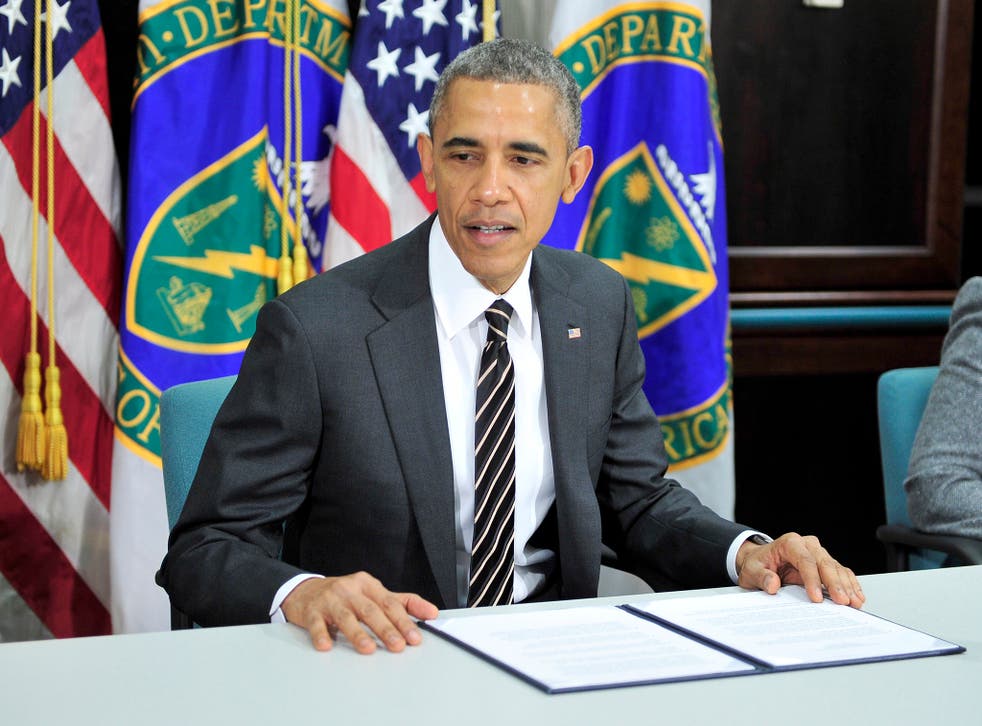 President Barack Obama issued an executive order on Thursday to reduce the US government's use of greenhouse gases by 40 per cent by 2025, in an effort to show that the US is serious about taking on climate change.
The White House said US taxpayers could save up to $18 billion in electricity costs over the next decade if greenhouse gases are reduced by 40 per cent.
The order also includes a measure aimed at increasing government use of renewable energy by 30 per cent by 2025, the Associated Press reported.
"These are ambitious goals, but we know they're achievable goals," Mr Obama said on Thursday after signing the executive order, which would affect energy use in government buildings and vehicles.
Mr Obama's order is seen as a preliminary step to set energy goals ahead of a crucial meeting is Paris this December in which world leaders will come together to finalize a treaty combating climate change.
The US and many other nations have yet to announce the energy-reduction contributions they will make to the United Nations treaty, but the European Union announced that it would be cutting greenhouse gases by 2030.
Several large companies that supply the US government also are expected to announce voluntary reduction of emissions, according to the White House.
If the government and the companies meet their goals, they could reduce greenhouse gases in the atmosphere by 25 tonnes by 2025, though no specifics were given on how those targets would be met.
Scientific evidence has shown that greenhouse gases, especially carbon dioxide, trap heat in the atmosphere, leading to increased global temperatures and climate change. Reducing the greenhouse gases emitted is thought to help alleviate the effects of global warming.
Follow @PaytonGuion on Twitter.
Register for free to continue reading
Registration is a free and easy way to support our truly independent journalism
By registering, you will also enjoy limited access to Premium articles, exclusive newsletters, commenting, and virtual events with our leading journalists
Already have an account? sign in
Join our new commenting forum
Join thought-provoking conversations, follow other Independent readers and see their replies