CNN reporter barred from White House event for asking 'inappropriate' questions
Kaitlan Collins tried to grill president about a tape in which he appears to discuss payoff over an alleged affair with a former Playboy model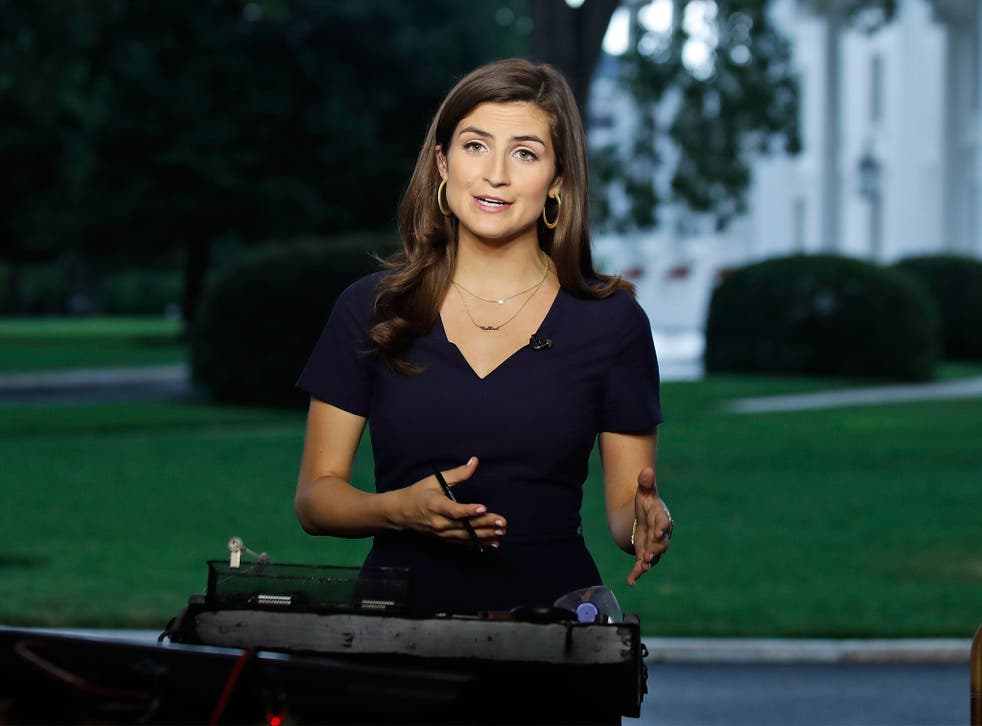 A CNN correspondent was excluded from covering a Donald Trump event after the White House reportedly told her she asked an "inappropriate" question.
Kaitlan Collins was barred from an engagement with the president after posing questions in the Oval Office when Mr Trump met European Commission president Jean-Claude Juncker.
She asked about an audio recording of the president purportedly discussing a payoff over an alleged affair with former Playboy model Karen McDougal, with his former attorney Michael Cohen which emerged yesterday. Ms McDougal has said she began a nearly year-long affair with Mr Trump in 2006 shortly after his wife, Melania, gave birth to their son Barron.
Ms Collins was serving as the "pool reporter", meaning she was asking questions on behalf of several news organisations.
CNN said she was told by White House communications director Bill Shine and press secretary Sarah Huckabee Sanders that her line of questioning had been "inappropriate".
It added she had been prevented from attending an event later that day in White House's Rose Garden, when Mr Trump and Mr Juncker announced a joint working dialogue on trade.
"Just because the White House is uncomfortable with a question regarding the news of the day doesn't mean the question isn't relevant and shouldn't be asked," CNN said in a statement. "This decision to bar a member of the press is retaliatory in nature and not indicative of an open and free press. We demand better."
Mr Trump has frequently complained about CNN's coverage of his presidency, which he claims is unfair.
Fox News segment claims coverage of Donald Trump from other outlets has been '91% negative'
In a statement that did not name Ms Collins, Ms Sanders said a reporter had "shouted" questions and refused to leave at the conclusion of an Oval Office press event "despite repeatedly being asked to do so."
She added: "Subsequently, our staff informed her she was not welcome to participate in the next event, but made clear that any other journalist from her network could attend."
Ms Collins' treatment was widely condemned by other media organisations.
Jay Wallace, president of Fox News, a network frequently cited by the president, expressed his support for his rival.
"We stand in strong solidarity with CNN for the right to full access for our journalists as part of a free and unfettered press," he said in a statement.
World news in pictures

Show all 50
Olivier Knox, president of the White House Correspondents Association (WHCA), also criticised the decision.
"We strongly condemn the White House's misguided and inappropriate decision today to bar one of our members from an open press event after she asked questions they did not like," he said.
"This type of retaliation is wholly inappropriate, wrong-headed, and weak. It cannot stand. Reporters asking questions of powerful government officials, up to and including the president, helps hold those people accountable.
"In our republic, the WHCA supports the prerogative of all reporters to do their jobs without fear of reprisal from the government."
Additional reporting by Reuters
Register for free to continue reading
Registration is a free and easy way to support our truly independent journalism
By registering, you will also enjoy limited access to Premium articles, exclusive newsletters, commenting, and virtual events with our leading journalists
Already have an account? sign in
Register for free to continue reading
Registration is a free and easy way to support our truly independent journalism
By registering, you will also enjoy limited access to Premium articles, exclusive newsletters, commenting, and virtual events with our leading journalists
Already have an account? sign in
Join our new commenting forum
Join thought-provoking conversations, follow other Independent readers and see their replies