Student allegedly raped by man who deemed her 'too cute to be a lesbian'
Kenyon College graduate Michael Hayes has written an open letter criticising how the university dealt with his younger sister's ordeal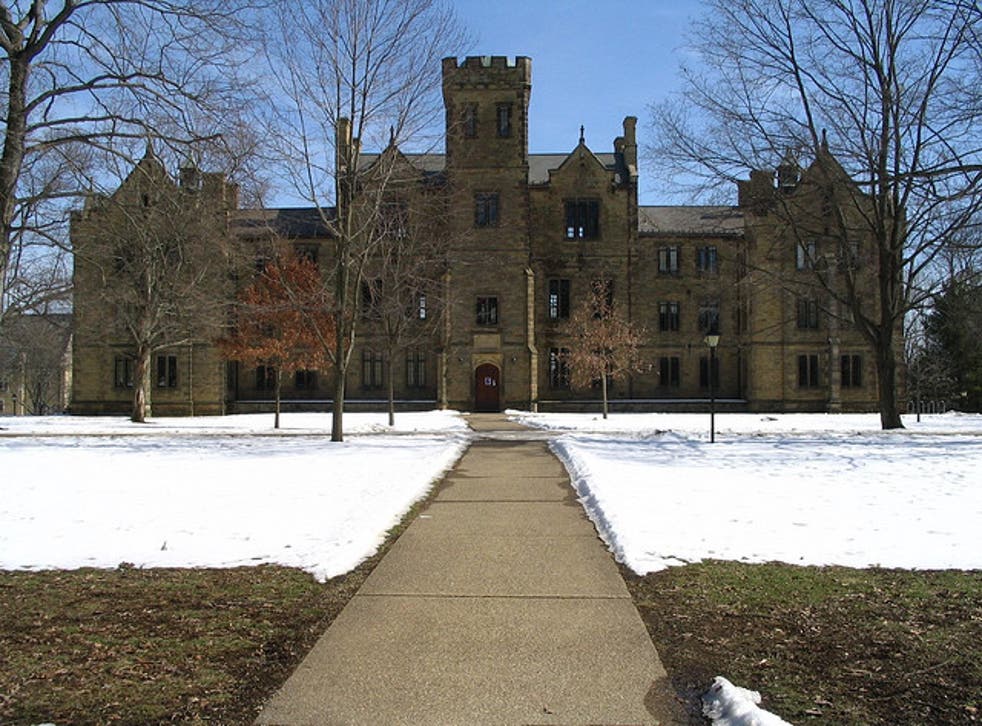 A US college has been accused of failing to properly investigate the rape of one its students by a man who said she was "too cute to be a lesbian".
A Kenyon College graduate wrote an open letter to the school in Gambier, Ohio, saying his younger sister - who was also a student there - had been raped in her dorm room while "drifting in and out of consciousness".
Michael Hayes, 23, wrote how his nineteen-year-old sister Chelsie, who had wanted to attend the college since she was a little girl, had initially believed the campus authorities would support her.
He said she had documented her own injuries and told the authorities about her blood stained bed, her sexual orientation and how much alcohol she had consumed on the night of the incident in November last year.
But in April the college had decided there was "insufficient evidence to conclude that it was more likely than not that the college's policy on sexual assault had been broken at all".
The college's code on sexual assault says: "The College is committed to fostering a climate free from sexual and gender-based discrimination, harassment and violence, intimate partner violence and stalking through clear and effective policies, a coordinated education and prevention program, and prompt and equitable procedures for resolution of reports of conduct prohibited under this policy."
But Mr Hayes said he no longer believes those words are true after his sister's complaint and subsequent appeal were dismissed.
He said: "We used to walk around campus when we were younger, both separately and together, because it is the most beautiful and relaxing place I know. It feels so safe.
"More than once, I crashed graduation just to see a famous speaker (John Kerry!) or to try to spot a celebrity parent in the audience (Sharon Stone! Jamie Lee Curtis!).
"I noticed that there were some graduates who had their hoods affixed to their robes by a family member just before they walked across the stage, and I learned eventually that it was a tradition and privilege for family members who had also graduated from Kenyon to do so.
"When I learned that Chelsie was going to attend Kenyon, I thought with the proudest anticipation of what an incredible feeling it would be to stand there with her right before she went on stage to get the diploma that I also have.
"But that will never happen, because now my little sister is leaving Kenyon. And it feels as though we have both lost one of our oldest and closest friends."
He believes the ruling is particularly absurd because his sister is gay.
He said the college had concluded it implausible she was sufficiently incapacitated not to consent as the accused man had gone to tell his friends he was about to "hook up" and had got a condom - yet thought it was plausible that she would consent to heterosexual sexual activity for the first time in her life.
He told ThinkProgress: "I believe, both as a member of the LGBTQ community myself and an employee at a gay rights legal organisation, that my sister's sexual orientation has not been adequately considered in much of this discussion.
"As it pertains to consent in particular, I find that it defies reason to conclude that my sister would consent to heterosexual sexual activity for the first time in her life."
The countries with anti-women laws

Show all 5
A spokeswoman for the university said their programme for sexual assault prevention did include provision for the LGBT community
She said: "Under federal privacy law, I am not permitted to share information about specific cases without the express consent of the parties involved. However, I can share with you that we have reached out to the LGBTQ+ community in a variety of ways."
"We have met with student groups that represent or advocate for LGBTQ+ students, specifically to talk with them about the intersection of Title IX and gender, gender expression, gender identity, sexual orientation and gender stereotypes."
Register for free to continue reading
Registration is a free and easy way to support our truly independent journalism
By registering, you will also enjoy limited access to Premium articles, exclusive newsletters, commenting, and virtual events with our leading journalists
Already have an account? sign in
Register for free to continue reading
Registration is a free and easy way to support our truly independent journalism
By registering, you will also enjoy limited access to Premium articles, exclusive newsletters, commenting, and virtual events with our leading journalists
Already have an account? sign in