Colombia set to elect the world's first Green leader
A former philosopher with some unusual policy ideas looks certain to take the country's presidency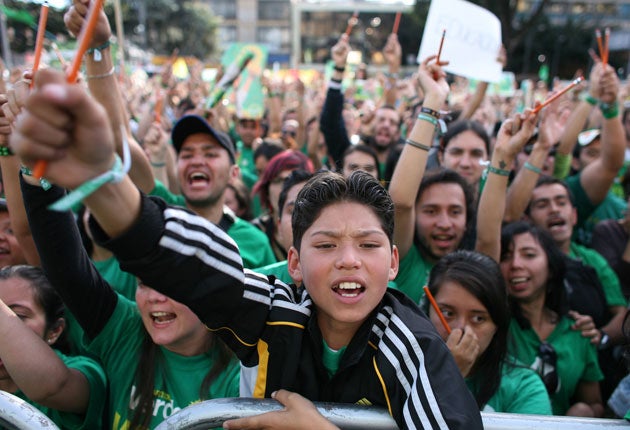 If Antanas Mockus wins the Colombian elections – and polls indicate that he will – he won't be your average president. Not only did he make his name when rector of the National University by dropping his pants and mooning a packed auditorium of rioting students, but he has recently been diagnosed with Parkinson's disease. And then there's his party. If the 58-year-old is elected, he will be the first Green head of state in the world.
Next Sunday, Colombians will vote for a successor to the outgoing president, Alvaro Uribe, and Mr Mockus, a philosophy professor and mathematician, is favourite to win, leading his rival, the former defence minister Juan Manuel Santos, by up to nine points in polls. The son of Lithuanian immigrants, and twice mayor of Bogota (1995-97, 2001-03), he might never have entered politics were it not for that pants-dropping incident in 1994. He was forced to resign from his post as rector but, in a bizarre twist, it triggered a groundswell of support. Suddenly a symbol of honesty, he stood for mayor of Bogota on a ticket to cut corruption and curb the city's violence, and won by a record majority.
His approach is playful, wacky even, but few can fault his two terms as mayor. To tackle the city's chaotic traffic, he deployed teams of street mime artists to show both drivers and pedestrians how to behave. It was so successful he was able to dispense with the corrupt municipal traffic police and employ more mimes instead.
Mr Mockus's current "green team" is impressive. It includes Enrique Peñalosa and Luis Eduardo Garzon, two popular ex-mayors of Bogota, while his running-mate, Sergio Fajardo, was former mayor of Medellin. A fellow mathematician-turned-politician, the charismatic Mr Fajardo worked similar miracles to his boss in Medellin, today a modern city with a state-of-the-art metro, clean streets and reduced crime.
Since taking leadership of the Green Party just two months ago, Mr Mockus has steadily climbed in the polls. Even the recent announcement about his health failed to halt the rise. At an election rally last Monday in Manizales, the centre of Colombia's coffee region, Mr Mockus urged the crowd to join him in shouting, "Life is sacred! Life is sacred!" before highlighting the social problems Colombia needs to face: millions of people internally displaced by the ongoing guerrilla war and an increase in poverty. He emphasised the importance of transparency in the control of public funds and the responsibility of all to pay taxes. While mayor of Bogota, Mr Mockus introduced an optional 10 per cent tax for the city's richest residents, which more than 60,000 volunteered to pay.
Yet few will deny that President Uribe's government has brought radical improvements. Since 2002, when he came to power, kidnappings have fallen by two-thirds and homicides by more than half. Colombia has also experienced rapid economic growth, thanks to Mr Uribe's investor-friendly policies. Improved security and favourable tax rates have seen foreign investment under his leadership increase five-fold, to an estimated $10bn this year. "Mockus supporters have forgotten what things were like before Uribe came to power, when we were under the grip of the guerrillas," says Ruben Torres from the Colombian city of Cali. "We couldn't travel a few kilometres out of the city without risk of kidnap or worse."
But the past few years have been a heady mix of success and scandal. The release of 15 hostages held by the Farc insurgents, including Ingrid Betancourt, in 2008 without a single gunshot marked a political high. But the grisly news that thousands of innocent civilians had been murdered by the military and then dressed in guerrilla uniforms has left many desperate for change. "Under Uribe, human rights abuses by the army have risen and a third of Congress is under investigation for alleged links to paramilitary groups," says Grace Livingstone, a Latin American specialist and author of America's Backyard.
"Colombia is Washington's closest ally in Latin America," she adds. "For the past 10 years, the US has been pouring money into Colombia – it has received more US military aid than the rest of Latin America put together." Mr Mockus throws doubt on some agreements with the US, and he has promised greater Latin American integration should he come to power. Meanwhile, Venezuela's President, Hugo Chavez, has implied support for the Green candidate.
While Mr Santos is the ostensible candidate of choice for the US, Mr Mockus, as a moderate left, could be an acceptable alternative. Free-trade agreements between the two countries have stalled, and commentators suggest that Mr Mockus could to help broker a deal.
But as the Green Party's candidate, where exactly are his "green" policies? "Unfortunately, the environment is not high on any candidate's agenda," says Martin Von Hildebrand, director of a Colombian NGO, Gaia Amazonas. "Under Uribe, the number of licences granted for mining exploration/exploitation in the Colombian Amazon has soared... Selling the country as El Dorado to international mining companies is just not being questioned."
Despite policy gaps, the Green Party's campaign has won the youth vote. Antanas Mockus has more than 600,000 Facebook fans. Mockus campaigners have posted videos and organised "flash mobs" – where hundreds of supporters converge on parks or shopping malls at a specific time, and, at a given signal, reveal their green T-shirts and placards to surprised onlookers.
But the site has also yielded a death threat. Although it has been dismissed by many as a sick joke, Ms Livingstone warns that reformist presidential candidates have been murdered before. "Mockus is not a radical left candidate," she says, "but is certainly a real maverick who could break the mould of Colombian politics."
Join our commenting forum
Join thought-provoking conversations, follow other Independent readers and see their replies