Columbus day ban: Italian-Americans outraged over plans to halt celebration of colonial explorer
'If they're going to celebrate Columbus, we need to celebrate the fact that we survived Columbus,' said Cliff Matias, cultural director of the Redhawk Native American Arts Council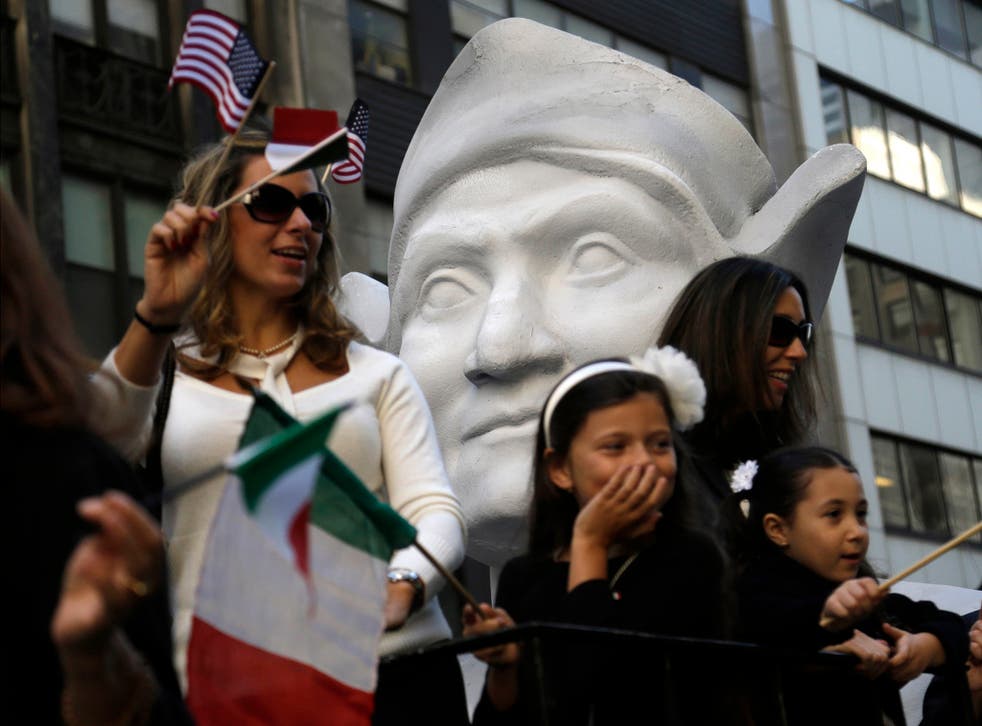 A growing movement seeking to abolish Columbus Day and replace it with Indigenous Peoples' Day has gained momentum in parts of the US, with Los Angeles becoming the biggest city to stop honouring the Italian explorer.
Instead, Los Angeles will be joining a number of other US cities recognising victims of colonialism on Monday.
Austin, Texas followed the Californian city's example, announcing its plans to cease Columbus Day celebrations on Thursday. The two cities will join San Francisco, Seattle and Denver in the gesture.
While many have spoken out in support of the decision to honour those who suffered as a result of colonisation led by Christopher Columbus, some Italian-Americans have argued that erasing a festival that celebrates an important aspect of Italy's history is culturally insensitive too.
"We had a very difficult time in this country for well over a hundred years, Basil Russo, president of the Order of Italian Sons and Daughters of America, said.
"Columbus Day is a day that we've chosen to celebrate who we are. And we're entitled to do that just as they are entitled to celebrate who they are."
But, an advocate for replacing Columbus Day with a day honouring Indigenous people, says the question Americans should ask themselves is whether Columbus is truly a figure who should be celebrated nationwide.
"It's not about taking anything away from Italian-Americans, said Cliff Matias, cultural director of the Redhawk Native American Arts Council, which is hosting a "Re-Thinking Columbus Day" event Sunday and Monday in New York City.
"The conversation is Columbus," he said. "If they're going to celebrate Columbus, we need to celebrate the fact that we survived Columbus."
The debate over Columbus's legacy is an old one, but it has become emotionally charged after a similar debate in the US over monuments to Confederate generals turned deadly at a rally in Charlottesville, Virginia in August.
2000-2009: the world in pictures

Show all 100
In New York City, where 35,000 people are expected to march in Monday's Columbus Day parade, vandals last month doused the hands of a Christopher Columbus statue in blood-red paint and scrawled the words "hate will not be tolerated".
Mayor Bill de Blasio appointed a committee to evaluate whether monuments to certain historical figures should be removed, which prompted a backlash from Italian-Americans who vowed to defend the Columbus statue that has stood in Manhattan's Columbus Circle for over a century.
Indigenous Peoples' Day began to take root as an idea ahead of the 500th anniversary of Columbus's first voyage to the Americas.
South Dakota began celebrating Native American Day on the second Monday of October in 1990. Berkeley, California, got rid of Columbus Day in favour of Indigenous Peoples Day in 1992.
Many places that have adopted Indigenous Peoples' Day since then, including Alaska, have sizable Indigenous populations.
Additional reporting by PA
Register for free to continue reading
Registration is a free and easy way to support our truly independent journalism
By registering, you will also enjoy limited access to Premium articles, exclusive newsletters, commenting, and virtual events with our leading journalists
Already have an account? sign in
Register for free to continue reading
Registration is a free and easy way to support our truly independent journalism
By registering, you will also enjoy limited access to Premium articles, exclusive newsletters, commenting, and virtual events with our leading journalists
Already have an account? sign in
Join our new commenting forum
Join thought-provoking conversations, follow other Independent readers and see their replies