'Come to church, win a gun': Pastor John Koletas organises giveaway at church service
All you have to do is attend the service, according to the controversial flier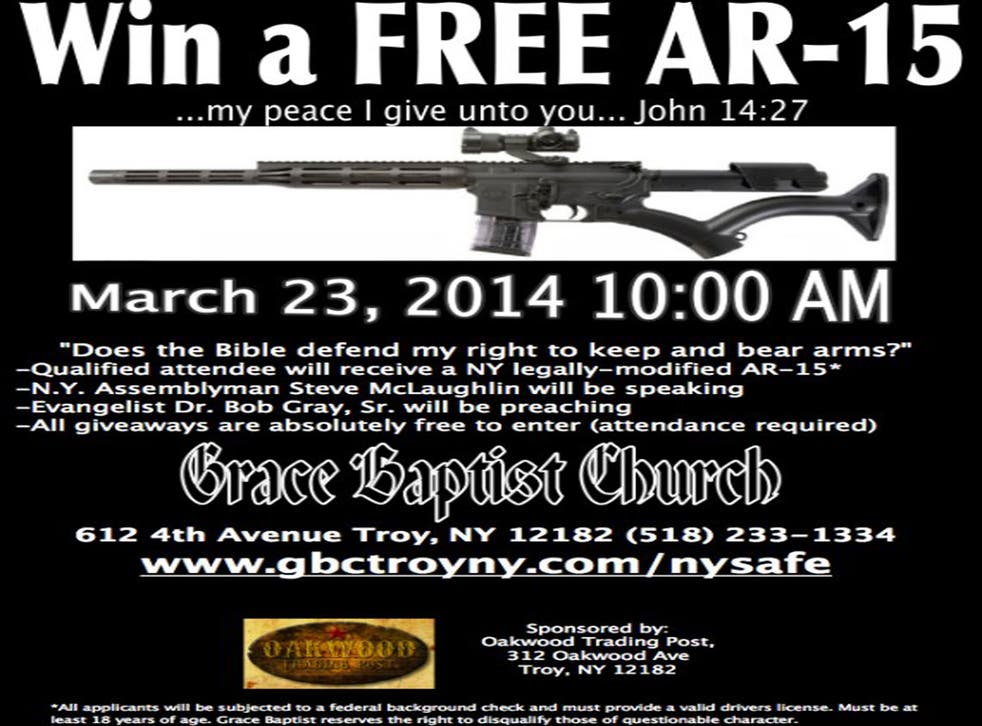 A Baptist Church is planning on giving away an AR-15 semi-automatic rifle to one church-goer at an upcoming service, to "support" the gun owners and hunters in the congregation.
New York Pastor John Koletas has attempted to justify his bizarre giveaway by arguing that America "was built with the King James Bible and the gun" in a letter to his congregation.
The Grace Baptist Church has published a flier on their website promoting their 23 March service where one attendee will be announced as the winner of the rifle.
The question: "Does the Bible defend my right to keep and bear arms?" is emblazoned across the flier.
The only entry requirement for the giveaway is actually attending church, says Pastor Koletas, who told The Times Union: "I'm just trying to be a blessing and a help to the gun owners and the hunters and give away a free AR-15. It's the right thing to do."
The controversial flier, which was also mailed to a list of registered gun owners, is headed with: "Win a FREE AR-15" followed closely by the Bible quote: "My peace I give unto you… John 14:27" and a large picture of a firearm sat imposingly underneath.
Pastor Koletas, who has created the posters, is hoping the community will turn out in force to support gun owners, who he argues "have been so viciously attacked by the antichristian socialist media and antichristian socialist politicians the last few years."
"If someone doesn't want to own a gun, that's their right," he said. "At the same time, I don't think we should be critical of legal gun owners who gave us our freedom."
Koletas is no stranger to controversy, and was arrested seven times under disorderly conduct charges for loud and incessant street-corner preaching, according to the The Union.
The move follows events held at the Lone Oak First Baptist Church in Kentucky, where attendees were promised a free steak dinner and the chance to win a gun in an attempt to woo young "unchurched" men into the congregation.
But Pastor Koletas' wife is insisting the gun raffle is not a marketing ploy to increase numbers, which is why the fliers were only mailed to gun owners, she told The Union.
His provocative flier has been criticised for "sending out the wrong message entirely" by Rev. Willie Bacote. ""We promulgate the gospel as peacemakers. We're not people who give away guns," he told The New York Daily News. "Even the Bible teaches us to turn the other cheek."
"There's no way we should be in a church saying we're going to be giving away a weapon that could end up in the wrong hands," Charlie Muller of the Victory Christian Church told WRGB-TV.
Pastor Koeltas has also invited New York Assemblyman Steve McLaughlin, a Republican, to speak and Evangelist Dr Bob Gray to preach at the service.
Join our new commenting forum
Join thought-provoking conversations, follow other Independent readers and see their replies