Conspiracy theorists join the world's elite
David Usborne on the 'mysterious' Bilderberg group's gathering
David Usborne
Saturday 02 June 2012 21:40 Comments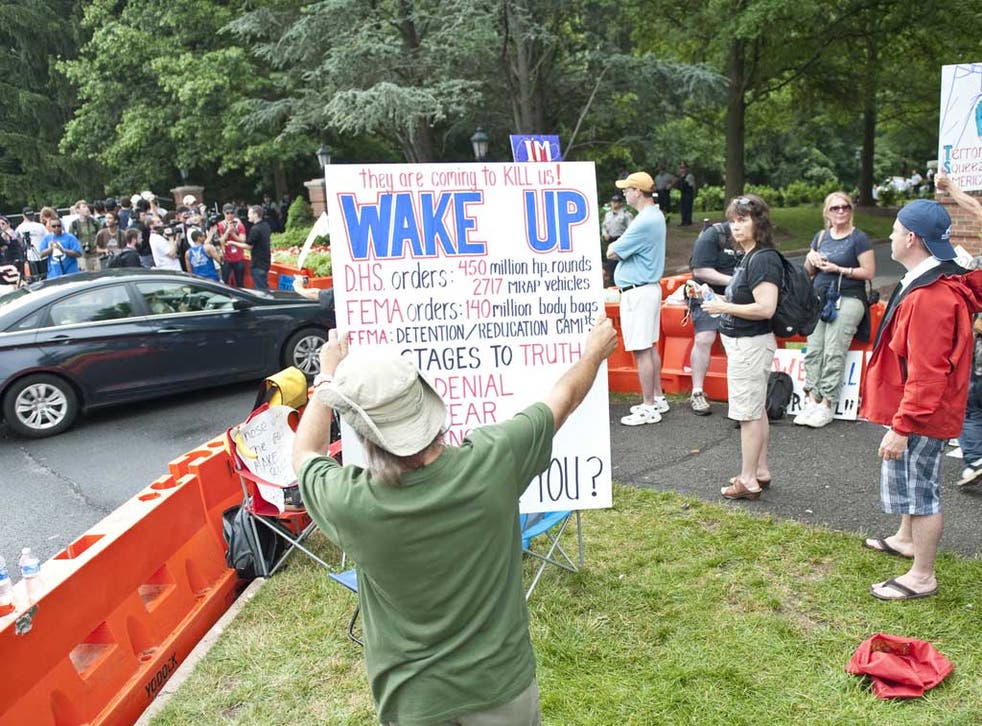 There are things going on at the Bilderberg conference in Virginia today that most of us will never learn about, such as who among the attendees got the sole presidential suite at the host hotel, a faux Georgian Marriott? Was it the Queen of the Netherlands, the president of the World Bank, the executive chairman of Google – or perhaps Henry Kissinger?
More urgent is to discover what they and the other 140-odd participants have been talking about at the three-day gathering that ends tonight. For some consider Bilderberg a cabal of the planet's most devilish financiers, industrialists and power brokers whose missions, they assert, include choosing the next US president (or, at least, vice) and forming a clandestine world government.
Maybe Ken Clarke, an alleged proponent of openness, will tell us when he comes home with the other Britons who received an invitation, such as Douglas Flint, group chairman of HSBC, Marcus Agius, head of Barclays, and Lord Mandelson. If we are lucky, they will conjure solutions to the euro crisis and violence in Syria – after all, Bassma Kodmani, who sits on the Syrian National Council, is taking part.
A cross between Davos and an Ivy League/Oxbridge reunion, Bilderberg has been going strong since its first annual shindig in a Dutch hotel – the Bilderberg – in 1954. That meeting "grew out of the concern expressed by leading citizens on both sides of the Atlantic that Western Europe and North America were not working together as closely as they should on common problems of critical importance," the website says.
But it is all very private – suspiciously, agonisingly so, as far as the world's conspiracy theorists are concerned. "The meeting is private in order to encourage frank and open discussion," the website avers. Barack Obama said much the same when he held his G8 summit two weeks ago in Camp David, with copses of oak and rhododendron to keep reporters at bay. And the Secret Service.
While 1 per cent of the 1 per cent were gathered inside Westfields Marriott in Chantilly, the more fractious of the oppressed 99 per cent assembled noisily outside. About 200 protesters yelled "scum" as one black limousine after another turned into the hotel drive. With senior figures from Goldman Sachs such as Peter Sutherland here, too, some raucousness was inevitable. By Friday night, there had been three arrests.
One of the protesters' cheerleaders and a proponent of the more unlikely conspiracy theories is the US radio host Alex Jones. He calls the gathering illegal because it violates a federal US law that forbids unauthorised negotiation with foreign governments. As for the security at Chantilly, it's "unprecedented", he says.
Among the protesters are Tea Party members, Occupy activists, military veterans for the 99 per cent and members of the movement dedicated to revealing who was really responsible for 9/11. The slogans on their banners were alternately pithy and venomous, such as "Humanity is winning" or "Warning to secret societies: you are pissing off American patriots. We have machine guns also".
Also not beloved outside the Marriott gates is something that in Twitter-speak comes out merely as "MSM". That would be us, the mainstream media, who are rudely faulted for not paying attention to what Bilderberg gets up to. This year, though, the conference made the names of attendees public for the first time and, behold, among them were some highly mainstream media names. There to keep a record of it all are John Micklethwait, editor-in-chief of The Economist, Peggy Noonan, columnist at The Wall Street Journal, and Gideon Rachman, global affairs commentator at the Financial Times. Two other Economist writers were listed as "rapporteurs".
We await their Bilderberg 2012 chronicles with unusual interest.
Register for free to continue reading
Registration is a free and easy way to support our truly independent journalism
By registering, you will also enjoy limited access to Premium articles, exclusive newsletters, commenting, and virtual events with our leading journalists
Already have an account? sign in
Join our new commenting forum
Join thought-provoking conversations, follow other Independent readers and see their replies