Convicted murderer and rapist 'gasped and took 15 minutes to die' in Ohio drug trial execution
The new method was adopted after the maker of the state's previous drug put it off limits for capital punishment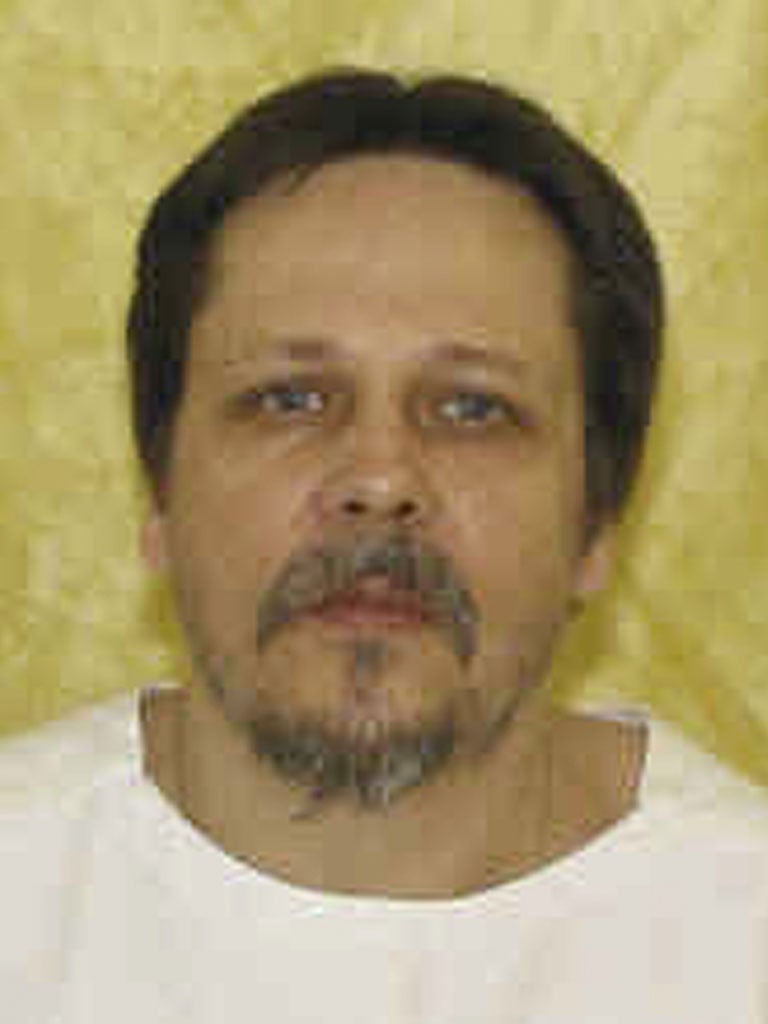 A cocktail of lethal drugs began to flow into Dennis McGuire's bloodstream shortly before 10.30am on Thursday morning. The 53-year-old convicted murderer from Ohio was to be the first prisoner executed with a new method of lethal injection, using an untested mix of the sedative midazolam and the painkiller hydromorphone.
Normally, the victims of lethal injection show movement in the early moments of their execution, and then lie still. McGuire, by contrast, remained motionless for approximately five minutes, before snorting suddenly and gulping for air.
McGuire had been sentenced to death for the brutal 1989 rape and murder of a young, pregnant newlywed, Joy Stewart. His final words were to Stewart's family, who watched his execution, thanking them for the "kind words" they had offered in a letter to him. He then told his children "I'm going to heaven, I'll see you there when you come."
His daughter Amber watched alongside Stewart's family as he gasped several times, before finally expiring at 10.53pm. Ms McGuire covered her ears to block out the sounds of her father's last breaths. He had taken some 25 minutes to die.
"It was the most awful moment in my life to witness my dad's execution," Ms McGuire said in a statement later. "I can't think of any other way to describe it than torture."
At a news conference yesterday morning, Ms McGuire and her brother announced that they would pursue a lawsuit over the manner of her father's execution. Ohio state is now expected to face a legal challenge to its plans for the February execution of another convicted murderer.
According to the Associated Press, the attorney acting on behalf of the McGuire family said that the execution had violated the dead man's constitutional right not to suffer cruel or unusual punishment. McGuire's own lawyer, Allen Bohnert, said his client's death had been "a failed, agonising experiment", and that "the people of the state of Ohio should be appalled at what was done here today in their names."
Bohnert had argued before the execution that the new lethal injection method could cause "air hunger", and inflict "agony and terror" on the prisoner as he fought for oxygen on the death stretcher. But the state's Assistant Attorney General, Thomas Madden, was unmoved, telling McGuire: "You're not entitled to a pain-free execution." Just before the death penalty was carried out, Gary Mohr, Ohio's prison director, said he believed McGuire's execution would be "humane" and "dignified".
In his ruling prior to the execution, US District Judge Gregory Frost suggested he could see no convincing evidence of a "substantial risk" that McGuire would suffer the sort of "severe pain" that might represent a breach of the constitutional prohibition of "cruel and unusual punishment". Yet Frost also said there was "absolutely no question that Ohio's current protocol presents an experiment in lethal injection processes... To pretend otherwise, or that either of the experts or this Court truly knows what the outcome of the experiment will be, would be disingenuous."
Ohio is one of 32 US states to have the death penalty. The intravenous drugs used in McGuire's execution were adopted due to a national shortage of the existing ingredients for a lethal injection. The existing supplies of pentorbarbital, a crucial element of the traditional three-drug mix in many states, have all passed their sell-by dates after the drug's Danish manufacturer halted its sale to US prison services in 2011. The European Union has also warned that it may limit sales of Propofol – the powerful anaesthetic notable for its role in singer Michael Jackson's death – should death penalty states decide to introduce it as an alternative.
The rate of executions has been significantly slowed as a result of the shortage, but it has also prompted several states to moot more extreme methods to maintain their death penalty timetable. In Wyoming, for example, Republican state Senator Bruce Burns announced he would table a proposal to replace lethal injections with the firing squad. Burns argued that shooting those prisoners sentenced to death would be far cheaper than the alternative, which is to build a gas chamber. "Frankly it's one of the cheapest [options] for the state," he said. Wyoming has just one inmate on its death row, and has not executed anybody since 1992.
All death penalty states use lethal injection as their primary method of execution, though some also have a secondary method – such as the gas chamber, electric chair or hanging – which in some states are offered to prisoners as an alternative.
Last week in Oklahoma, 38-year-old convicted murderer Michael Lee Wilson was put to death using pentobarbital, but his execution caused controversy after his last words were reported as being: "I feel my whole body burning." The state has not divulged whether anything went wrong with the lethal injection process.
In Florida last October, 51-year-old William Happ became the first death row inmate put to death using the drug midazolam hydrochloride. Like Propofol, Midazolam is normally used as a sedative by doctors, but in this case, was the first of a trio of drugs injected to induce first unconsciousness, then paralysis and finally death by cardiac arrest.
Happ, who was convicted of raping and murdering a 21-year-old woman in 1986, is said to have blinked furiously and shook his head back and forth as he died. His execution took 14 minutes – shorter than McGuire's, but nonetheless double the normally expected time. Witnesses reported that he "remained conscious longer and made more body movements after losing consciousness than other people executed recently by lethal injection".
Join our commenting forum
Join thought-provoking conversations, follow other Independent readers and see their replies