'They don't give a damn about people': Amazon worker fired after raising safety concerns is starting a revolution from the outside
Christian Smalls was fired after organising a walkout at the Amazon warehouse where he worked over safety concerns due to the coronavirus outbreak. Now, he tells Richard Hall, he's continuing his fight from the outside
Friday 24 April 2020 17:32 Comments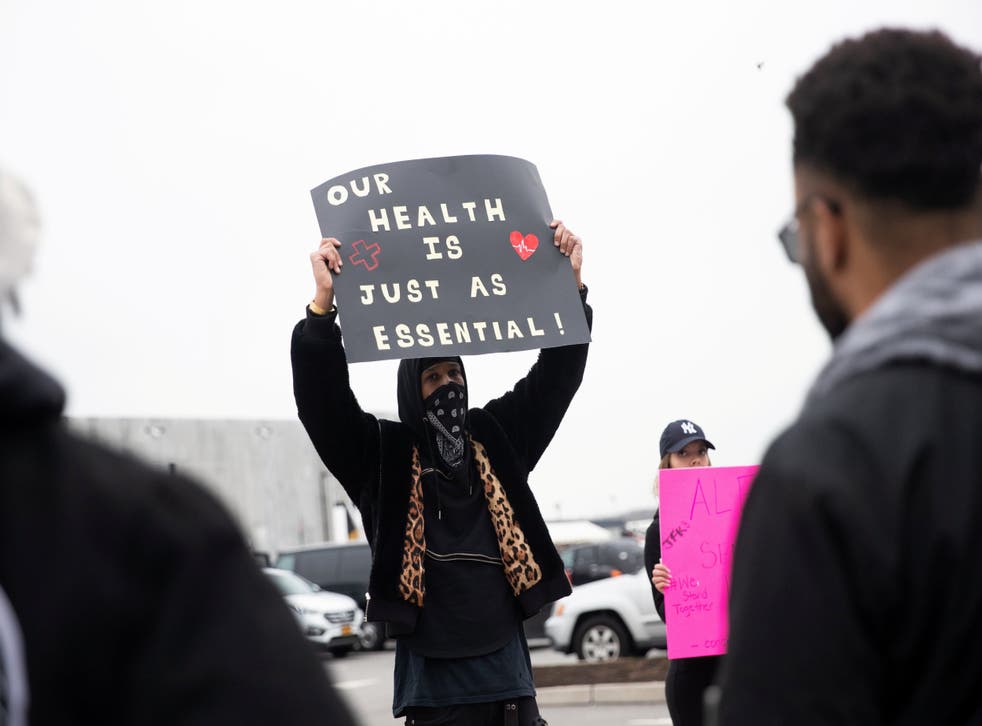 By the end of March, the streets of New York were quiet. Businesses large and small were shuttered as millions were ordered to stay home. But workers at Amazon's Staten Island warehouse were as busy as ever.
As the coronavirus was spreading throughout the city, Christian Smalls, a supervisor at the facility, was worried that he and his colleagues were vulnerable.
For weeks, he raised concerns about staff falling sick, and for weeks he says he was brushed off. When the first case of Covid-19 was confirmed at the warehouse, and management refused to temporarily shut down, he decided to take action.
"I was expecting them to close it down, send everybody home with pay, and sanitise the building professionally. But it was just business as usual," he says. "That was pretty much my last day working for Amazon. I left that building that day and I continued my fight behind the scenes."
Smalls took time off over safety fears in the warehouse, but he continued to go into work to try to convince his colleagues and his bosses that they were at risk.
"I did everything I could in my power to try to get those people out of that building," he tells The Independent.
When he ultimately failed, Smalls, a 31-year-old father-of-three, organised a staff walkout. On the day it was held, he was fired by Amazon.
The company said he was let go for "putting the health and safety of others at risk and violations of his terms of his employment" and "violating social distancing guidelines" when he continued to come into work. But Smalls suspects otherwise.
"They wanted to get me out of the way," he says, "cut the head off the snake."
If that was indeed the strategy, it has backfired. In the weeks since his dismissal, Smalls has become a vocal advocate for a growing number of Amazon employees across the country who are angry about the company's handling of the outbreak.
He says he is receiving calls from Amazon employees throughout the US who are planning walkouts.
"I wasn't a union organiser, I was just a concerned supervisor. Now I absolutely am. I've embraced the role," he says. "This is my new line of work. My life has changed and I'm going to continue to fight."
Smalls has received support from big-name politicians like Bernie Sanders, who tweeted that it was "disgraceful that Amazon, which is owned by the richest man in the world, is not only failing to protect its workers but has now fired a worker for protesting dangerous conditions".
Much of the attention given to Smalls may well have something to do with the revelation that Amazon's leadership planned to smear the New Jersey resident in an effort to limit the bad publicity they feared would follow his dismissal.
At a meeting of Amazon's senior management, the company decided on a strategy to "make him the most interesting part of the story, and if possible make him the face of the entire union/organising movement," according to minutes from the meeting which were later leaked to Vice News.
"He's not smart, or articulate, and to the extent the press wants to focus on us versus him, we will be in a much stronger PR position than simply explaining for the umpteenth time how we're trying to protect workers," wrote Amazon general counsel David Zapolsky in notes from the meeting, which was attended by CEO Jeff Bezos.
Zapolsky has since defended himself, saying: "I let the emotions draft my words and get the better of me."
Smalls says he wasn't surprised when he read the note. "[It] exposed who these people really are, what they really care about. The fact that they focus on me and not the employees tells it all right there. They don't give a damn about people."
Smalls started as an entry-level picker with Amazon five years ago and worked his way up to become process assistant at the Staten Island warehouse. He was an aspiring rapper before working with Amazon, but took on the job to support his twins, who are now seven. He says he had hoped to forge a career at the company.
This David versus Goliath battle between Smalls and the company owned by Bezos, the world's richest man, comes at a period of staggering growth for Amazon and the businessman. Since the outbreak began, he has seen his wealth grow by $24bn, and Amazon's share price rose more than 16 per cent between 13 and 17 April.
The company announced plans to hire 100,000 more staff to deal with the surge in demand caused by people turning to online deliveries during stay-at-home orders.
With this rise in growth has come a rise in discontent among its staff. The Staten Island strike organised by Smalls has prompted similar action; on Tuesday, more than 300 employees walked out from their shifts at some 50 facilities nationwide to demand safer working conditions, according to the Athena Coalition.
The advocacy group said 130 Amazon facilities have had at least one employee test positive for Covid-19 – though the true number may be much higher. On Thursday, Business Insider reported that more than 30 staff members at a facility in Carteret, New Jersey – just across the river from Staten Island – had contracted the virus. Earlier this month the company reported its first employee death from the coronavirus. The victim was an operations manager in Hawthorne, California.
But support for those walkouts has prompted a backlash from Amazon, which has earned a reputation over the years as an anti-union company. It fired at least three employees and suspended a fourth this month after they criticised working conditions.
Emily Cunningham and Maren Costa, both tech workers based in the company's Seattle headquarters, were dismissed after tweeting criticism of working conditions for warehouse workers, according to The Washington Post. Amazon said that it supports "every employee's right to criticise their employer's working conditions, but that does not come with blanket immunity against any and all internal policies".
Bashir Mohamed, a warehouse employee from Minnesota who had been advocating for changes to working conditions to protect against the coronavirus, was also fired. Amazon said he had used "inappropriate language" and violated social distancing guidelines.
Amazon says it has taken many steps to protect its more than 500,000 employees across the US, including increased sanitation, social distancing and providing millions of protective face masks. The company says employees who test positive for the virus are entitled to paid leave, and it has also increased wages for hourly workers by $2 an hour.
"Since the early days of this situation, we have worked closely with health authorities to respond proactively, ensuring we can continue to serve communities while taking care of our associates and teams, and we urge others to compare the safety, pay and benefits measures we have taken for employees against others," Amazon spokesman Timothy Carter tells The Independent.
But many employees say the company has been slow to react and that the new measures do not go far enough.
"People are afraid to lose their jobs," says Smalls. "They are afraid that what happened to me will happen to them. And they need the money. That is blood money Amazon is offering right now."
"He's capitalising at the expense of human life," Smalls says of Bezos. "You've got employees that have lupus, bronchitis, severe asthma, are senior citizens, who are too scared to go to work. You've got employees that are 18, 19, 20 years old, whose parents are telling them not to go to work. All these people are unpaid, but he's walking around doing these PR stunts and acting like he's protecting his employees," he adds, referring to a visit by Bezos to a warehouse.
Since being sacked he has been in contact with many of those who were let go like him, and is working to support other Amazon employees and walkouts happening across the country.
"I'm learning each day. I'm getting a lot of support and I'm trying to use this platform to make sure that the voices that aren't heard get heard this time around," he says.
"It's going to be an uphill battle, but more people are starting to realise: 'Hey, I'm in the same situation as this guy.' More people are stepping up."
He adds that if people want to protect Amazon workers, they should consider a boycott.
"Do you want to practice real social distancing? Stop clicking that button."
Register for free to continue reading
Registration is a free and easy way to support our truly independent journalism
By registering, you will also enjoy limited access to Premium articles, exclusive newsletters, commenting, and virtual events with our leading journalists
Already have an account? sign in
Join our new commenting forum
Join thought-provoking conversations, follow other Independent readers and see their replies