Coronavirus: Brazil minister suggests pandemic part of China's 'plan for world domination'
Chinese embassy replies calling comments 'stigmatizing' and 'strongly racist'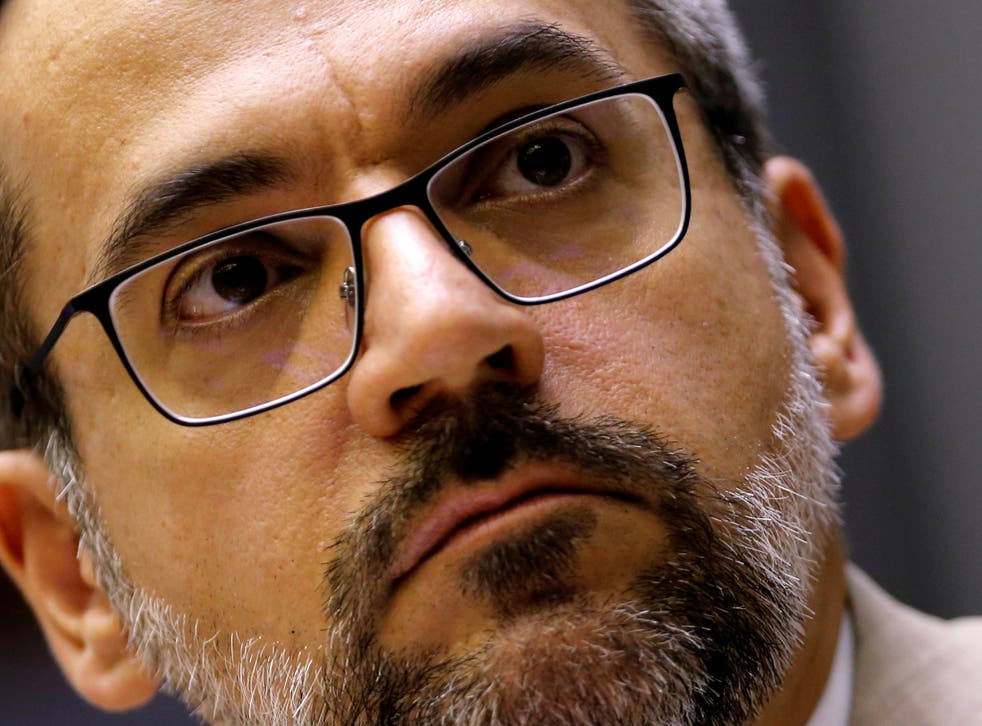 A Brazilian minister has suggested that the coronavirus pandemic is part of China's "plan for world domination", in a tweet that allegedly mocks Chinese accents.
Abraham Weintraub, Brazil's education minister, caused outrage on Sunday by implying that China, where the virus was first identified, stood to gain from it.
In an apparent attempt to ridicule Chinese accents, he substituted the letter "r" with the capital "L". For example, he wrote "BLazil" instead of Brazil.
He subsequently deleted the message.
The Chinese embassy in Brazil responded by calling Mr Weintraub's post "stigmatizing" and "strongly racist" in manner.
In a statement published on Monday, the embassy said: "We demand that some Brazilian individuals immediately correct the errors they have committed and stop with unfounded accusations against China."
Yang Wanming, the Chinese ambassador to Brazil, later said that he was still waiting for an official declaration from the Brazilian government.
This comes less than a month after the Brazilian president's son, Eduardo Bolsonaro, sparked a diplomatic spat with China by saying the country was to blame for the coronavirus.
He compared Beijing's handling of the coronavirus crisis to the former Soviet Union's response to the nuclear disaster at Chernobyl.
President Jair Bolsonaro spoke to president Xi of China on the phone soon after diplomatic relations soured because of his son's comments.
Speaking of the rise in diplomatic tensions between the countries, Mauricio Santoro, an international relations professor at Rio de Janeiro's state university, said: "It is becoming quite serious now, because it is escalating."
"It was bad enough with the president's son saying these things. Now it's a minister, someone who is part of the government. It's much more complicated," he added.
Brazil relies heavily on exporting goods such as soy, iron and crude oil to China.
In the first quarter of 2020, it exported $14 billion of goods to China - amounting to 29 per cent of its total global output.
Additional reporting from AP
Register for free to continue reading
Registration is a free and easy way to support our truly independent journalism
By registering, you will also enjoy limited access to Premium articles, exclusive newsletters, commenting, and virtual events with our leading journalists
Already have an account? sign in
Register for free to continue reading
Registration is a free and easy way to support our truly independent journalism
By registering, you will also enjoy limited access to Premium articles, exclusive newsletters, commenting, and virtual events with our leading journalists
Already have an account? sign in
Join our new commenting forum
Join thought-provoking conversations, follow other Independent readers and see their replies