Coronavirus: More than 100,000 cruise ship crew members still stuck at sea
Companies insist they are attempting to repatriate staff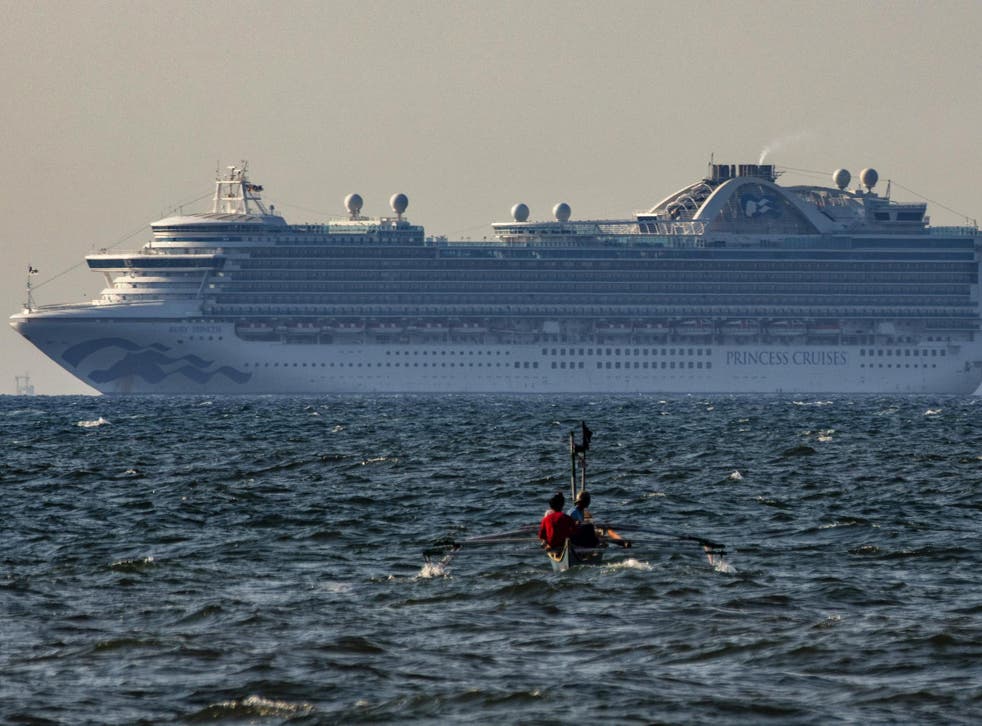 More than 100,000 cruise ship staff members are still stuck out at sea, due to the coronavirus pandemic crippling the tourism industry and governments not letting them return to land.
The cruise ship industry stopped running in March, after multiple people contracted Covid-19 onboard various ships, and global travel was restricted by governments.
This has left crew members stuck out at sea, with many of them not getting paid, despite being stranded on the ships away from their friends and families, according to the Miami Herald.
The staff are unable to work, but because US employment laws do not apply to a majority of the ships, as they are not registered in the country, they do not qualify for government help.
Cruise ships are travelling across the oceans with no set destination, as staff are waiting on permission to return to land and to their homes, amid closed borders during the pandemic.
Most ship passengers were able to return to land in April, but many staff members are stuck onboard and have not yet been allowed to return home.
The situation has had its toll on some staff members' mental health, and the outlet reported that some of them are on hunger strikes, and added that two people from different ships have attempted suicide by jumping off the vessels.
So far, there have been seven coronavirus related deaths and 578 positive cases on the ships stuck out at sea, according to the outlet.
Multiple cruise ship companies told the Herald that they are trying to get their staff back onto land, but are struggling with government policies during the pandemic.
Disney Cruise Line spokesperson Kim Prunty told the outlet that staff members on land are "working tirelessly to repatriate them," but added that "with constantly changing requirements around the world and numerous borders still closed, this has proven to be an extremely complex process."
MSC Cruises spokesperson Luca Biondolilo added: "We are constantly in contact with the governments in these countries at the highest level on behalf of our crew and in some discreet cases we were able to persuade them to allow our crew back."
However, Rockford Weitz, director of the Maritime Studies Program at Tufts University's Fletcher School, told the outlet that the companies have had enough time to work out a solution with governments.
Mr Weitz said that they "have to show they are going to have the capability in an emergency situation to get people at scale off of the ship and back home."
He added: "They have to be able to convince their customers they can find solutions and work constructively with public health authorities. The time for excuses at this point in May...there's no excuse for not finding the way home."
According to a tracking project hosted by Johns Hopkins University, there are now more than 1.5 million people who have tested positive for coronavirus in the US. The death toll has reached at least 90,369.
Register for free to continue reading
Registration is a free and easy way to support our truly independent journalism
By registering, you will also enjoy limited access to Premium articles, exclusive newsletters, commenting, and virtual events with our leading journalists
Already have an account? sign in
Register for free to continue reading
Registration is a free and easy way to support our truly independent journalism
By registering, you will also enjoy limited access to Premium articles, exclusive newsletters, commenting, and virtual events with our leading journalists
Already have an account? sign in
Join our new commenting forum
Join thought-provoking conversations, follow other Independent readers and see their replies