How America reached its latest tragic coronavirus milestone – and what comes next
150,000 Americans have died in a pandemic that has impacted millions, as the country braces for more economic fallout and school openings, writes Alex Woodward
Sunday 02 August 2020 20:46 Comments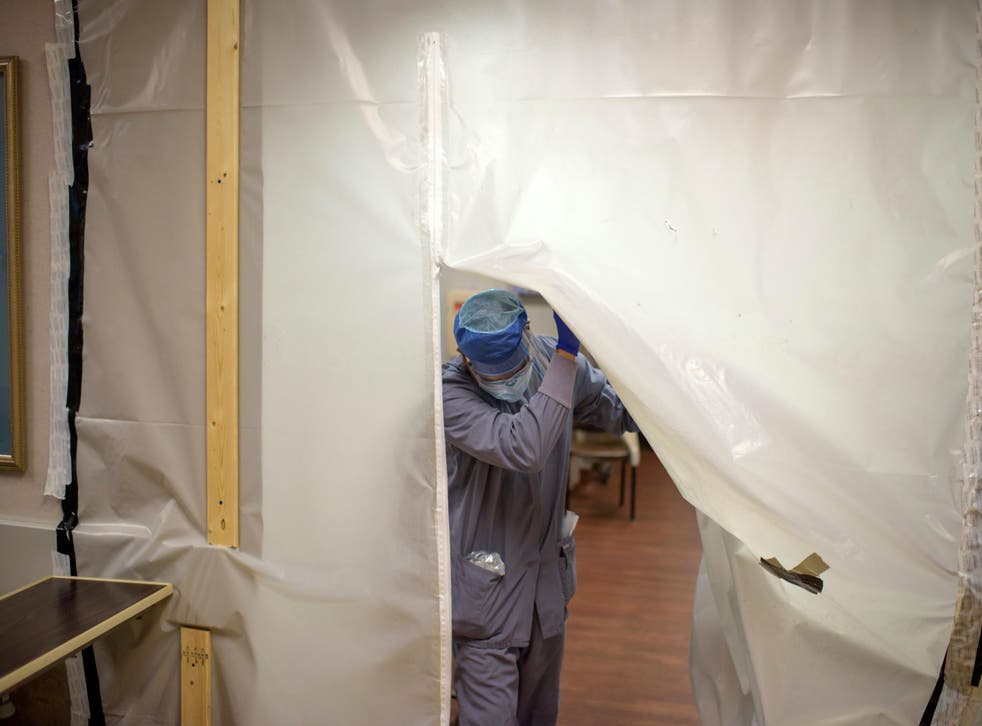 Before Dr Anthony Fauci threw out the ceremonial first pitch to open what is likely to be America's strangest baseball season, Donald Trump was in the White House briefing room, broadcast to millions of people, and talking to New York Yankees pitcher Mariano Rivera.
That day, the US had surged past 4 million confirmed coronavirus infections, accounting for more than a quarter of all global cases. It took four months for the US to identify its first 2 million cases – but within a month, known cases had doubled.
Days later, patient deaths reached 150,000, a shocking figure that has doubled within three months, according to data from Johns Hopkins University. The rise in deaths marks yet another grim turning point as the administration struggles to address a growing reality for many Americans, local governments juggle the consequences of reopening too quickly only to close weeks later, and millions of families approach a looming deadline for sending children back to school.
In his remarks on 23 July, the president addressed neither the nation's approach to another harrowing milestone nor an infection rate that health officials in his own administration have warned it has significantly undercounted. Instead he announced that the Republican National Convention would cancel its main event, saying it's "not the time" in the middle of a pandemic.
"There's nothing more important in our country than keeping our people safe," he said.
Within nearly the same breath, he demanded that schools – due to open for fall terms within weeks, roughly the same time the convention is scheduled – must reopen.
It marked a surreal series of events as the routine deaths of 1,000 Americans a day has barely been recognised by a White House focused on returning Americans to work and school while campaigning for a second term on violent "law and order" rhetoric.
By Saturday, the US had seen five consecutive days with more than 1,000 Covid-19-linked deaths.
Deaths on the rise
The US had reported the deaths of 100,000 people from coronavirus by the end of May, outnumbering Americans deaths across decades of conflicts in Vietnam, Iraq and Afghanistan combined.
US deaths more than doubled from April to May. April was one of the deadliest months in US history, with nearly 60,000 people losing their lives by its end.
That immeasurable loss of life and its impact among families and communities has upended American life for nearly six months, following administration promises that the US would be "roaring back to life" by July as developed nations around the world have largely learned how to control outbreaks.
Within the first two weeks of July, the US recorded nearly 1 million new cases, more than were identified in the entire month of June.
Nearly every state has seen a spike in new cases within the last two weeks, with total confirmed infections reaching nearly 4.5 million. On 26 July, the federal government identified 21 states as being in a "red zone" after more than 100 new cases per 100,000 people were discovered within the last weeks.
Cities and states emerged from relatively brief quarantine "lockdowns" in April and June, despite warnings from health officials and medical experts that resuming public life would lead to another spike in infections.
The president has insisted that the surge in new cases is due to the US testing more people, but the rate of new infections has outpaced the tests performed.
Expanded testing has increased to as much as 900,000 per day within the last two months. If the virus is under control, infections should be decreasing within that same time frame – instead they've increased by more than 200 per cent. By the end of July, the nation averaged roughly 60,000 new cases a day.
The president has spun new infections as an encouraging sign that infections were being caught, while falsely claiming that the US had one of the lowest mortality rates. The opposite is true.
While deaths did drop after April, deaths have been rising in nearly every state in recent weeks.
On 28 July, Florida's Department of Health reported 186 new deaths, breaking its single-day death toll record.
Within the last week, the seven-day average for US deaths reached more than 1,000, with more than 1,000 deaths recorded daily for at least five consecutive days in mid-July.
Large cities were once the hardest hit through the pandemic, with New York City emerging as a global epicentre. But per capita deaths in smaller areas across the US show a striking imbalance among infection rates and fatal cases.
The US now represents nearly a quarter of all global Covid-19 deaths.
In the agency's latest forecast, the CDC anticipates up to 170,000 deaths by 8 August.
The White House response
On 21 July, his first day back at the lectern after he announced he would return to near-daily press briefings on his coronavirus response, the president admitted the crisis will "get worse before it gets better" and told Americans to "get a mask" for the first time, four months after federal health officials told people to do the same.
That week, the CDC released a report confirming that actual infections in the US are several times higher than initially reported.
Faced with declining poll numbers, a lagging economy, and an overwhelming number of dead Americans within just six months of the outbreak, aides had hoped to position him in control of the pandemic, now impacting areas on which he relied for his base of support.
But the stern message from the White House was brief – the president has insisted that schools are safe to reopen within the coming weeks and promised the return of a bustling economy, though data from the nation's health and labour analysts points to a losing battle to control surging infection rates and a worrying financial picture for millions of unemployed Americans.
His critics have been confounded by his apparent inability to show compassion, a refusal to admit errors in the response, and his inability to grasp the scale of the crisis.
The president has instead been on the defensive, repeatedly pointing to the closure of travel from China early in the outbreak, though the CDC confirmed the administration's failure to act in the weeks that followed had allowed the virus to spread beyond incoming transmission from travellers and into community infections that quickly became difficult to trace and contain.
A CDC report confirmed that the president's order to restrict travel from Europe in early March came too late – a European strain of the virus became the dominant strain in the US, potentially spreading throughout the New York area for weeks before the order was given.
The president has continued to place the blame for Covid-19's impact on China, but his opponents have argued that the mass death and lingering unemployment in the US are the results of deliberate policy decisions, tragedies that could have been prevented by following the lead from other developed nations.
By the end of July, millions of Americans received the last of enhanced federal unemployment relief providing an additional $600 a week in addition to state unemployment insurance benefits.
That financial "cliff" has converged with the end of a federal moratorium on evictions for Americans receiving housing assistance – which could impact up to 30 per cent of the nation's rental units, according to the Urban Institute – while states and cities across the US lift their own eviction restrictions and reopen courts to process new cases.
White House economic adviser Larry Kudlow said that the administration plans to extend the moratorium, while promising another $1,200 stimulus check – following a one-time round in April – would follow.
But those renters are currently unprotected from evictions without a provision in place, meaning millions of out-of-work Americans and their families could risk losing their housing as schools begin to reopen.
The president's attention has recently focused on ongoing protests against police violence across the US, framing a Fourth of July speech at the foot of Mount Rushmore as a defence against the US from other Americans, envisioning a nation under siege from a regime of "far-left fascists" engaged in a culture war that threatened his supporters' way of life. He barely mentioned the pandemic.
On 4 July, US coronavirus deaths reached nearly 130,000.
The race to reopen
While an international effort to develop a vaccine is under way, all eyes are on schools – how and when they'll reopen, under threats from the president, and fears that they could lead to another spike in US infections among children, staff and families.
White House officials couched the initial and unreleased CDC guidelines on opening schools after the president had criticised the document as "very expensive" and "tough".
The guidelines called for temporary school dismissals in the event of an outbreak, staggered arrival and dismissal times, and modifying classrooms to limit contact, among other transmission prevention warnings.
During a 8 July briefing, CDC Director Robert Redfield said that the guidelines were not issued as a "rationale to keep schools closed".
The following week, House Education and Labour committee chairman Bobby Scott announced that the White House had barred the director from appearing at a committee hearing on opening schools.
Revised guidelines released a week later were a stunning reversal of early warnings, downplaying the risk of transmissions and arguing that "death rates among school-aged children are much lower than among adults".
"At the same time, the harms attributed to closed schools on the social, emotional, and behavioural health, economic well-being, and academic achievement of children, in both the short- and long-term, are well-known and significant," the guidelines said.
"Even if there is transmission – and later studies come out, let's say – we believe that students should be going back to school because the effect on a child we know scientifically they are not affected the same way as an adult," White House press secretary Kayleigh McEnany said during a 24 July briefing.
The CDC's own report released by the agency earlier this month found that while children under 10 years old were roughly half as likely as adults to spread the virus, "young children may show higher attack rates when the school closure ends, contributing to community transmission of Covid-19".
"Household transmission of [Covid-19] was high if the index patient was 10-19 years of age," according to the report.
Middle- and high-school aged children also are at a similar risk of health risks as adults, the report found.
"Household transmission of [Covid-19] was high if the index patient was 10-19 years of age," according to the report.
The American Federation of Teachers has signalled its nearly 2 million members could strike as a last resort if adequate health and safety measures are not in place.
Several major school districts – including some of the largest in the country in Los Angeles and New York – are refusing to reopen in a full-time traditional classroom setting this fall.
Union members are demanding that schools wait to reopen until average infection rates fall below 1 per cent and daily positive rates remain below 5 per cent in their districts – only a handful of districts would be able to reopen under those conditions.
A Republican stimulus package proposed by Congress would give $70 billion to schools, on the condition that money be spent for in-person instruction, echoing threats from the president.
Sixty per cent of parents with children in elementary school want schools to delay reopening until they can do so safely, according to a survey from the Kaiser Family Foundation.
"We cannot indefinitely stop 50 million American children from going to school, harming their mental, physical and emotional development," the president said during a briefing this month. "Reopening our schools is also critical to ensuring that parents can go to work and provide for their families."
Register for free to continue reading
Registration is a free and easy way to support our truly independent journalism
By registering, you will also enjoy limited access to Premium articles, exclusive newsletters, commenting, and virtual events with our leading journalists
Already have an account? sign in
Join our new commenting forum
Join thought-provoking conversations, follow other Independent readers and see their replies