'We've gone from scared to angry': US doctors warn of imminent crisis as they run out of masks to protect from coronavirus
Hospitals have been forced to re-use and make their own masks in face of critical shortage 
Richard Hall
New York
Friday 20 March 2020 19:37 Comments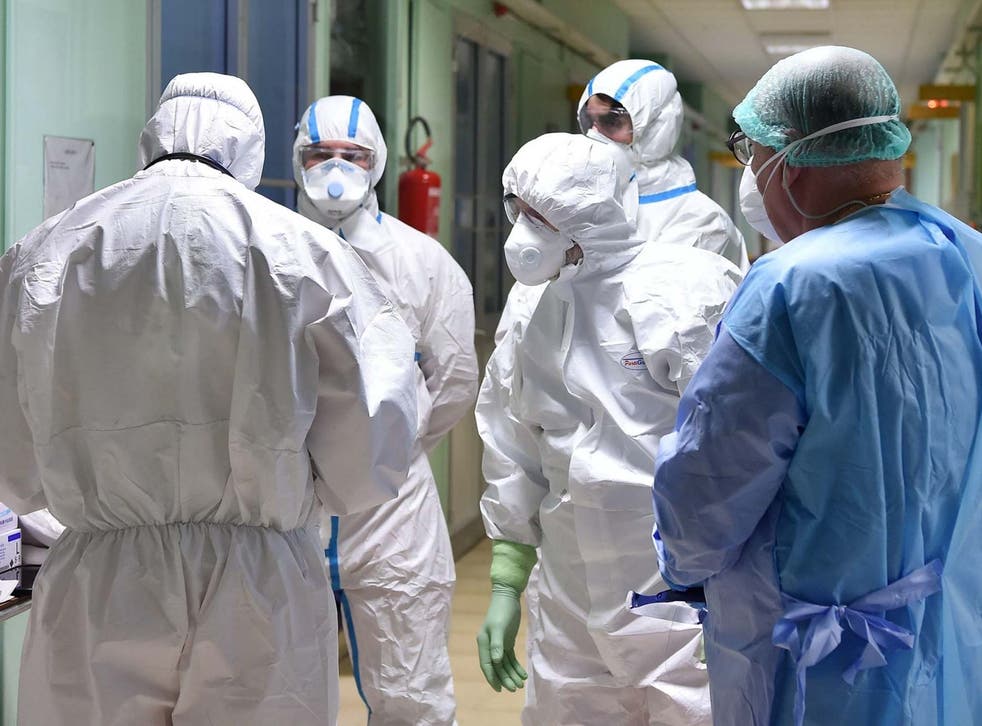 Doctors and medical staff across the US are running out of masks that are essential for protecting them against the coronavirus.
The shortage is fast becoming a crisis within a crisis, as medical workers increasingly risk becoming infected at a time when healthcare services are already under strain.
"At the facility where I'm working now, the staff had been told they can have one paper mask per day," Dr L Anthony Cirillo, an emergency room physician in Dade City, Florida, told The Independent. "Typically these are paper masks that you would discard after each patient use."
"In other places they are taking them home, squirting it with bleach, hanging it up to dry and alternating them every other day," he said.
Before and after photos show impact of coronavirus around the world

Show all 20
Global supplies of the N-95 respirator mask have dwindled during the coronavirus pandemic as health workers and members of the public around the world have rushed to stock up. Hospitals have been unable to fill orders of new masks as a result.
The lack of proper protection may have untold knock-on effects on the country's healthcare system if doctors are forced to quarantine because of contracting the virus. Dozens of healthcare workers have already been infected, according to some officials, and that number is likely to rise significantly.
The spread of the virus among medical professionals would impact not just coronavirus patients, but the entire system.
"If the healthcare workforce gets exposed and gets sick because we don't have the right protection, who's going to take care of the sick people?" said Dr Cirillo.
The shortages have forced doctors and nurses to rally on social media to make desperate pleas for more personal protection equipment (PPE), using the hashtag #getmePPE.
"This is my one N95 mask. I have been instructed to preserve it for up to 30 days by covering it with regular surgical masks which are also on critical shortage. The supply chain should not have crumbled. Our patients deserve better! We deserve better!" wrote Leah Tatebe, a trauma surgeon from Chicago.
The Trump administration announced this week that it was releasing some five million masks from military stockpiles to meet increased demand — one million of which will be available immediately.
Donald Trump also said he would invoke the Defence Production Act on Friday, which would allow the government to compel manufacturers to produce "health and medical resources needed to respond to the spread of COVID-19, including personal protective equipment and ventilators," according to the executive order.
Speaking on Friday, he said: "We have millions of masks which are coming and will be distributed to the states. The act is very good for things like this."
But Mr Trump has faced criticism from Democrats for not making full use of the act's powers to speed up production.
In an effort to contain the fallout from the shortage, the Centers for Disease Control and Prevention (CDC) updated its guidelines to address the shortage, advising medical staff to "use homemade masks (e.g., bandana, scarf) for care of patients with COVID-19 as a last resort".
Dr Cirillo described that advice as "criminal."
"You can't ever tell a healthcare provider to use something that scientifically has no protective value," he said. "It's hard to describe the emotional reaction of [healthcare] providers to that statement. We've gone from being brave and scared, now we're angry."
In some areas, hospital workers are making their own masks for the little protection they provide. Staff at one hospital in Seattle have been using office supplies to make prototype face shields.
After writing in her local newspaper about medical workers facing difficulties acquiring medical masks, Dr Niran al-Agba, a pediatrician in Washington state, woke up one morning to two boxes on her doorstep.
"I came outside to get the paper. I opened the door and there were two boxes there," she told The Independent. "My patients are concerned about me. I'm very lucky."
Dr Agba said she is currently bleaching her N-95 mask every day and reusing it. But the shortages have her worried about the impact on her patients if she becomes sick.
"I'm suiting up and masking up and doing all these extra precautions because I want to stay open for my families. I care for about 3000 patients roughly, and sending all those patients into the emergency rooms when they are already overloaded isn't going to help stem the spread of the disease," she said.
"It's pretty sobering to be driving to work in the morning and thinking, 'ugh, please let me be okay today. Let me be able to come home.' And then wondering if I might end up on life support. Could I die and not be, you know, around for my children because of my job."
The number of confirmed cases of coronavirus passed 15,000 on Friday as many states introduced tougher shutdown policies to slow the spread. At least 202 people have died in the country.
Register for free to continue reading
Registration is a free and easy way to support our truly independent journalism
By registering, you will also enjoy limited access to Premium articles, exclusive newsletters, commenting, and virtual events with our leading journalists
Already have an account? sign in
Join our new commenting forum
Join thought-provoking conversations, follow other Independent readers and see their replies