'I don't think I'll ever be the same': Medical workers on coronavirus frontline face mental health crisis
A drop in cases has offered a brief respite for medical staff treating coronavirus patients, but it has also forced them to consider their own wellbeing, writes Richard Hall
Richard Hall
New York Comments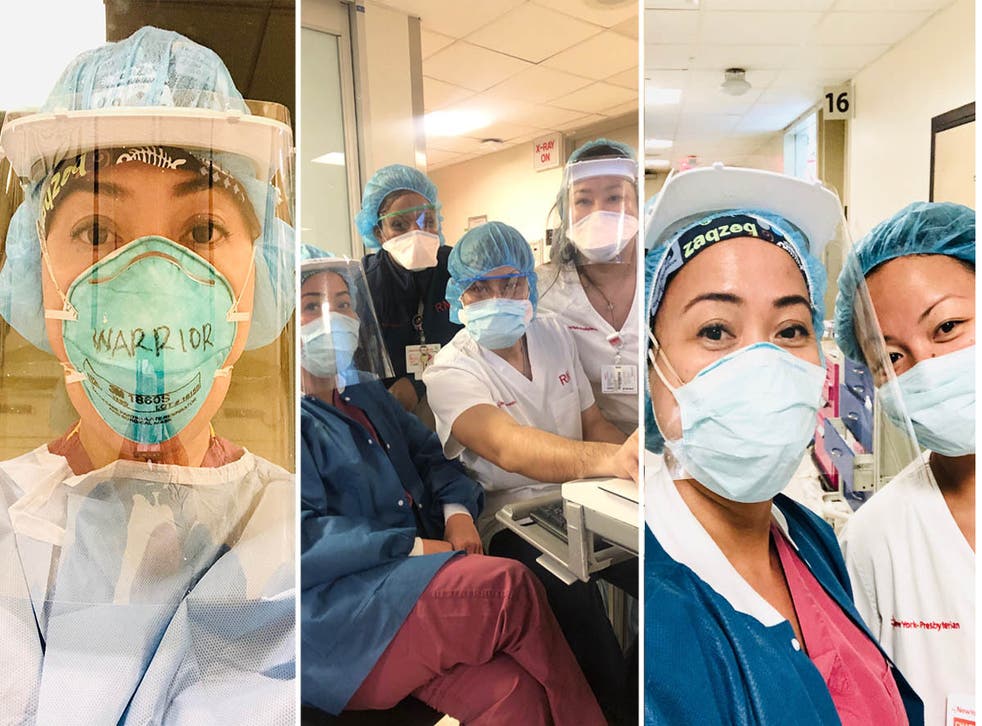 For many frontline medical workers in New York, the past few months have felt like a war. On the darkest days of the coronavirus outbreak, 1,000 people were dying here every 24 hours. Refrigerated trucks appeared outside of hospitals to be used as temporary morgues. The city became the epicentre of the global outbreak.
Today, there is a break in the clouds. Due to social distancing and quarantine measures, the number of deaths is down to fewer than 200 a day and continuing to fall.
But as the chaos abates in the emergency rooms and intensive care units, nurses and doctors are preparing for an entirely new fight. Experts are now warning of a mental health crisis for medical workers who have spent the past months on the frontlines of the pandemic.
In a profession that already suffers from higher rates of suicide and burnout, the pressure of the outbreak is taking its toll.
"When you're in battle, you're active and your adrenaline is pumping — everyone is rising to the occasion. But when it subsides, you're going to have to deal with it all," says Christianne Calderon, a nurse practitioner who treats Covid-19 patients in an intensive care unit in New York.
"A lot of frontline workers who have gone through a whole lot of stress and anxiety while they have been serving others," she adds.
The coronavirus pandemic brought with it a perfect storm for healthcare professionals: a dramatically increased workload, shortages of protective equipment, uncertainty about suitable treatment, fears of contracting and spreading the virus to their families and greater exposure to death.
"We are already seeing the consequences of this pandemic manifest for healthcare workers," says Dr Luanma Marques, president of the Anxiety and Depression Association of America and associate professor at Harvard Medical School's Department of Psychiatry.
"In some ways, we have encountered crises similar to this like SARS and Ebola but in other ways, Covid-19 is forcing us to navigate some uncharted territory," Dr Marques adds.
Mental health crises resulting from large-scale virus outbreaks are not new. In previous epidemics, medical professionals reported extreme levels of emotional distress even long after the outbreaks subside. Symptoms included increased levels of post-traumatic stress disorder, depression, anxiety, and burnout.
But Covid-19 brings with it a new set of pressures for healthcare workers. The severity of the pandemic, the broad impact it has had on society and the economy, the risks to their lives and even the politicisation of lockdown measures have all increased the strain.
A recent study of clinicians and others caring for patients with Covid-19 in China found abnormally high levels of symptoms associated with mental health across the board. The percentage of respondents who reported experiencing symptoms of depression was at 50 percent, anxiety at 45 percent, insomnia at 34 percent, and distress at 72 percent, according to the study in the Journal of the American Medical Association.
"This is especially concerning when considering that healthcare workers are already at an increased risk for suicide and suicidal ideation," says Dr Marques.
Here in the US, there are also signs that the outbreak is taking its toll on medical workers. Last month, an emergency room doctor who was treating coronavirus patients at Manhattan hospital died by suicide. Dr Lorna M. Breen, the medical director of the emergency department at NewYork-Presbyterian Allen Hospital, died of self-inflicted injuries, according to police.
Dr Breen, 49, had no history of mental illness. Her father told the New York Times that she had been deeply affected by the death she saw on the frontlines of the coronavirus crisis.
In New York and other places across the country, a reduction in the number of hospital admissions and deaths from Covid-19 has led to calls for an end to the lockdown measures. This has only increased anxiety for some healthcare workers, who are having to consider the possibility of a second wave of the virus when they are not yet done with the first.
"We're in fear of reopening. I don't want to rejoice that early," says Calderon. "We're still dealing with so many people from the first surge, and we have this anxiety and fear that everybody is out there so fast and so quickly. We're going to have to go through this again?"
The conditions of the pandemic have also robbed many healthcare workers of their usual coping mechanisms. Dr Gretchen Winter, a pulmonary and critical care specialist who was among thousands of medical professionals who came to volunteer in New York at the height of the outbreak, has spent the past few weeks living an isolated existence in a hotel near the hospital where she is treating Covid-19 patients.
"Pre-Covid, when I would have days like this, I would cope by hanging out with my friends and having a movie night or you know, chatting with my boyfriend about it or I sit down and I play the piano for a couple of hours, and I can't do those things because I'm here," says Dr Winter, who came from Alabama to help New York deal with its surge.
Like many of her colleagues, Dr Winter is worried about the cumulative effect of working in such a stressful environment for a prolonged period of time.
"Burnout is already a pandemic of its own in the healthcare profession. And now we're facing increased hours, increased duties, more meetings, more death, more stress, less money, all of these things," she says.
"I'm exhausted from working 71 hours this week. I lost another patient. I'm emotionally and physically spent, and I don't see an end to this in the near future. For the most part I'm hanging in there, but I don't think I'll ever be the same," she adds.
On top of all these things is the added pressure from those outside the hospital walls who are not taking the threat of the pandemic seriously, says Dr Winter.
"I've been here for four weeks now, living alone in a hotel room. I spend all day trying to save lives and sacrificing, and then I go outside and see people who just don't care and just don't believe in science and medicine. You hear people say that they don't want their freedoms restricted by having to wear a mask," she says.
"Meanwhile I'm sitting here with people in their thirties and no past medical health conditions who aren't going to make it. They are on the phone with their spouses who are crying and begging us to save them. It's emotionally exhausting and frustrating."
Register for free to continue reading
Registration is a free and easy way to support our truly independent journalism
By registering, you will also enjoy limited access to Premium articles, exclusive newsletters, commenting, and virtual events with our leading journalists
Already have an account? sign in
Join our new commenting forum
Join thought-provoking conversations, follow other Independent readers and see their replies