Coronavirus: NCAA considers banning fans from March Madness games
With the health and safety of athletes, fans and administrators the top concern, 'all circumstances' are being considered, and 'everything is on the table'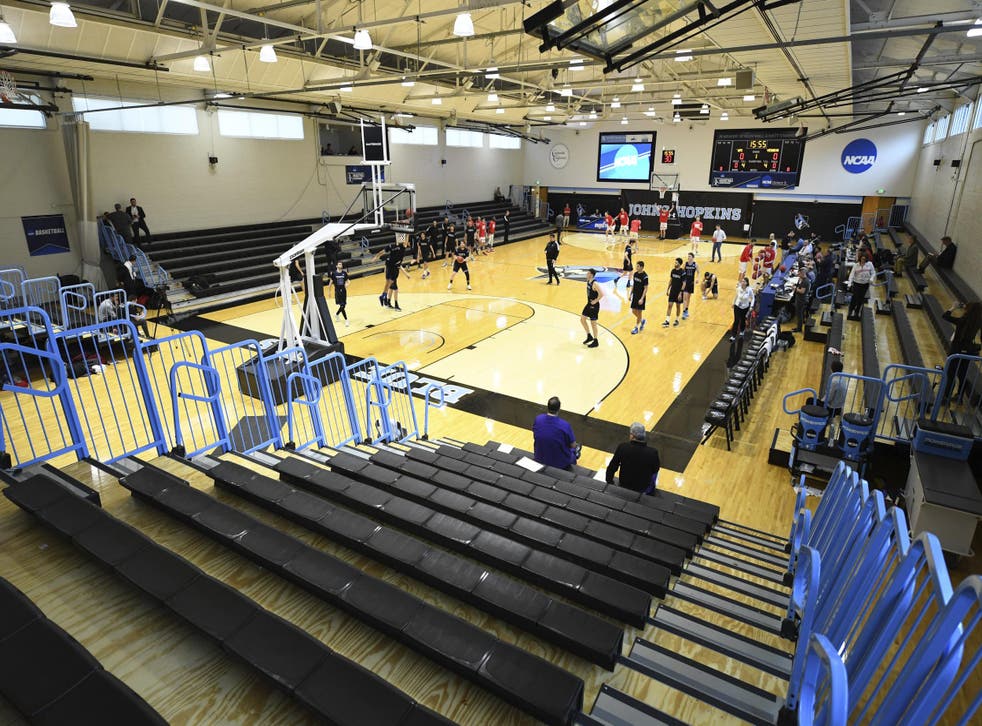 Just 10 days before the beginning of college basketball's annual March Madness tournament, spectators will be barred from a division three tournament over fears of spreading the coronavirus. In addition, two college teams with games on the West coast have also chosen to cancel those fixtures.
These decisions may not bode well for the National Collegiate Athletics Association's (NCAA) most important event — and the source of 80 per cent of its annual revenue.
The possibility of a March Madness tournament without fans present is a possibility, and has already been suggested by the National College Players Association.
In an interview with Bloomberg, Donald Remy, chief operating officer of NCAA, said that they were considering "all circumstances", "everything is on the table", and that the health and safety of the athletes, fans and administrators was of their "first and foremost" concern.
The association has established a coronavirus advisory panel of medical, public health and epidemiology experts to monitor developments and give recommendations as the situation develops.
"The NCAA is committed to conducting its championships and events in a safe and responsible manner," said Mr Remy. "Today we are planning to conduct our championships as planned, however, we are evaluating the COVID-19 situation daily and will make decisions accordingly."
Already, with the confirmation of cases of the virus in suburban Maryland, Johns Hopkins University (JHU) has decided that the first two rounds of the NCAA division three tournament that it is hosting, will take place with no spectators.
"In light of Maryland's recently confirmed cases of COVID-19, and based on CDC guidance for large gatherings, we have determined that it is prudent to hold this tournament without spectators," the college said in a statement on Thursday night.
The first game tipped off at 2pm on Friday between Yeshiva University and Worcester Polytechnic Institute with no fans present. Reporters are still welcome at the games, which are being streamed online.
"We are not making any determination about other JHU events at this time; while we await further guidance from public health authorities, we will be assessing large events on a case-by-case basis. We regret any inconvenience to the families and fans of the players."
Earlier, both Chicago State and the University of Missouri at Kansas City cancelled men's basketball games at Seattle University that were scheduled for this week, due to the severity of the coronavirus outbreak in Washington state.
"We respect Chicago State and Kansas City's decisions and understand their concerns," Seattle University said in a statement: "Seattle University is actively monitoring and responding to this rapidly evolving situation and continuing to follow the guidance of public health agencies and make decisions based on the most up-to-date information available. There has been no recommendation to suspend campus operations, including athletic contests, or restrict travel in the United States at this time."
With the growing number of cases of coronavirus nationwide, it is possible that restrictions on large gatherings of people will be implemented by authorities in the US — as is happening in France.
The world of sport is already following suit in Europe with the Italian Football Federation banning fans for a month, the postponement of the England-Italy match-up in the Six Nations Rugby, and the cancellation of the Paris half marathon.
March Madness is scheduled to run from 17 March to 6 April and involves 68 Division I men's basketball teams from across the country. It takes place at arenas in 12 different states. The women's tournament begins 20 March and will involve 64 Division I teams competing first at various campuses, then at arenas in five states.
In the US, at least 250 people have been infected in 23 states. There have been 14 deaths.
Join our new commenting forum
Join thought-provoking conversations, follow other Independent readers and see their replies