Covid in 2021: Experts predict when and what American industries will return to normal
Future scenarios for what 2021 could look like would depend on 'effective public health response of testing, contact tracing, isolation, quarantine and vaccination,' Dr Georges Benjamin says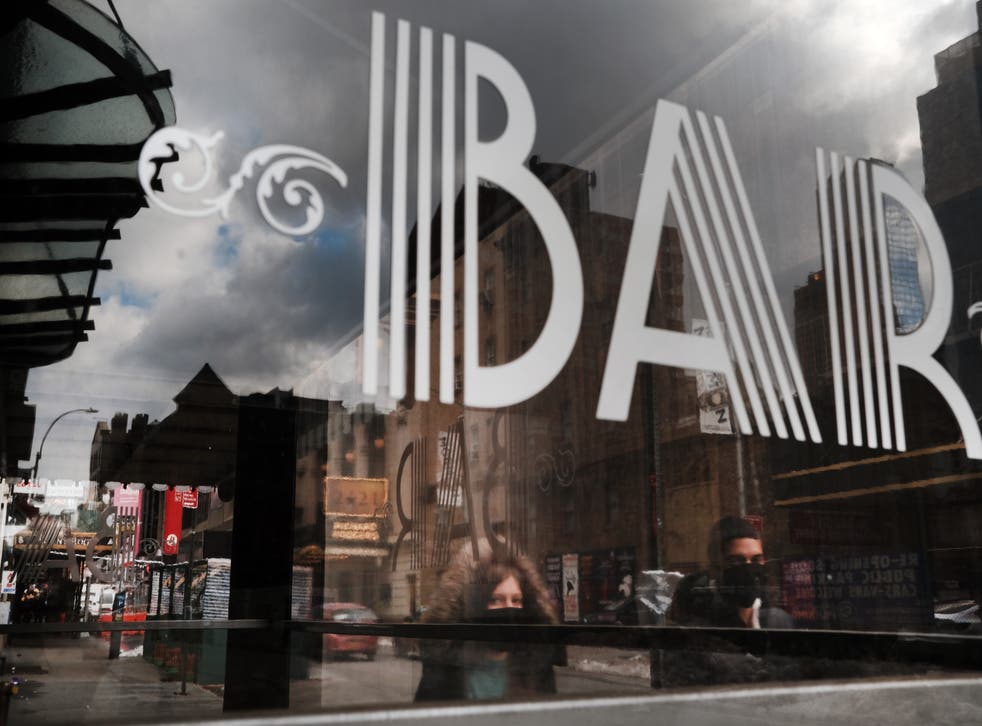 Most Americans have been under some type of coronavirus restrictions for the last nine months since the pandemic pushed some hospital systems to near-breaking point in March.
Coronavirus fatigue has set in, influencing just how many people are willing to continue with mitigation efforts like social distancing and mask wearing – as well as cancelling travel and holiday plans to stop the spread.
But 2021 is upon us with two different coronavirus vaccines being delivered to states across the nation. A new administration is also incoming, with President-elect Joe Biden moving into the White House on 20 January, which could change how the country responds to coronavirus guidelines.
"You will have a dramatic shift in the posture of the administration that goes from skepticism, disorganisation, wariness of science, and kind of a wilful disbelief of what's happening with the pandemic to one that fully understands and appreciates the severity of what's happening," Billy Wynne, chairman of Wayne Health Group and former Health Policy Counsel to the Senate Finance Committee, told The Independent.
He predicted President-elect Joe Biden and his administration would "be honest with the American people" and "deploy funding as swiftly and as effectively as possible based on the advice of scientists and the evidence that's available."
"That makes me cautiously optimistic that we can turn this around," he added "But either way it is going to be several months, I think, until we can turn this thing around."
Can Americans expect normalcy within their communities in 2021?
Experts remain cautiously optimistic about how life could return in the coming months. But it relies on a variety of factors.
Dr Georges Benjamin, the executive direction of the American Public Health Association, said future scenarios for what 2021 could look like would depend on "effective public health response of testing, contact tracing, isolation, quarantine and vaccination."
"Doing all of those things effectively, coupled with people complying with wearing a mask, washing their hands, and keeping their distance," he added when speaking to The Independent.
How fast the public achieves herd immunity – both through natural infection and receiving the vaccine – would also impact how swiftly the country begins to reopen. Dr Benjamin estimated about 70 to 75 per cent of the public would need that immunity against Covid-19, an estimate shared by other experts like Dr Anthony Fauci.
"If you start vaccinating parts of the general public in April, by the time you get to the end of August … that's when we should see an overwhelming majority," Dr Fauci said in a recent interview with The Daily Beast. "That's if you vaccinate very aggressively in May, June and July."
Mr Wynne said that optimistic scenarios for 2021, such as more industries being open in the summer months, would be contingent on a vast vaccination rollout of about 50 million people receiving vaccines each month.
"That would be a very impressive logistical accomplishment given how our country has responded to the pandemic thus far," he said. "But I think that's the type of pace I think we would need to approach herd immunity by the summer."
But that vaccination initiative would need to be "coupled with more aggressive testing and tracing," he said.
Healthcare industry
Experts anticipated the industry that will first return to some semblance of normalcy would be aspects of the healthcare industry, such as elective surgeries.
Uptake in Covid-19 cases and hospitalisations forced hospitals in states across the country to pause elective surgeries – like hip or knee replacements – for multiple periods of time throughout the pandemic. This was done in an effort to stop the novel virus from overwhelming hospital systems, but it impacted patients and the healthcare industry's key revenue stream.
"As we begin to get our hands on the pandemic, we'll see a return to the ability to do urgent surgeries more easily," Dr Benjamin said. "Then at some point, I suspect in about two to three months, we will see the return of elective procedures and surgeries because the healthcare environment will be a lot safer."
The impact of the vaccine will show in the decline of cases, hospitalisations, and deaths – decreasing the current pressure on healthcare systems.
So these normal operations of hospitals will likely be what Americans will experience first within the pandemic.
But Mr Wynne did not anticipate a full return to normal operations until summer, given how long it will take for the majority of the public to receive immunity either naturally or through a coronavirus vaccine.
This doesn't mean PPE requirements like mask wearing would relax in the hospital setting, or with the general public, at the same time. Mr Wynne said people should expect those precautionary measures through the vast majority of 2021.
"It's probably going to take a long time for our culture to adjust and for our protocols to adjust," he said. "I would think even if you see that steep decline in cases and the pandemic is more under control … those more reasonable safety precautions like putting a mask on will continue."
Colleges
Colleges moved to virtual learning to prevent students from gathering on campus and in classroom settings during the spring 2020 semester. Then some colleges attempted to return to some aspects of in-person learning in the fall, while others remained online.
Dr Benjamin predicted there could be a large return to in-person learning in the fall of 2021 if all went well with vaccinating the public into the summer months.
"That's pending on the vaccine program rolling out and us getting enough vaccine [doses]," he said. "We are very much dependent on vaccines."
This prediction coincided with what Mr Wynne anticipated for the fall semester. Incoming freshmen would likely not experience a normal high school graduation, but they would "hopefully have a normal beginning to their college career," he said.
Holiday plans
Covid-19 impacted the ability for people to gather with family members outside their own households over fear they could infect others, specifically the elder members.
Health experts implored everyone to cancel their Thanksgiving and Christmas travel plans to diminish the spread of the novel virus at a time when cases, hospitalisations, and deaths were surging. While not everyone complied, holiday travel and gatherings did significantly decrease.
So when might everyone be able to have a normal holiday without concerns from health professionals that a Covid-19 surge would follow?
Dr Benjamin was optimistic the Fourth of July could see a return to normalcy, but he confessed that prediction also hinged on his hopefulness to have his planned vacation.
"I think people should plan their lives based on their risk tolerance," he said, adding there are "some assumptions we will have our hands on the pandemic by early summer."
"But I think people need to plan continuously in case we don't."
Halloween was a more realistic holiday, Mr Wynne said, where health experts would likely not be concerned with viral surges in the population if people gathered. But he also remained hopeful the Fourth of July could be more normal.
"In terms of normalcy, I think it is more going to be the winter rather than the summer," he said. "That seems like a realistic expectation. But for the 4th, I would personally love to see it, but I am more skeptical that we would be out of the woods at that point."
Restaurants, bars, and gyms
Industries reliant on indoor, congregant settings that require the removal of a face mask have faced the one of the hardest economic hits amid the coronavirus pandemic.
States differ on what industries remain open and at what capacity, which would likely continue into 2021. As cases, hospitalisations, and deaths decrease following more and more people receiving the vaccine, these industries are expected to open up even more. But it could be slower in parts of the US than Americans expect.
Dr Benjamin anticipated in-house dining would be viewed as "safer" in the coming months, but when full capacity might happen remains up in the air depending on America's control of the novel virus.
"They'll be more than open [by the fall]," he said. "I think the capacity will be dependent on where the restaurant is, and what it looks like."
Bars, in comparison, are projected to be one of the last industries to return to normal because there's "lots of people packed together, lots of talking loud, lots of breathing without masks, and lots of eating," Dr Benjamin said.
Gyms were also projected as one of the last industries to see a return to normal because they also relied on indoor, congregate settings where people interacted with many outside their household unlike sitting at a table in a restaurant.
"The problems with gyms are mask wearing is difficult to do when exercising," Dr Benjamin explained. "You're breathing heavy, expelling a lot of air, and you have a lot of people on top of one another."
"Any place where we have lots of people that are doing a lot of activity like that will be based on conditions in their community in terms of degree of spread and their ability to do so safely with the guidance that the CDC will be putting out," he added.
Will restrictions be less stringent later in 2021 as more people are vaccinated? That's expected as vaccination numbers help decline cases and hospitalisations. But at what capacity and if masks would still be required in some of those settings was not yet known.
Concerts, theatres, sporting events, and other mass gatherings
These venues would all be dependent on the community one lives in and how the spread of the novel virus is under control in the months going into 2021.
But people could see a return to outdoor concerts in the summer, Mr Wynne said. These likely would still require the addition of a face mask and possibly other coronavirus guidelines depending on the community. That was the same with sporting events.
Full capacity at a concert or sporting event, though, would be more likely in the fall and winter months compared to the summer – if it happens at all in 2021.
"If we are all protected and we are not sharing this disease amongst ourselves … we'll probably have, I would guess, a normal fall," Dr Benjamin said.
Indoor theatres and concerts could take longer to see a return due to the virus circulating within the venue. But these places also make it easy for residents to wear masks throughout a majority of the event, which could influence how fast they open up in 2021.
"Whatever I predict today is going to change two weeks from now as we learn more," Dr Benjamin said, "At the end of the day, 2021 has got to be better than 2020. That I can predict."
Register for free to continue reading
Registration is a free and easy way to support our truly independent journalism
By registering, you will also enjoy limited access to Premium articles, exclusive newsletters, commenting, and virtual events with our leading journalists
Already have an account? sign in
Register for free to continue reading
Registration is a free and easy way to support our truly independent journalism
By registering, you will also enjoy limited access to Premium articles, exclusive newsletters, commenting, and virtual events with our leading journalists
Already have an account? sign in
Join our new commenting forum
Join thought-provoking conversations, follow other Independent readers and see their replies