Coronavirus: Peru nightclub crush kills 13 people after police raid over lack of social distancing
Around 120 partygoers tried to flee Lima nightclub
Emily Goddard
Sunday 23 August 2020 18:45 Comments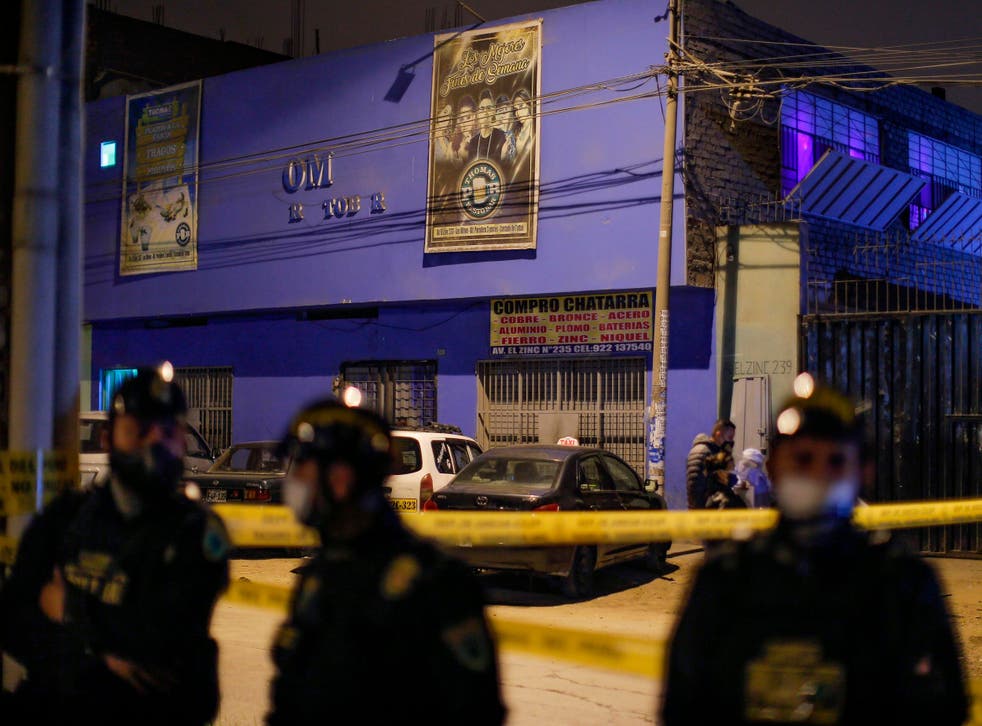 At least 13 people died in a crush as partygoers tried to flee a Lima nightclub raided by police because it was in breach of coronavirus restrictions.
People were crushed to death or suffocated as around 120 people tried to escape the Thomas Restobar club on Saturday, national police and government officials said.
Local media reported that the victims were in their 20s.
A further six people were injured, including three police officers.
A statement from the Interior Ministry blamed the "criminal irresponsibility of an unscrupulous businessman" for the tragedy.
Neighbours had reported a loud event at the club in the Los Olivos district of the Peruvian capital at 9pm local time.
"In these circumstances when people begin to fight to get out, it's tumultuous, everyone goes against each other," Orlando Velasco of the national police told local radio station RPP.
People from the party tried to squeeze en masse through the only entrance door and became trapped between the door and a staircase leading to the street, according to the Interior Ministry.
No weapons or tear gas were used during the police intervention and 23 people have been detained, the ministry added.
Rosario Sasieta, Peru's women's minister, said she was outraged.
"It should never have happened. We are in a pandemic, in a health emergency. I am calling for the maximum punishment possible for the nightclub owners," she told RPP.
Peru closed nightclubs and bars in March and banned extended family gatherings on 12 August to fight what is Latin America's second-highest Covid-19 infection rate, according to a Reuters tally. A Sunday curfew is also in effect.
Peru had recorded 585,236 coronavirus cases as of Saturday, double the number reported on 2 July. The known death toll has reached 27,453.
Additional reporting by agencies
Register for free to continue reading
Registration is a free and easy way to support our truly independent journalism
By registering, you will also enjoy limited access to Premium articles, exclusive newsletters, commenting, and virtual events with our leading journalists
Already have an account? sign in
Join our new commenting forum
Join thought-provoking conversations, follow other Independent readers and see their replies