Coronavirus in US: Five uplifting stories of Americans dealing with the pandemic
Raise your spirits amid the pandemic with these hopeful examples of human spirit from across the country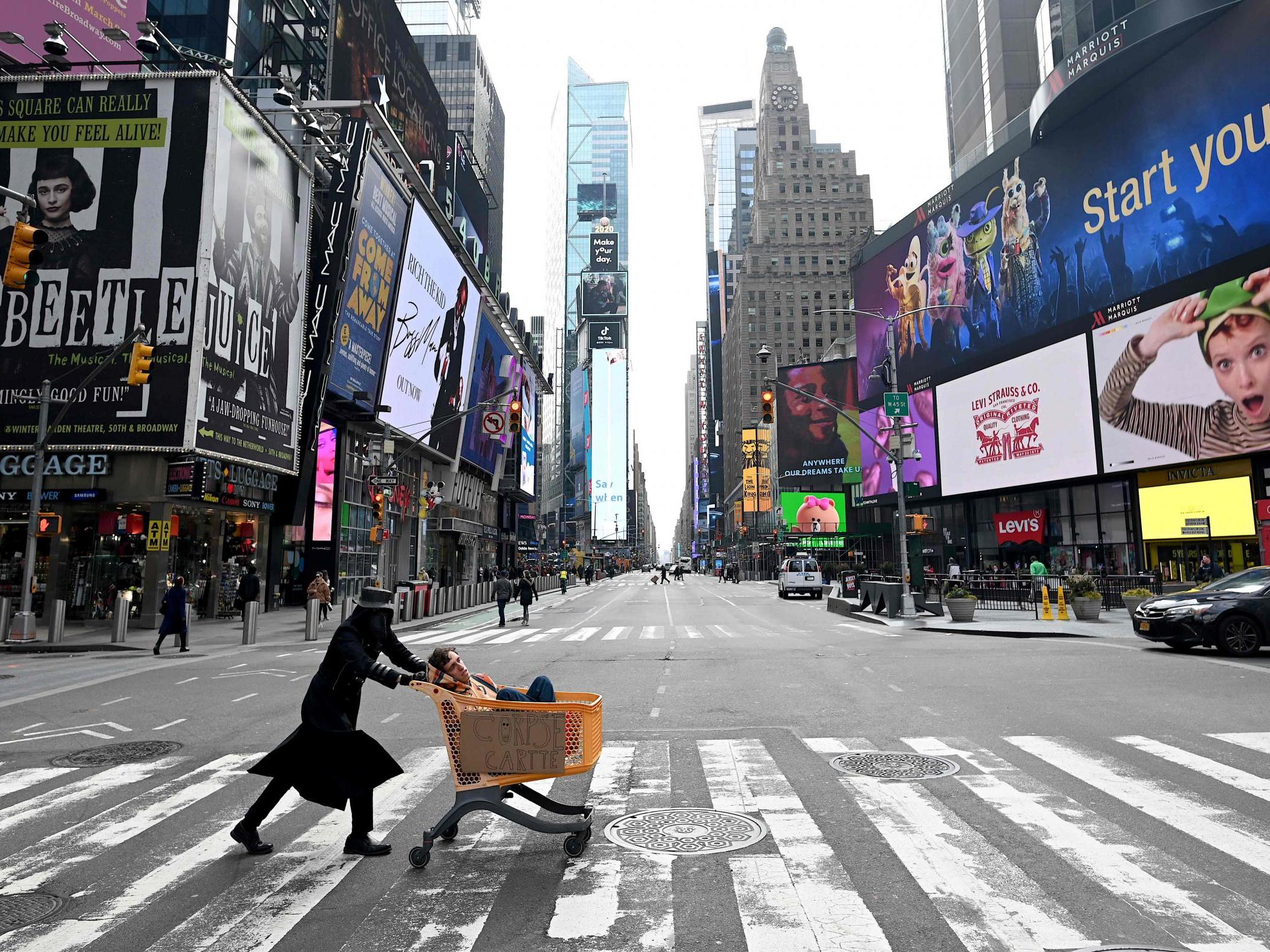 Amid the fear of the coronavirus pandemic, it can be hard to find things to be positive about.
With new anxiety-inducing developments spilling into the news every day, all the stockpiling and social distancing the panic can become overwhelming.
However, it's important to remember that moments of crisis do in fact often bring out the best in people.
So with that mantra in mind, here are five of the best stories of kindness during the Covid-19 quarantine in the US to restore your faith in humanity.
Siblings hold porch concert for self-isolating neighbour
Two children in Columbus, Ohio, played an impromptu concert on the porch of their 78-year-old neighbour to try and ease the stress of self-isolation.
According to CNN, nine-year-old Taran Tien and his sister six-year-old Calliope dressed to the nines and played music ranging from a Bach minuet to "Go Tell Aunt Rhody" for their neighbour Helena Schlam, a lover of classical music who hadn't been able to leave the house in five days.
"I loved watching how delighted they all were," Rebecca Tien, the children's mother said.
"It was one of those moments where you feel like you're a part of something incredible," she added.
Newly engaged women shares happy news with grandfather through window
A newly engaged woman who thought she wouldn't be able to share the happy announcement with her grandfather because his care home was shut to visitors had to get creative to impart her exciting news.
Staff at the Premier Living and Rehab Center in Lake Waccamaw suggested Carly Boyd show her grandfather her ring through the window of his room, leading to a very emotional moment.
"It was magical, I can't even explain it. I was in tears, my administrator was in tears, even the roommate of the resident, he was even crying," April Bass, the Community Activity Coordinator at the facility told WETC.
"It was very magical and it was very heartfelt and Carly started crying and her grandfather even started crying. It was beautiful and heartbreaking at the same time," she said.
Reader of the Seattle Times sends pizza to newspaper's office as staff work through outbreak
A dedicated fan of the Seattle Times selflessly sent pizzas to staff who had been working through the week to cover the spread of the coronavirus in Washington.
Taylor Blatchford, a member of the newspapers digital team, posted a photo of the kind act on Twitter alongside the caption:
"Our whole @seattletimes staff has been working nonstop all week as coronavirus spreads in Washington. But today, a subscriber wrote in and asked if she could send pizzas to the weekend staff. We love our readers and couldn't do this without them."
Strangers act of kindness at grocery store
A man in Cullman, Alabama, kindly offered to pay for two people's shopping while stocking up on supplies at a local grocery store.
WAFF48 reported that a man named Adam allowed two shoppers behind him to put their items on the conveyor belt and then told the cashier he would be covering the cost.
He asked for nothing in return and simply wished for the two people to "have a blessed day."
Shopper Melina Wray-Pylant witnessed the good deed and posted about it on Facebook.
"This situation, not the complaining about stores being out of so much, not the griping about having to fight the crowds or how crazy everybody is acting, this right here is what we should be doing. Caring for others," she wrote.
Husband and wife kept apart by quarantine find a way to celebrate 67th anniversary
An elderly man refused to let a coronavirus quarantine's get in the way of him celebrating his 67th wedding anniversary with his wife, spurring him to show his love in the most special way.
As a result of coronavirus guidance on nursing homes, Bob Shellard was un-able to see his wife Nancy in person for the occasion.
However, undeterred by circumstance Mr Shellard stood outside his wife's nursing home window with balloons and a sign that read: "I've loved you 67 years and still do. Happy Anniversary."
Nancy was seen waving and blowing kisses from her window when she saw the sign.
"I wouldn't want anybody else," Mr Shellard told NBC Connecticut about his wife. "I don't think she could put up with anybody else besides me."
Join our commenting forum
Join thought-provoking conversations, follow other Independent readers and see their replies