Couple finds $10million in gold coins while walking their dog
The couple found the mint-condition coins on their property in the US
Tim Walker
Wednesday 26 February 2014 00:09 Comments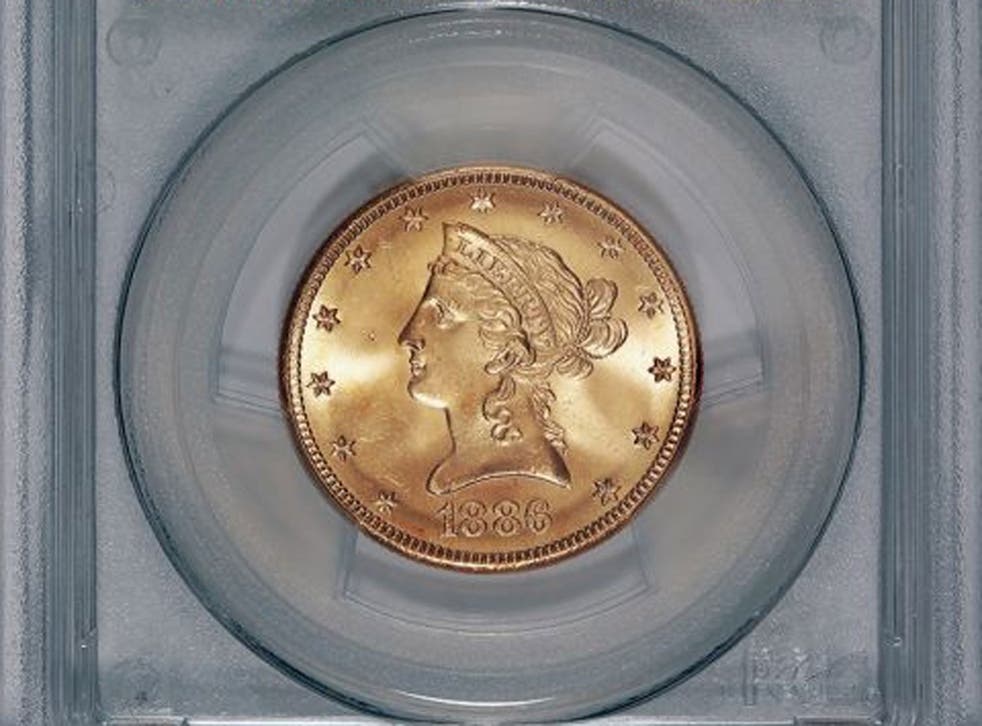 As they take their daily walk through a section of their property that they call Saddle Ridge, John and Mary pass by an old tree growing into a hill. Years ago, the 40-something couple from northern California noticed an empty, rusted can hanging from one of its branches. "We thought the can might be a place for someone to put flowers in for a grave site," John said. It turned out to be a site marker, all right – but not for a grave.
One day last February, while strolling past the tree with their dog, Mary bent down to where a second can was sticking from the earth, uncovered by erosion. "Don't be bending over to check on a rusty can," her husband told her. But Mary was curious about its contents, so they dug the heavy vessel out with a stick and carried it home. What they found inside is now thought to be the largest haul of buried treasure ever discovered in the US.
The can was filled with 19th- century gold coins. The couple raced back to the tree and dug up seven more, eventually unearthing more than 1,400 rare and pristine US coins dating from 1847 to 1894. The cache, since christened the Saddle Ridge Hoard, has a face value of more than $28,000 (£16,800), but rare coin experts say it could eventually fetch more than $10m.
The couple, who have chosen to remain anonymous, were so shocked by their find that their first response was to rebury the coins under their woodpile while they decided how to proceed.
Donald Kagin, the president of numismatic firm Kagin's Inc, which represents John and Mary (not their real names) announced the find in a statement, saying "This family literally found the pot of gold at the end of the rainbow."
Until now, the largest such find on US soil was a hoard of gold found by construction workers in Jackson, Tennessee in 1985, which had a face value of $4,500 and sold for approximately $1m. A single coin from Saddle Ridge – the 1866-S No Motto Double Eagle – is valued at around $1m.
The couple's property sits in California Gold Country, the region where prospectors flocked from around the world following the discovery of gold at Sutter's Mill near Sacramento in 1848: the California Gold Rush. In an interview posted on the Mr Kagin's website, John said that he felt the hand of history as he and Mary uncovered the coins. "I thought any second an old miner with a mule was going to appear," he said.
The coins were authenticated by Professional Coin Grading Service of Santa Ana, California, whose co-founder David Hall said the majority were uncirculated and in mint condition. The 1,427 coins came in $5, $10 and $20 denominations and were mostly minted in San Francisco. Attempts to identify the coins' original owner have so far proved fruitless.
John and Mary reportedly intend to sell around 90 per cent of the coins through Amazon's specialist Collectibles site, and will donate some of the proceeds to local charities that support the homeless and hungry in their area.
The couple's new fortune will also allow them to settle their debts and keep their home. "Like a lot of people lately, we've had some financial trials," John said in the interview on the Kagin's site. "I feel extreme gratitude that we can keep our beloved property."
His wife said: "Whatever answers you seek, they might be right at home. The answer to our difficulties was right there under our feet for years. Don't be above bending over to check on a rusty can!"
Register for free to continue reading
Registration is a free and easy way to support our truly independent journalism
By registering, you will also enjoy limited access to Premium articles, exclusive newsletters, commenting, and virtual events with our leading journalists
Already have an account? sign in
Join our new commenting forum
Join thought-provoking conversations, follow other Independent readers and see their replies