Couple married for 63 years die within 20 minutes of each other at care home
Henry and Jeanette De Lange both die at a nursing home in South Dakota after raising five children together
Gabriel Samuels
Tuesday 09 August 2016 19:46 Comments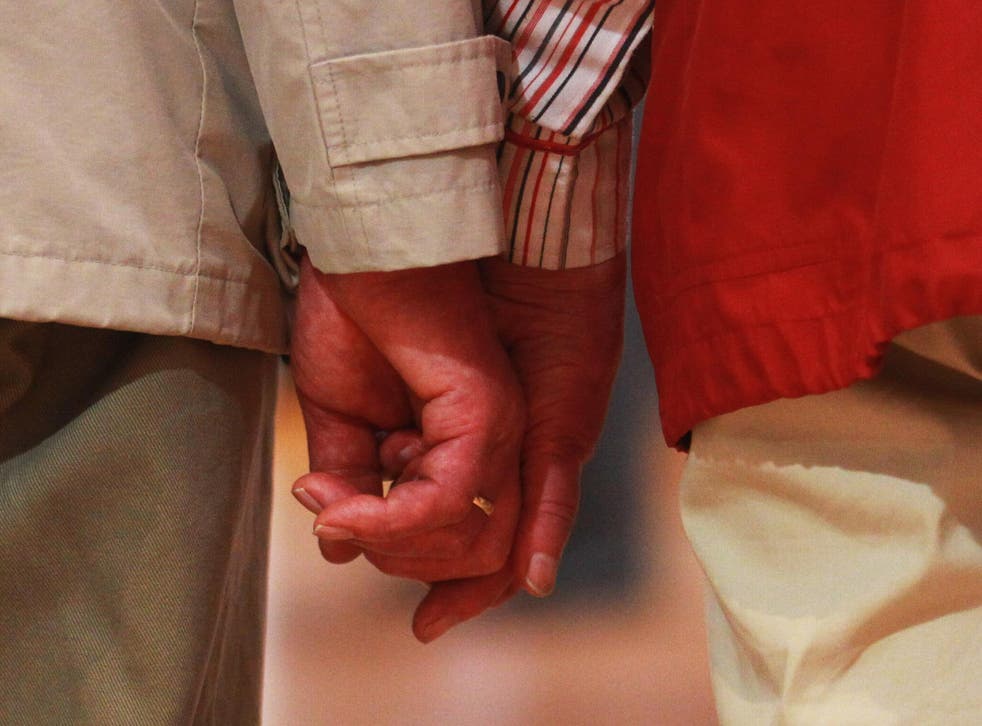 An elderly couple who were married for over 60 years died less than half an hour apart in the same room, and held hands with each other through their final minutes.
On 31 July Henry and Jeanette De Lange both died at a nursing home in Platte, South Dakota, after sharing 63 years of marriage and raising five children together.
Mrs De Lange, 87, died first after suffering from Alzheimer's disease for over five years, having moved into the home in 2011.
Meanwhile Mr De Lange, 86, a veteran of the Korean war, had developed prostate cancer and requested to be moved into the same home to be near his wife.
The couple died 20 minutes apart, with Mr De Lange continuing to hold onto his wife's hand until the end and briefly opening his eyes to look at his partner of over six decades.
The couple's son Lee De Lange said the family saw the event as "a beautiful act of God's providential love and mercy", according to broadcaster KSFY.
"You don't pray for it because it seems mean but you couldn't ask for anything more beautiful," he continued. "Dad visited mom once a day, twice, or maybe three times a day. It was very sweet."
World news in pictures

Show all 50
"My brother Keith said to my dad, said 'mom's gone to heaven. You don't have to fight anymore, you can go too if you want'. He was laying in bed.
"He, for the first time, opened his eyes, looked intently over where mom was. Closed his eyes back down. He laid back down, died about 5 or 10 minutes after that."
The couple's joint funeral will be held on Monday in their hometown of Platte, attended by members of their local community.
What's your biggest regret?
In July this year, George and Ora Lee Rodriguez from San Antonio died a few hours apart, having been husband and wife for over 58 years.
Register for free to continue reading
Registration is a free and easy way to support our truly independent journalism
By registering, you will also enjoy limited access to Premium articles, exclusive newsletters, commenting, and virtual events with our leading journalists
Already have an account? sign in
Join our new commenting forum
Join thought-provoking conversations, follow other Independent readers and see their replies