Cow falls from trailer and runs down busy Georgia motorway before being lassoed by officials
'It's a cow. It's a cow. On the highway'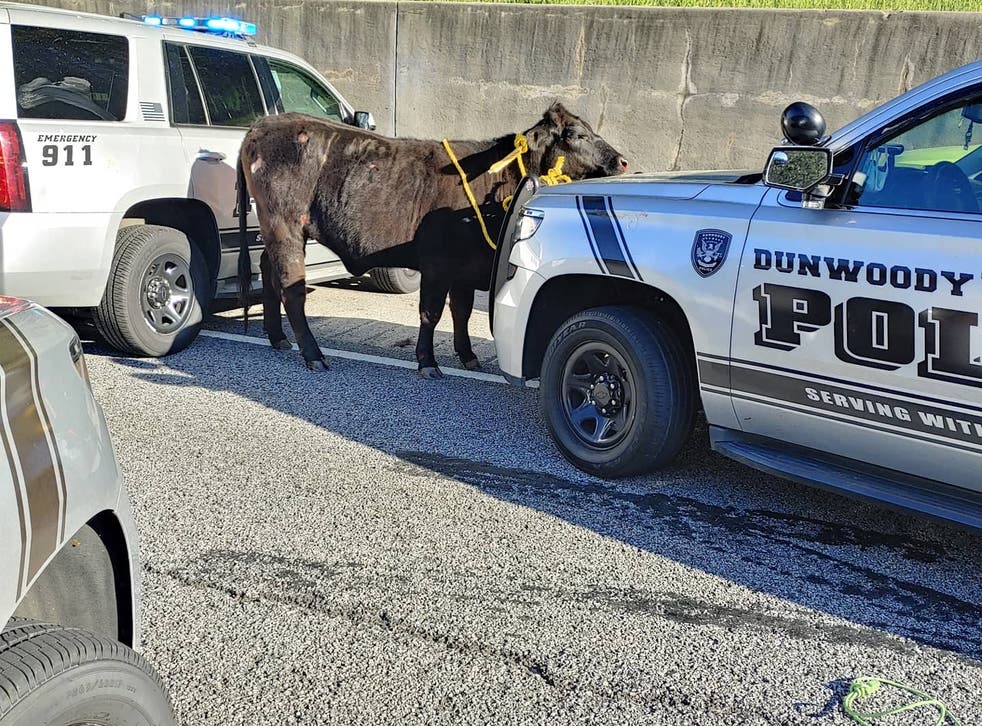 Leer en Español
Drivers on a motorway in Georgia spotted a runaway cow sprinting down the busy highway on Saturday.
Police in Dunwoody, Georgia, said they were called to the I-285 interstate, which runs west of Atlanta, early in the day to reports that a cow was running on the road.
Footage captured by bewildered drivers showed the bovine swerving through traffic as vehicles attempted to slow down and corner it to prevent it from coming to harm.
"Oh my god," one woman said in a recording of the bizarre occurrence. "It's a cow. It's a cow. On the highway," she added in disbelief.
One driver is seen in the video exiting his vehicle in an attempt to wrangle the animal but the cow sprints around the cars.
Read more:
Police said on Twitter that they believed the cow "fell out of a trailer and began running down the interstate".
"With the assistance of a citizen with a rope, officers were able to safely capture the cow and get it back to it's owner," they said.
Pictures shared by the department showed the cow after its rescue with a yellow rope lassoed around its head, and the animal seemingly having sustained light injuries.
According to WSBTV it took several officers to eventually collect the wayward cow and the disturbance caused severe delays to traffic on the interstate.
The broadcaster said that there were reports of a crash in the area and at one point, three lanes on the highway were closed.
Join our new commenting forum
Join thought-provoking conversations, follow other Independent readers and see their replies