Asbestos, benzene and other dangerous chemicals found in children's school supplies, report says
Hasbro and other companies argue their products are thoroughly tested and pass safety regulations
Niraj Chokshi
Thursday 09 August 2018 08:29 Comments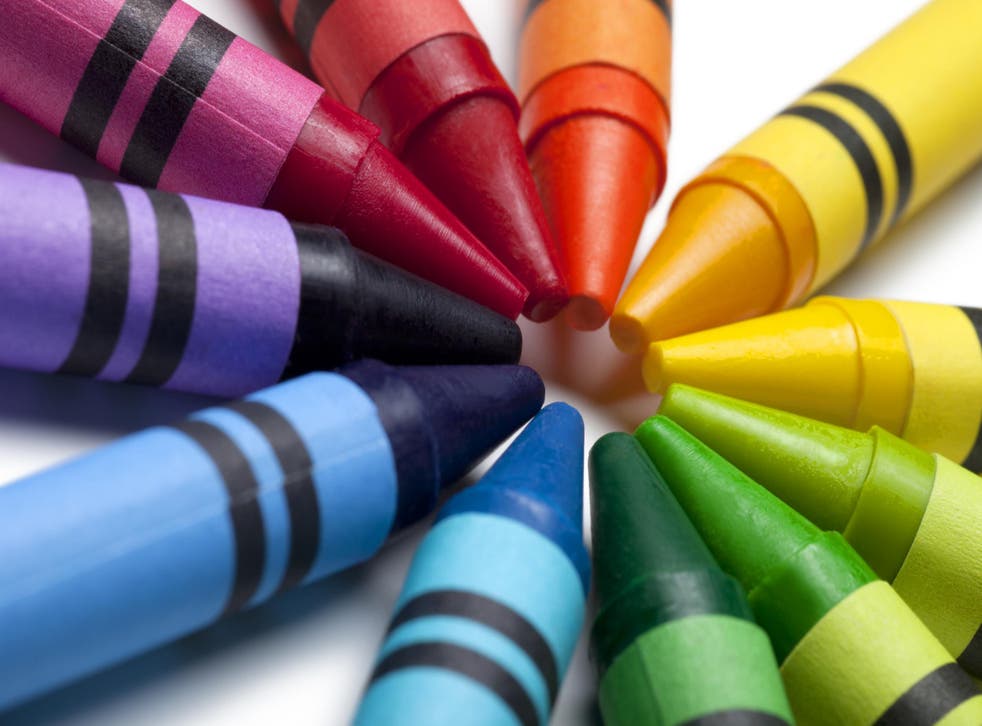 A public interest group said this week that it had found toxic substances in a number of school supplies, including asbestos in a Playskool crayon and another carcinogen, benzene, in a dry-erase marker.
The findings were detailed in a report published on Tuesday by the group, the US Public Interest Research Group Education Fund, which had an independent laboratory test 27 back-to-school products. Four tested positive for dangerous chemicals.
"It's insane for us to be finding asbestos in kids' products, whether it's technically legal or not, and parents shouldn't have to worry about this in 2018," said Dev Gowda, an author of the report who also directs the group's campaign to persuade manufacturers to drop toxic substances from personal care products.
"We wish that we didn't have to do a study like this, but the reality is that corporations — from manufacturers, distributors and retailers — aren't doing this for us," he said.
The group tested crayons, markers, binders, water bottles, lunchboxes, notebooks, rulers and glue. The products were purchased nationwide at a variety of businesses, including box stores, dollar stores, pharmacies, arts and crafts stores, and online.
The group, which has been surveying toys for more than three decades, recommended that the companies that make or offer the products stop selling them and start notifying consumers about the chemicals they appear to contain.
It also called on policymakers to continue to support the Consumer Product Safety Commission, a federal agency, and urged the commission itself to test more school supplies for dangerous chemicals.
Which? warns parents over harmful ingredients in children's toy slime
Here is a look at what the public interest group found:
— Asbestos
Of the crayons tested, one, a green Playskool crayon, tested positive for trace amounts of tremolite, a form of asbestos. The crayon was part of a set of 36 manufactured by Leap Year Publishing and purchased at a Dollar Tree store.
Julie Duffy, a spokeswoman for Hasbro, which owns the Playskool brand, said that "product and children's safety are top priorities" for the company.
"We are conducting a thorough investigation into these claims, including working with Leap Year, the licensee of the product," she said in a statement.
In an email, John Sorenson, a spokesman for Leap Year Publishing, said that all of its products, including the green crayon mentioned in the report, "are thoroughly tested by independent labs" to meet or exceed federal standards.
"We are currently re-verifying that they are safe and free of any asbestos, as well as requesting a review of PIRG's testing methods," he said.
Tremolite is responsible for many cases of asbestos-related cancer and asbestos diseases, according to the Abramson Cancer Center at the University of Pennsylvania.
In a statement, Dollar Tree said it was aware of the report and had "since re-verified that each of the listed products successfully passed inspection and testing."
Crayons sold under five other brands — Crayola, Up & Up, Cra-Z-Art, Disney Junior Mickey and the Roadster Racers, and RoseArt — tested negative for asbestos.
World news in pictures

Show all 50
— Benzene and related compounds
Four markers were sent to the laboratory, and two dry-erase ones tested positive for a group of compounds often found in petroleum products and known as BTEX: benzene, toluene, ethylbenzene and xylene.
One of those compounds, benzene, is a known carcinogen and was found in a package of six magnetic markers purchased on Amazon and produced by The Board Dudes, a brand owned by Mattel.
In a statement, Mattel said it took such reports seriously, "aggressively" tests its products and was reviewing the claims. The markers, the statement added, "contain substance levels that fall within the permissible limits."
Benzene disrupts the normal functioning of cells, according to the Centers for Disease Control and Prevention. Long-term exposure can have harmful effects on bone marrow and lead to a decrease in red blood cells.
An Expo dry-erase scented marker, also purchased on Amazon, tested positive for some of the BTEX compounds, although not benzene and none at levels considered worrying by toxicologists, according to the report.
In a statement, Expo said that it was aware of the report and that its products "meet all applicable regulatory and safety standards."
Washable markers, from Crayola and Jot, tested negative.
— Phthalates
In another set of tests, the public interest organisation examined three three-ring binders for phthalates, a group of chemicals added to plastics to mak​e them flexible, some of which may affect human reproduction or development.
Only one, a Jot-brand, 1-inch blue binder from Dollar Tree, tested positive. Binders sold under the Avery and Yoobi brands did not.
The New York Times
Register for free to continue reading
Registration is a free and easy way to support our truly independent journalism
By registering, you will also enjoy limited access to Premium articles, exclusive newsletters, commenting, and virtual events with our leading journalists
Already have an account? sign in
Join our new commenting forum
Join thought-provoking conversations, follow other Independent readers and see their replies