Creator of zombie nativity scene threatened with $1000 fine if he does not remove display from Cincinnati suburb
The unnerving scene features a zombie baby Jesus in a manger and an inverted pentagram star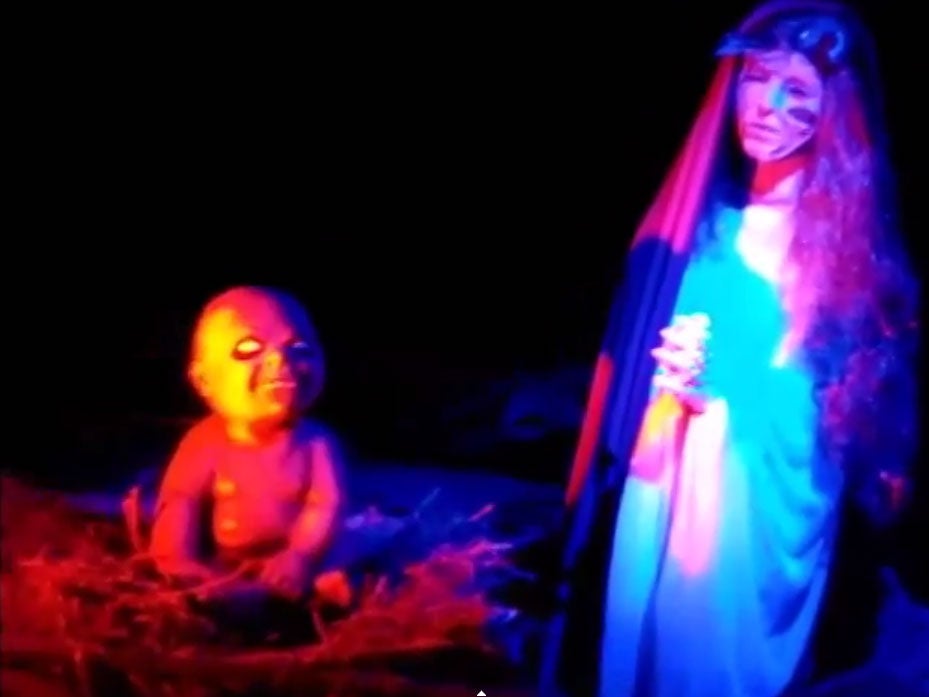 A resident of a quiet Cincinnati suburb has offended his neighbours, by displaying a zombie-themed nativity scene topped with an inverted pentagram star.
After two neighbours made anonymous complaints to Ohio's Sycamore Township, officials told Jasen Dixon that he must remove his display by Friday, because they claim it violates local property maintenance codes.
Dixon, the manager of a haunted attraction in Indiana, faces a $1,000 (£644) fine if he does not remove the 10-foot by 10-foot structure lit by multi-coloured spotlights, which he built three weeks ago.
Footage of the display reveals a bizarre combination of Halloween and Christmas décor, including a terrifying-looking white-eyed zombie baby Jesus in a manger, an un-dead Virgin Mary and Joseph, and skeleton Magi cloaked in black and only identifiable by their plastic, golden crowns. A toy animal skeleton, likely symbolising the sheep in the stable, lies in front of the manger.
Dixon said he made the models for the zombie Mary and three wise men and borrowed props to make the Joseph and Jesus zombie figures.
He argues that many people approve of the display, citing a Facebook page he created which has garnered 200 likes.
And at around 2am on Tuesday, he discovered three women in his front yard taking selfies with the display in the pouring rain, he added.
"I never suspected it to be this big," Dixon said.
Greg Bickford, the township administrator, said the warning has nothing to do with the content of the display, which he called "comical." Rather, the size and location are the issues, Bickford said.
"We're complaint-driven," Bickford said, when asked if other displays had been cited this season. "If we were to drive up and down every single street and try to find violations, we'd never get off a street."
Dixon, who has lived in the neighborhood for 15 years and never received any other complaints, was also given a warning for junk and debris on his property that he said was never an issue before.
He said he is still considering what to do with the manger scene by the township's Friday deadline, the day after Christmas.
"I haven't decided," he said. "I don't really know what's going to happen."
Additional reporting by Reuters
Join our commenting forum
Join thought-provoking conversations, follow other Independent readers and see their replies