Crews successfully lift wreckage of crashed plane from Hudson River off Manhattan
Experienced pilot had been due to fly his plane in air show today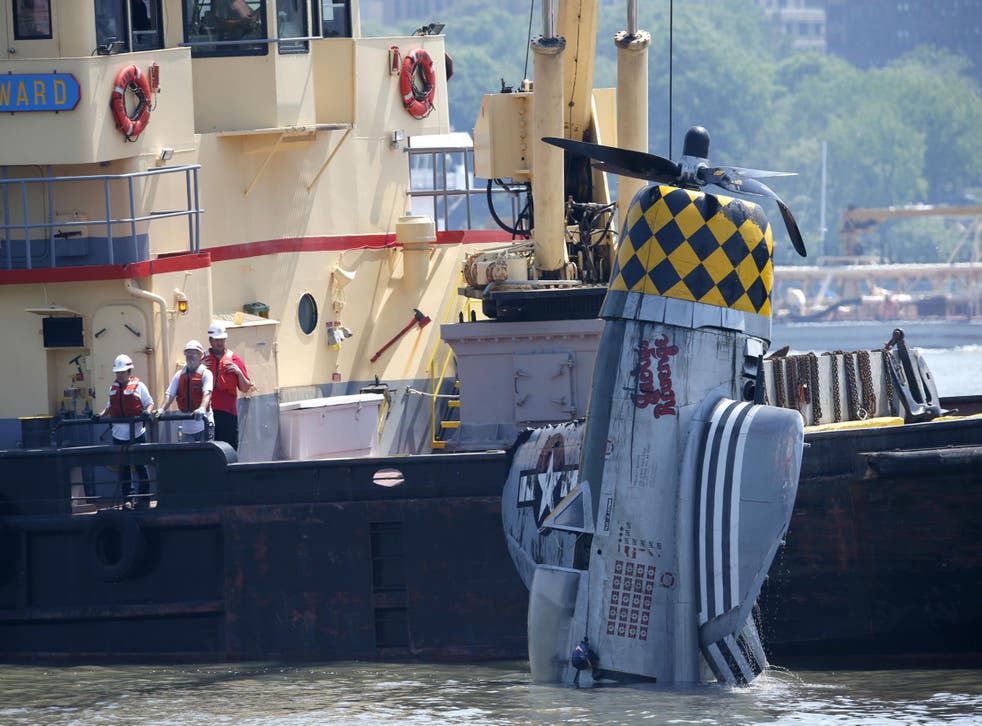 Salvage crews have successfully lifted the wreckage of a vintage World War II fighter plane from the bottom of the Hudson River after it crashed near Manhattan on Friday evening.
The single-seater P-47 Thunderbolt plummeted into the water close to Manhattan's Upper West Side shortly before sundown during a promotional photography flight for its owner, the American Airpower Museum on Long Island east of New York City.
The pilot, identified as William Gordon of Key West, Florida, was killed in the accident. His body was removed from the submerged aircraft by scuba divers on Friday evening.
"It made kind of a U-turn and then there was a stream of smoke coming from it," reported Siqi Li, 22, a student, who saw the small plane go down. "It was tilting down toward the water I thought they were doing some sort of trick. I didn't realize it at first but it was a plane crash."
Scott Clyman, flight operations pilot for the American Airpower Museum, called Gordon "an extraordinary pilot who understood the powerful message our aircraft represent in telling the story of American courage and valour."
He said the Federal Aviation Authority, would "determine the reason for the inflight failure but we know this much. Bill was a nationally respected pilot and we were lucky to call him one of our own.
"It suffered some sort of catastrophic failure and the pilot decided to put it down in the Hudson," the museum's spokesman, Garry Lewi said. "It's a tragedy."
Mr Gordon was due to fly the plane, one of the surviving models of the Thunderbolt, which was a stalwart of allied airpower over Europe in the latter years of the War and was instrumental in particular in the relief effort after the Battle of the Bulge, in an air show over Long Island this Memorial Day holiday weekend, when the US honours its fallen.
Rescuers said they were able to pull Mr Gordon from his plane about three hours after the crash by getting a hold of him through the retracted roof of the cockpit and bringing him to the surface. It was already dark during the rescue operation.
"When we found him the canopy was partially opened, it was pulled back," a police source told the New York Daily News "It look like he tried to escape. We reached in, found the foot and pulled him out." However, the operation to lift the remains of the aircraft was left until morning.
For some on Manhattan who gathered along a bike path that runs up the western side of the island to witness the rescue, the scene was reminiscent of the so-called 'Miracle on the Hudson' in 2009, when Chelsey Sullenberger, a veteran pilot with US Airways, successfully ditched a full-loaded passenger plane on the river in almost exactly the same spot.
All 155 passengers and crew escaped that incident with only minor injuries.
Register for free to continue reading
Registration is a free and easy way to support our truly independent journalism
By registering, you will also enjoy limited access to Premium articles, exclusive newsletters, commenting, and virtual events with our leading journalists
Already have an account? sign in
Register for free to continue reading
Registration is a free and easy way to support our truly independent journalism
By registering, you will also enjoy limited access to Premium articles, exclusive newsletters, commenting, and virtual events with our leading journalists
Already have an account? sign in
Join our new commenting forum
Join thought-provoking conversations, follow other Independent readers and see their replies