Ghislaine Maxwell lawyers call for sex-trafficking convictions to be thrown out over juror sexual abuse comments
Judge agrees to hear defence motion for a retrial after juror's interview with The Independent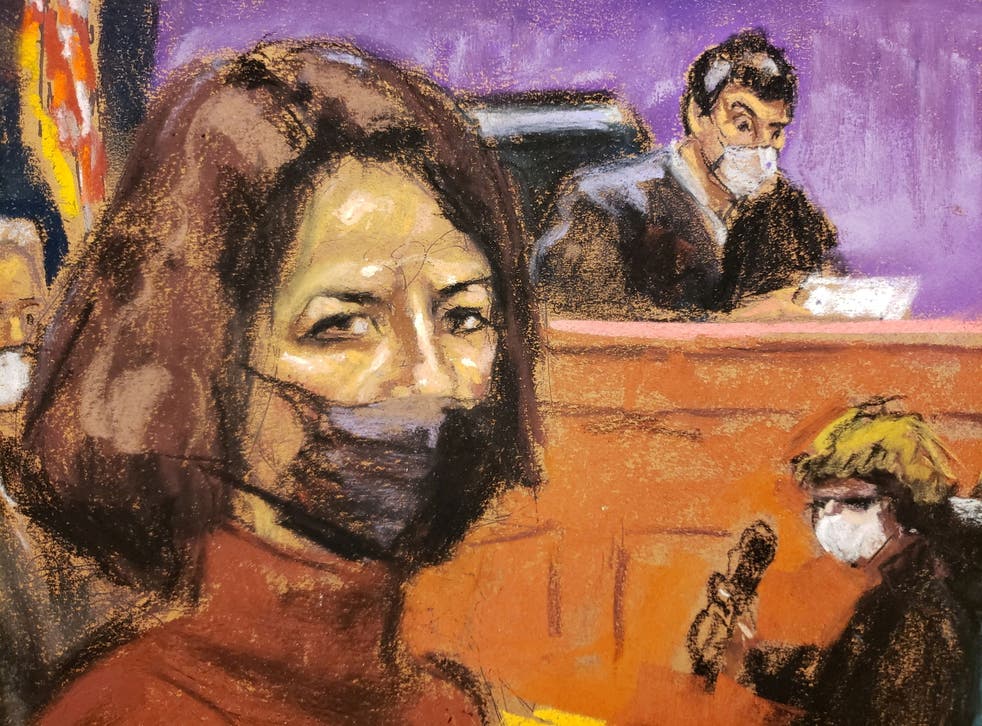 Leer en Español
Ghislaine Maxwell's lawyers are calling for her sex-trafficking convictions to be thrown out after a juror told The Independent he shared his own experiences of sexual abuse during deliberations.
Attorney Christian Everdell told Judge Alison Nathan the juror's comments had swayed jurors to convict Maxwell and present "incontrovertible grounds for a new trial".
It came as prosecutors asked Judge Nathan to "conduct an inquiry" into comments made in three interviews.
Judge Nathan has agreed to hear the defence's arguments for a retrial later this month.
The juror spoke to The Independent, and subsequently to Reuters and The Daily Mail, where he revealed he was a victim of sexual abuse and that he empathised with Maxwell's victims.
"I know what happened when I was sexually abused. I remember the colour of the carpet, the walls. Some of it can be replayed like a video," the juror, who asked to be identified only by his first names Scotty David, told The Independent.
"For those who testified, for those who came forward and for those who haven't come forward. I'm glad that Maxwell has been held accountable," he added.
In a separate interview with Reuters, the juror said he "flew through" the initial juror questionnaire and couldn't remember being asked about his own experiences of sexual abuse.
He went on to say some of the jurors had initially been skeptical of the four victims' testimony.
A second juror told The New York Times they had also been sexually abused as a child and this was discussed during nearly 40 hours of deliberations.
The Times reported that the disclosure appeared to shape discussions between the jury.
Citing the first juror's comments, Mr Everdell said the convictions should be overturned immediately.  
"Among other things, the juror told reporters that he disclosed to the other members of the jury during deliberations that he was a victim of sexual abuse and further described his memory of those events," Mr Everdell wrote. 
"According to the juror, his disclosure influenced the deliberations and convinced other members of the jury to convict Ms Maxwell." Parts of Mr Everdell's letter were redacted before being released publicly. 
Earlier on Wednesday, assistant US attorneys from the Southern District of New York wrote to Judge Nathan calling on her to "conduct an inquiry" into the comments.
"The government has become aware that a juror has given several interviews to press outlets regarding his jury service in this case," the US attorney's letter said.
"In particular, the juror has described being a victim of sexual abuse. Assuming the accuracy of the reporting, the juror asserted that he 'flew through' the prospective juror questionnaire and does not recall being asked whether he had been a victim of sexual abuse, but stated that 'he would have answered honestly'."
Judge Nathan responded on Wednesday afternoon giving the defence two weeks to file their motion for a new trial "in light of the issues raised in the parties' letters".
Maxwell's lawyers will have to file their motion by 19 January, with a government response due on 2 February, and the defence will have another week to respond.
Judge Nathan also granted a request from the government that the juror be offered court-appointed counsel.
Maxwell was found guilty on five of six charges relating to the grooming and trafficking of four victims aged between 13 and 17 for her former boyfriend Jeffrey Epstein.
The jury deliberated for about 40 hours before reaching its verdict on 29 December.
Maxwell faces a maximum of 65 years in prison.
Register for free to continue reading
Registration is a free and easy way to support our truly independent journalism
By registering, you will also enjoy limited access to Premium articles, exclusive newsletters, commenting, and virtual events with our leading journalists
Already have an account? sign in