Atlanta spa shootings were hate crimes, prosecutor says as gunman could face death penalty
The accused shooter targeted four women because they were of Asian descent, Fulton County's district attorney says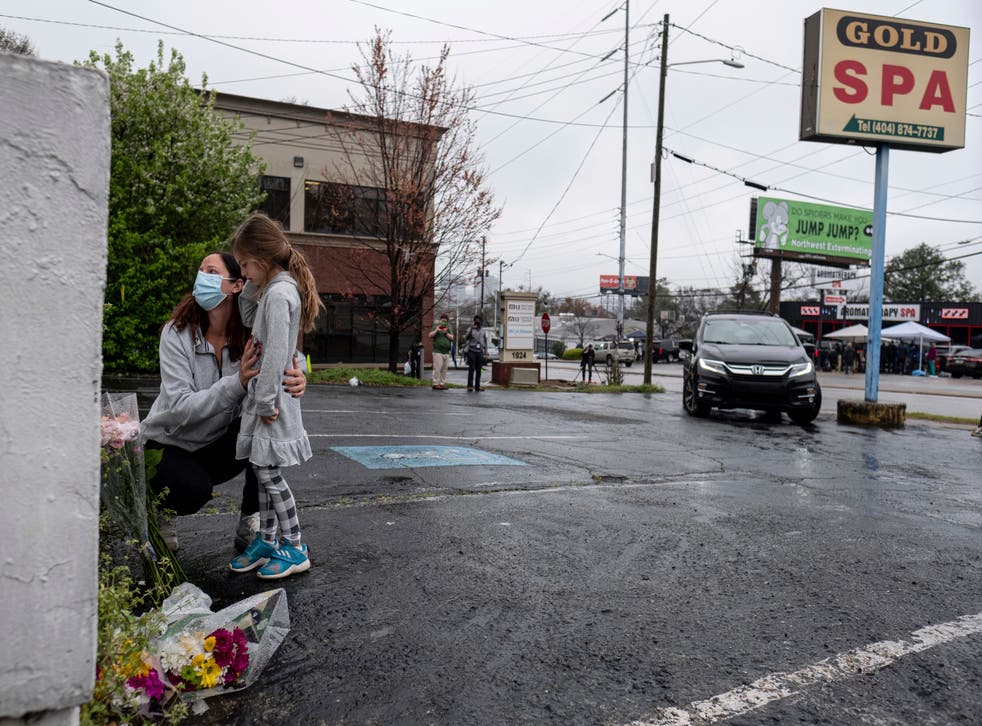 Leer en Español
Prosecutors will seek the death penalty for the man accused of carrying out a spree of shootings in the Atlanta, Georgia area two months ago, a district attorney announced on Tuesday.
Robert Aaron Long, 22, is accused of killing eight people at three different spas on 16 March. On Tuesday, he was officially charged with the murder of the four who died in Atlanta. He had previously been charged with murdering the other four victims in Cherokee County.
Fulton County's district attorney, Fani Willis, also announced on Tuesday that she will prosecute the Atlanta killings as hate crimes. All four of the victims there, she says, were targeted because they were women of Asian descent.
A new hate crime law passed in Georgia last year allows for increased penalties when victims are singled out for their race, gender, or sex. Ms Willis says the four Atlanta victims were targeted for all three of those reasons.
Those four victims were Soon Chung Park, 74; Suncha Kim, 69; Yong Ae Yue, 63; and Hyun Jung Grant, 51.
Ms Willis has filed a notice in court that she will seek the additional punishments enabled by the hate crimes law. For homicide, those punishments include life in prison with the possibility of parole after 30 years, life without parole, or the death penalty. Ms Willis will seek the death penalty.
According to prosecutors, Mr Long began his spree around 5pm on 16 March, when he fatally shot four people at Youngs Asian Massage near Woodstock, Georgia.
Then, police say, he drove about 30 miles to Atlanta, where he killed three women at Gold Spa and another woman at Aromatherapy Spa.
Mr Long then started driving south, at which point police say his parents called them to say they recognised him in footage posted by the Cherokee County Sheriff's Office. Police then tracked him down on Interstate 75 in Crisp County, where after a brief chase they forced his SUV to stop. Mr Long then surrendered.
Initially, Mr Long explained his actions to investigators by saying he had a "sex addiction", and targeted businesses that were a "temptation" to him. However, six of his eight alleged victims were of Asian descent, and prosecutors appear to be focusing more on alleged anti-Asian hate as the motive for the shootings.
Register for free to continue reading
Registration is a free and easy way to support our truly independent journalism
By registering, you will also enjoy limited access to Premium articles, exclusive newsletters, commenting, and virtual events with our leading journalists
Already have an account? sign in
Register for free to continue reading
Registration is a free and easy way to support our truly independent journalism
By registering, you will also enjoy limited access to Premium articles, exclusive newsletters, commenting, and virtual events with our leading journalists
Already have an account? sign in