Inside Cuba's LGBT revolution: How the island's attitudes to sexuality and gender were transformed
In the last 10 years, Cuba has reinvented itself as a progressive nation when it comes to LGBT rights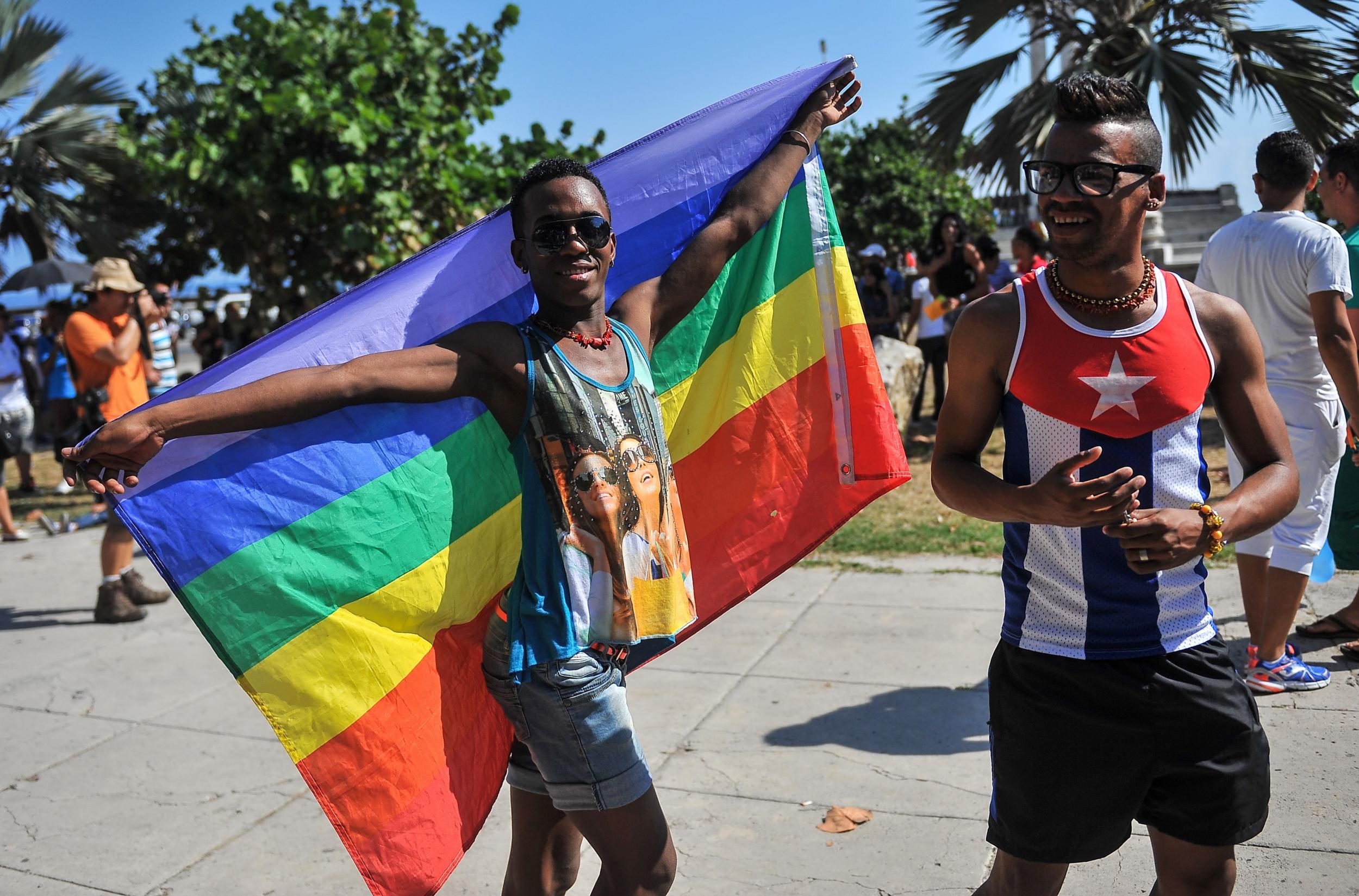 The Malecon, a historic esplanade stretching along Havana's coast, comes alive at sunset. The whole city comes together to chat, drink and listen to music, as Soviet-era Ladas and Chevrolets rattle past, ferrying tourists from one side of the city to the other.
Along the boulevard, constructed in the 1900s for affluent middle-classes, a same-sex couple steal a kiss. A trans woman sits on the sea wall, chatting to friends. One man dances with another.
In a country which incarcerated LGBT people for most of Fidel Castro's rule, the island's capital now has gay clubs and bars and celebrates Pride every year.
Luis de Armas, who was born in Matanzas, around 50 miles east of Havana, moved to the capital to go to university. He now organises LGBT-friendly tours of the capital for visitors.
"Cuba has changed a lot and that includes the mentality of the people," he tells The Independent. "There is no problem with being gay, transgender, lesbian or bisexual."
"It is more accepted now," Luis adds. "There are many inclusion programmes directed to teach people how to accept differences and support the gay community."
"I feel good here – I can be me. I am accepted in my building, in my work, in my neighbourhood, in my family and I think I speak for most of the people."
Cuba has changed drastically. In 1959, Castro came to power after leading a revolution that toppled the corrupt government of Fulgencio Batista.
Soon afterwards, police began to round up gay men. In the 1960s and 1970s, many LGBT people were imprisoned or forced into "re-education camps". Homosexuality was viewed as going against the ideal of the hypermasculine revolutionary – and was therefore deemed incompatible with the regime.
"We would never come to believe that a homosexual could embody the conditions and requirements of conduct that would enable us to consider him a true revolutionary, a true communist militant," Fidel Castro told an interviewer in 1965.
Later, during the Aids crisis in the 1980s, HIV-positive Cubans were quarantined in sanitariums, which critics called prisons.
In 2010, Castro admitted responsibility for the injustices suffered by LGBT people after the revolution, telling the Mexican newspaper La Jornada: "If someone is responsible, it's me."
Fast-forward to 2017 and the landscape for LGBT rights in Cuba appears to have transformed. The country's constitution bans "any form of discrimination harmful to human dignity" and healthcare and visibility has improved.
This is, in part, due to a campaign spearheaded by Mariela Castro, daughter of current President Raul and niece of Fidel, and director of the state-run National Centre for Sex Education (Cenesex).
Since 2008, gender reassignment surgery and hormone replacement therapy have been available free of charge under Cuba's national healthcare system. The island has a comprehensive approach to healthcare when it comes to HIV; condoms are distributed, sex education has improved vastly and access to antiretroviral drugs has increased.
Attitudes are beginning to change too. In May, Cuba hosted its first transgender religious ceremony in Matanzas. In 2013, Cuban law banned workplace discrimination based on sexual orientation and in recent years, calls have increased to legalise same-sex marriage.
When it comes to dating, though, Cuba is old-school. Internet access is sparse and expensive, so Cubans are less reliant on Tinder and other apps.
"We do it the old way, we don't have data for now, so there is not constant internet access," Luis says. "So we meet walking in the street, on the bus, at markets and of course parties."
"That way it's more real and we avoid misunderstandings, but it is nice to have internet. Some people use Grindr, we are getting into it."
World news in pictures
Show all 50
Cuba may be changing in many ways, there is some way to go to stamp out discrimination and intolerance. Problems remain, as is the case in all countries.
"Compared with standards in other parts of the Caribbean (where consensual same-sex conducts between adults continue to be criminalised in many countries, such as Jamaica, Trinidad and other English-speaking nations), Cuba is probably one of the most advanced countries in the protection and promotion of the rights of LGBTI people in the sub-region," says Robin Guittard, a campaigner for Amnesty International's Caribbean Team.
"However, stigma against LGBTI people remains present in the Cuban machista society."
In the north of the country, several miles from the rural-yet-touristy town of Vinales, taxi driver Antonio laments the lack of "powerful" and "masculine" – "masculino" – men heading the Cuban government.
"Viva Fidel," he says, with emphasis.
Critics have also pointed out that because Cenesex is state-run, it faces governmental limitations which fail to address the politically rooted causes of homophobia in the country. Some also claim Ms Castro's push to improve LGBT rights is merely PR for the Cuban government.
And the fact remains that the only LGBT activism allowed is that which is controlled by the state.
"In the Cuban context where freedom of expression and association remain under tight control of the state and where independent civil society is still not officially recognised by the authorities, Cenesex is perceived as trying to assume a monopoly in the promotion of LGBTI rights," Mr Guittard says.
"LGBTI rights activists who are critical of the state, Cenesex or Mariela Castro are often the target of repression in the same way it occurs to anyone trying to do human rights work outside the control of the Cuban state."
Speaking to the Washington Blade, independent Cuban activist Nelson Gandulla, president of the Cuban Foundation for LGBT Rights, claimed he had been hounded for criticising Ms Castro.
There has, undoubtedly, been a seismic shift in Cuba when it comes to LGBT rights, in terms of social acceptance, healthcare, legal recognition and visibility. But there is still a way to go before equality is reached.
Join our commenting forum
Join thought-provoking conversations, follow other Independent readers and see their replies