US warns citizens against travelling to Cuba after 'specific attacks' on diplomats
Clark Mindock
New York
Friday 29 September 2017 16:11 Comments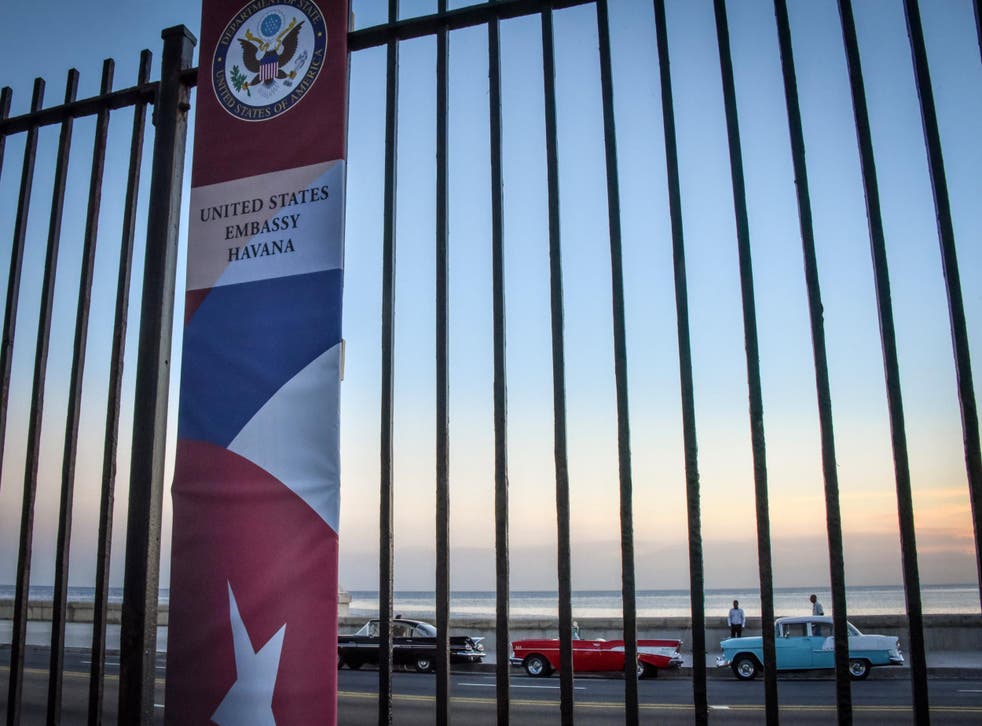 The United States is warning its citizens against travelling to Cuba, and is ordering more than half of its personnel to leave the island in response to what the US describes as "specific attacks" on diplomats.
The dramatic response is a significant blow to the diplomatic relationship between the two countries, which is notably delicate. The new travel warning will reportedly be issued Friday, and will say that some of the attacks occurred in Cuban hotels, although no tourists are known to have been targeted.
The US embassy will lose roughly 60 per cent of its American staff, and will stop processing visas there indefinitely, according to American officials.
The travel warning could have a significant impact on the Cuban economy, which relies heavily on tourism and has seen growth in recent years as a result of relaxed US restrictions on travelling to the island.
The announcement comes roughly a year after American diplomats in Cuba began describing unexplained health problems. US investigators still haven't been able to determine who is behind those attacks, which impacted at least 21 diplomats and their families. Some of the injuries were as serious as traumatic brain injury and permanent hearing loss. The State Department has, up until now, generally avoided calling those incidents "attacks".
The decision to draw down the embassy was made overnight by Secretary of State Rex Tillerson, who was travelling to Cuba. Mr Tillerson had reportedly considered other options, including a full embassy shutdown, but opted for the less severe reaction. Donald Trump reviewed all of those options with Mr Tillerson earlier in the week.
The US notified Cuba of its decision through its embassy in Washington. The Cuban embassy later said that the reduction in staffing was "hasty", and that the move would hurt diplomatic ties.
Pictures of everyday life in Cuba

Show all 20
Although the Trump administration has refrained from blaming the Cuban government for the attacks, the decision to pull diplomats is a significant setback to the thawing relations between the two countries. The two had no formal diplomatic relations for a half century, even though they are just 90 miles apart from one another. That began to change in 2015, when then-President Barack Obama and Cuban President Raul Castro announced a restoration of ties, and the opening of embassies. That restoration of ties included an easing of travel and commerce restrictions. Mr Trump has reversed some of those changes, but has left most of the new policies intact.
The attacks on diplomats have been incredibly difficult for investigators to understand. Because symptoms vary widely between person, a single method of attack has been difficult to pinpoint. Investigators initially suspected some sort of futuristic "sonic attack", but searches of the homes and hotels where diplomats were targeted turned up no devices. Some diplomats described hearing various loud noises or feeling vibrations when the incidents occurred. Still others did not notice anything out of the ordinary when they were attacked.
The Cuban government has rushed to retain diplomatic contacts with Washington, and have conducted an investigation of their own.
Register for free to continue reading
Registration is a free and easy way to support our truly independent journalism
By registering, you will also enjoy limited access to Premium articles, exclusive newsletters, commenting, and virtual events with our leading journalists
Already have an account? sign in
Join our new commenting forum
Join thought-provoking conversations, follow other Independent readers and see their replies