Cubans facing beer shortage as thirsty American tourists put island's main brewery under strain
'Private bars can go out and find supplies where they can, I can only sell what the government gives me'
Ashley Cowburn
Sunday 10 April 2016 17:40 Comments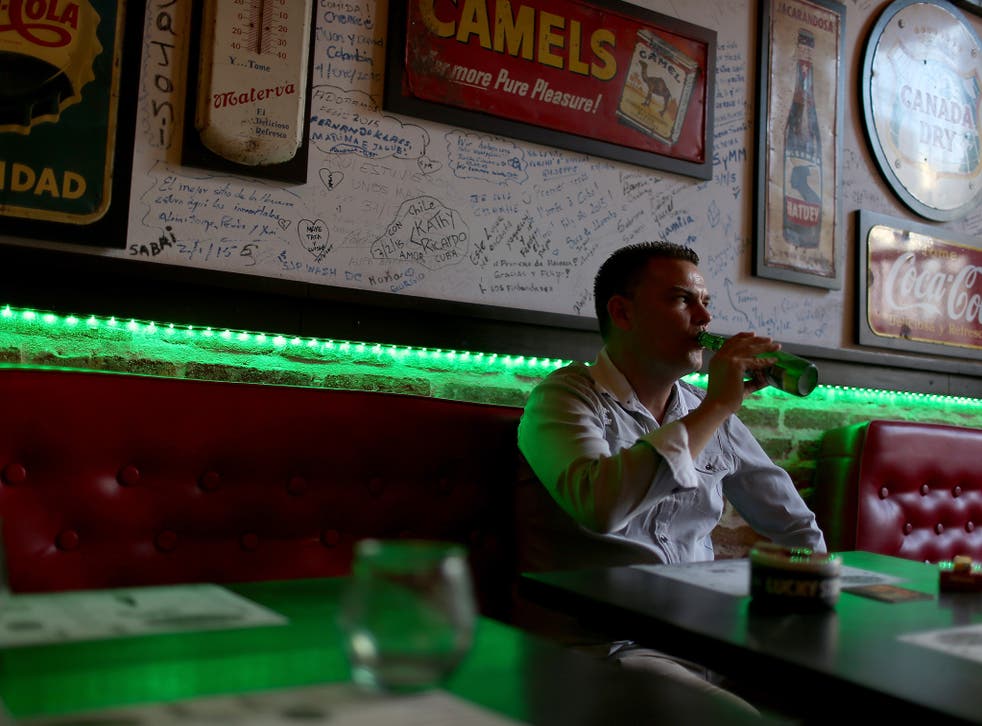 Cubans are facing a shortage of their favourite brands of beer Cristal and Bucanero, as a surge in American tourists and proliferation of new private watering holes put the island's main brewery under strain.
Cuba's main brewer Bucanero is considering opening a new plant to keep up with the demands of thirsty tourists descending on the country – last year Cuba welcomed a record 3.5 million visitors, up 17 per cent on the previous year. American visitors, meanwhile, rose 77 per cent to 161,000.
The most recent tourism figures, for January, showed a similar pace of growth.
American tourists have been visiting the Communist-led country in their droves since US President Barack Obama eased travel restrictions to the country in a bid to end 50 years of enmity. It is expected that hundreds will step off a cruise ship from Miami into Havana in May, the first such voyage since the US embargo that followed Fidel Castro's 1959 revolution.
Mayle Gonzalez, a sales executive at Bucanero, told state media the new plant would help keep pace with a growing demand from tourists and a burgeoning private restaurant sector that competes with state-run outlets for supplies.
Bucanero, a joint venture between the Cuban government and Belgium's Anheuser Busch InBev, also makes the country's most widely consumed brew, Cristal.
Local media reported that Cuba's breweries signed contracts this week for more than 33 million cases of beer at a business in Havana, considerably more than their current production capability will allow. Bucanero is reportedly planning to import three million cases of beer from Dominica to keep up with demand.
Small restaurants that cater to both tourists and Cubans have blossomed on the Caribbean island since President Raul Castro five years ago formalised changes designed to remove the Communist state from many small-scale economic activities.
Pictures of everyday life in Cuba

Show all 20
"Private bars can go out and find supplies where they can, I can only sell what the government gives me," said the manager of a state-run bar that ran out of beer, while a private bar upstairs had a fridge full of cold bottles.
But it is not the first time the island has had to come to terms with a shortage in beer supplies: in August 2014, during one of the hottest summers on record, a sharp fall in production and thirsty beer enthusiasts led to greatly inflated prices.
Reuters
Register for free to continue reading
Registration is a free and easy way to support our truly independent journalism
By registering, you will also enjoy limited access to Premium articles, exclusive newsletters, commenting, and virtual events with our leading journalists
Already have an account? sign in
Join our new commenting forum
Join thought-provoking conversations, follow other Independent readers and see their replies