Cuba and US relations in biggest shake-up for decades after release of American aid worker Alan Gross
Reports claim the US wants to open an Embassy in Havana, make it easier for people to travel to Cuba and increase trade links
Andrew Buncombe
Wednesday 17 December 2014 17:44 Comments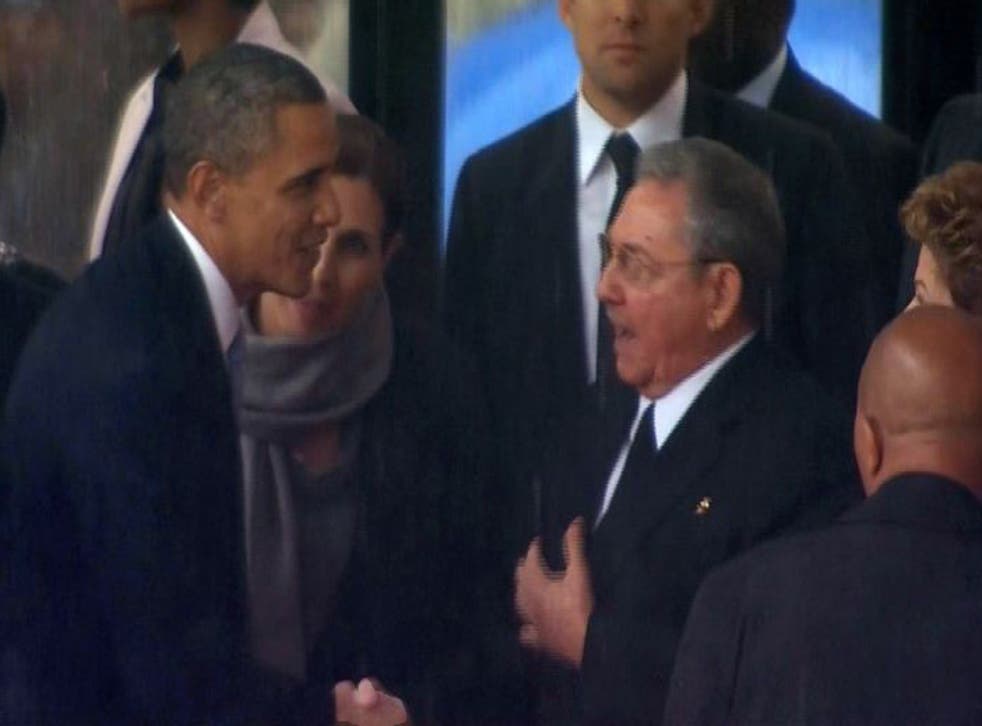 The US and Cuba have signalled the biggest shake-up in their long-hostile relationship for more than a generation – with Washington saying it plans to restart full diplomatic relations and ease restrictions that were imposed in 1960.
On a day that saw a prisoner exchange between the nations, reports from Washington said the US wanted to open an Embassy in Havana, make it easier for people to travel to Cuba and increase trade links.
"We will end an outdated approach that for decades has failed to advance our interests," Mr Obama said in a televised address from the White House. "These changes will begin a new chapter among the nations of the Americas."
Later he said: "Todos somos Americanos", or "We are all Americans."
In Cuba, President Raul Castro said he welcomed the new policy. He said Cuba and the US had profound differences of opinion but that the two countries had to learn to live in a "civilized manner".
The agreement was made after talks between Mr Obama and Mr Castro in Canada, brokered by the Vatican, with Pope Francis making a personal plea in a letter to both leaders.
The shift in the policy would mark a victory for President Barack Obama, who has long talked of improving ties with a Caribbean country various administration have denounced as a terrorist regime. The CIA tried to kill Cuban leader Fidel Castro on at least half-a-dozen occasions, one plot involving efforts to poison his beloved cigars.
In Cuba, it will be seen as a victory for the Castro brothers, who have outlasted nine US administrations. In his speech, Mr Obama admitted that the US policy towards Cuba and failed and no longer served the interests of people who were not born when the crisis originally began.
"This seems like a big deal," Larry Birns, Director of the Council on Hemispheric Affairs, told The Independent. "It has regional implications."
For many years, even a US president wishing to normalise relations with Fidel and his brother, Raul, would have been fearful of upsetting the once-powerful Cuban American community, in the politically crucial state of Florida. But over the years, the power of the community of Cubans who fled to America in the aftermath of the Cuban revolution has lessened. The younger generations of Cuban Americans do not appear to hold such strident positions.
Mr Obama and Raul Castro, who took over Cuba's presidency in 2008, spoke by phone yesterday, the first official communication at the most senior level for more than five years. The pair met, and shook hands, last year at the funeral of Nelson Mandela.
In pictures: Timeline of US and Cuba relations

Show all 19
The flurry of developments that amount to nothing less than an historic realignment in relations came as Cuba released an American man held as a spy for five years as part of deal that saw the setting-free of three Cubans held in US custody for more than a decade. Reports from Cuba said they were returned to the island on Wednesday. Mr Obama said a second, unnamed US intelligence operative of Cuban citizenship, held in Cuba for many years, had also been released.
US officials had confirmed that Alan Gross, 65, who had been employed as a contractor with the US Agency for International Development, (USAid) had been released on Wednesday morning. There had been increasing concerns for his health and his family said he had lost considerable weight in recent months.
"Mr Gross was released on humanitarian grounds by the Cuban government at the request of the United States," an unidentified government official said in a statement.
In exchange for the release of Mr Gross, the US had agreed to release three Cuban agents – the three remaining members of the so-called Cuban Five – who had been detained in 1998 and convicted of espionage. The men - Gerardo Hernández, Antonio Guerrero, Ramón Labañino, Fernando González, and René González - insisted they had been spying on anti-Castro elements within the Cuban community in Miami and not on the US government.
ABC News said all three were most recently held in North Carolina at a federal medical facility operated by the US Bureau of Prisons. Their imprisonment had become as much of a cause celebre as that of the Americans.
The Cuban Five were convicted for spying on anti-Castro exile groups in Florida and monitoring US military installations. They are hailed as anti-terrorist heroes in Cuba for defending the country by infiltrating exile groups in Florida at a time when anti-Castro extremists were bombing Cuban hotels, the Associated Press reported.
Cuba arrested Mr Gross in and later convicted him or importing banned technology and trying to establish a clandestine Internet service for Cuban Jews.
Cuba considers USAid's programs illegal attempts by the US to undermine its government. An investigation by the AP revealed USAid had been behind an effort to establish a "Cuban Twitter" network designed to push democracy and challenge the government.
In what appeared to be a direct fall-out from the affair, on Wednesday, the head of USAid, Rajiv Shah, said he was stepping down from his post as administrator.
Mr Obama said he was ready to hold talks with the US Senate to discuss the possible lifting of sanctions, imposed in 1960. But not everyone was pleased.
"This is going to do absolutely nothing to further human rights and democracy in Cuba," said Sen Marco Rubio, a Republican and possible 2016 presidential contender in 2016. "But it potentially goes a long way in providing the economic lift that the Castro regime needs to become permanent fixtures in Cuba for generations to come."
Bonnie Rubinstein, Mr Gross' sister, heard the news from a cousin, who saw it on television. "We're like screaming and jumping up and down," she said.
Register for free to continue reading
Registration is a free and easy way to support our truly independent journalism
By registering, you will also enjoy limited access to Premium articles, exclusive newsletters, commenting, and virtual events with our leading journalists
Already have an account? sign in
Join our new commenting forum
Join thought-provoking conversations, follow other Independent readers and see their replies