Dad gets letter addressed to 'Daughter Killed In Car Crash'
Recipient actually lived in Illinois, not Daughter Killed In Car Crash
Christopher Hooton
Monday 20 January 2014 17:42 Comments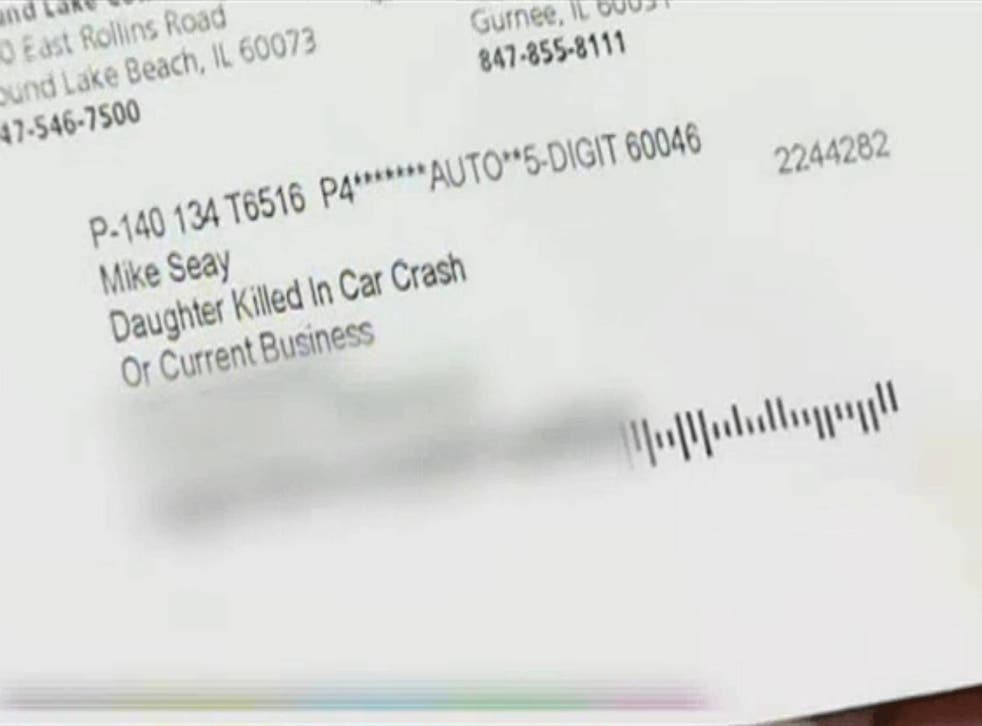 Mike Seay of Lindenhurst, Illinois received mail from OfficeMax stating that his daughter had died in a car accident – that might sound like a case of mistaken identity, with the message being intended for someone else, but the truth is perhaps even more sinister.
Despite the confusing address line, the letter had actually reached the right person. Seay's 17-year-old daughter had died in a tragic accident the year. But how did OfficeMax know?
In a world where personal data is mined and sold between companies in order to better target customers, it seems Seay was the victim of an already nasty piece of marketing that had taken a turn for the macabre.
"I'm not a big OfficeMax customer. And I wouldn't have gone there and said anything to anybody there about it [the car crash]. That's not their business," Seay, who had merely bought some paper from the firm, told Los Angeles Times.
It appears OfficeMax had bought the news of the bereavement from another company, hoping to ensnare Seay with a discount offering.
OfficeMax eventually apologised to Seay, explaining the mailing "is a result of a mailing list rented through a third-party provider", though a customer service assistant had originally refused to believe the existence of the letter.
Seay said he would not be suing OfficeMax, but demanded a written apology as the letter had 'traumatised' his wife.
Register for free to continue reading
Registration is a free and easy way to support our truly independent journalism
By registering, you will also enjoy limited access to Premium articles, exclusive newsletters, commenting, and virtual events with our leading journalists
Already have an account? sign in
Register for free to continue reading
Registration is a free and easy way to support our truly independent journalism
By registering, you will also enjoy limited access to Premium articles, exclusive newsletters, commenting, and virtual events with our leading journalists
Already have an account? sign in
Join our new commenting forum
Join thought-provoking conversations, follow other Independent readers and see their replies