Dallas police shooting: 'The police here are part of the community'
The Texas city's policing is considered a model of transparency and engagement, after Chief David Brown introduced reforms that led to a 64 per cent decrease in complaints about use of force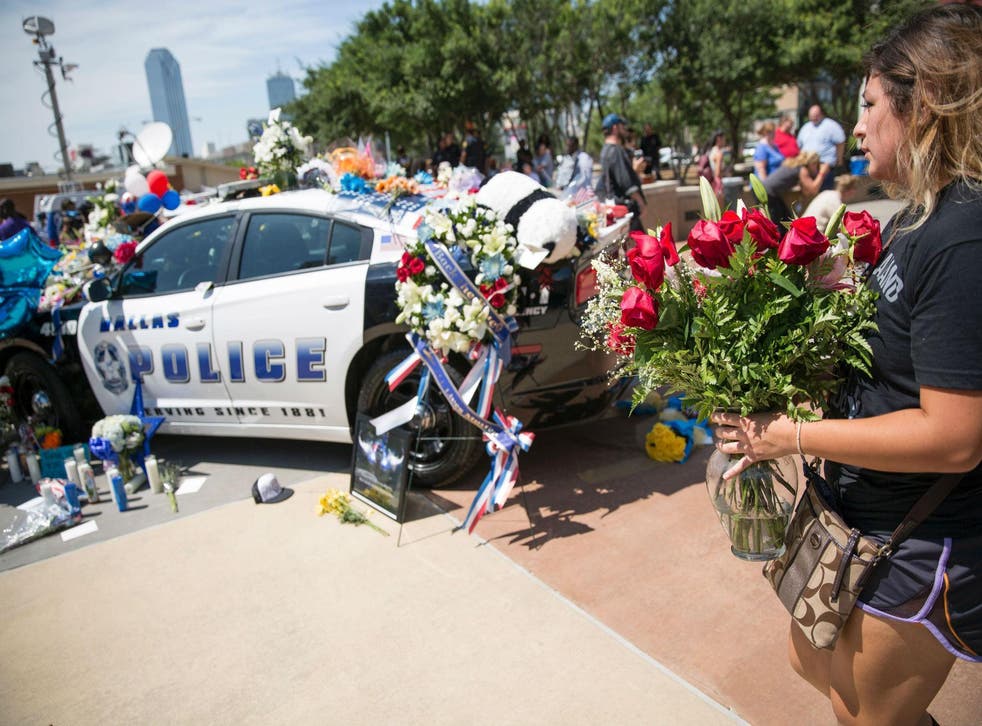 On Friday evening at the corner of Jackson and Griffin Streets in downtown Dallas, 24 hours and less than two blocks from the spot where a gunman was killed by police after shooting dead five officers and wounding seven more, Naida Hairston and Britney Brown stopped to offer their condolences and express their gratitude to a pair of motorcycle cops standing sentry.
Ms Hairston, 33, who is black, and Ms Brown, 34, who is white, share an apartment a few hundred yards from where the violence unfolded on Thursday night. Both were shocked not only by the actions of the shooter, but by the fact that he chose to target law enforcement in a city where the police department is considered a model of transparency and community engagement.
A task force recently convened by the White House to tackle the thorny relationship between US police forces and the black community took Dallas as a case study. "It's bizarre that this happened here, because people in Dallas have a real respect for the police force," said Ms Brown. "They're part of the community. Since the new chief took charge, crime has gone down, the number of excessive force cases have gone down."
Dallas Police Chief David Brown told reporters that he and his colleagues had taken part in organising the peaceful rally against police brutality that was in progress before the bloodshed began. His officers even posed for pictures with protesters, contrary to the division and confrontation that has characterised similar demonstrations in other cities.
One marcher, Sharay Santora, grew emotional in an interview with CNN on Friday, as she spoke of how police officers had "protected us from beginning to end". She went on: "We love Dallas PD. They're great to us, they're great people. They walk the streets, they talk to us, they make my children feel comfortable where we usually fear officers in other places."
Appointed to his post in 2010 after 30 years with the department, Chief Brown is credited with introducing reforms that led to a 64 per cent decrease in complaints about use of force by Dallas officers between 2009 and 2014, including an online tool that provides public data on officer-involved shootings and other use of force incidents.
For a police chief, he is uncommonly committed to transparency, posting the names of problem officers he has fired – and his reasons for firing them – on Facebook and Twitter. He imposed new guidelines regarding the foot pursuit of suspects, beefed up deadly force training for patrol officers and invited the FBI to review all the department's police-involved shootings – which have fallen from 23 in 2012 to just two so far this year, including Thursday's attack.
Speaking to reporters on Friday, Dallas Mayor Mike Rawlings praised Chief Brown's reforms. "This police department trained in de-escalation far before cities across America did it," he said. "We're one of the premier community policing cities in the country and this year we have the fewest police officer-related shootings of any large city in America."
In 2014, the murder rate in Dallas was at its lowest since 1930: proof, wrote the Washington Post's criminal justice blogger Radley Balko, that "You can embrace policing policies that are community-friendly, open and transparent, and dedicated to minimising the use of force and violence… and still enjoy the same or greater drops in crime we're seeing elsewhere."
Of course, just because the Dallas Police Department inspires respect in the community doesn't mean African-Americans and others don't share the same concerns as people elsewhere in the US. "The unjust violence that my brothers and sisters have experienced is very frustrating," Ms Hairston said. "But I don't think the response to that should be violence."
Chief Brown, himself black, has previous personal experience of such violence. His younger brother was shot dead by drug dealers in 1991, three years after his former police partner was killed in the line of duty. In 2010, shortly after he took over as chief, his 27-year-old son, David Brown Jr, shot and killed a police officer and another man while high on PCP, and was subsequently shot dead by police. Later that year, Chief Brown told the Dallas Morning News: "The families of victims, I know what they go through. My family had to go through that."
Those experiences undoubtedly helped to prepare him for the past 24 hours, during which he has articulated the grief and shock of a department and a city compelled to confront the unthinkable. "We are heartbroken," he said at a press conference in the small hours of Friday. "All I know is that this must stop – this divisiveness between our police and our citizens." One must hope that police and protesters elsewhere in the US heed his words.
Register for free to continue reading
Registration is a free and easy way to support our truly independent journalism
By registering, you will also enjoy limited access to Premium articles, exclusive newsletters, commenting, and virtual events with our leading journalists
Already have an account? sign in
Register for free to continue reading
Registration is a free and easy way to support our truly independent journalism
By registering, you will also enjoy limited access to Premium articles, exclusive newsletters, commenting, and virtual events with our leading journalists
Already have an account? sign in
Join our new commenting forum
Join thought-provoking conversations, follow other Independent readers and see their replies