Dallas police shooting: Police find bomb-making materials in shooter Micah Johnson's home
Former US Army reservist Micah Johnson was killed by a police bomb robot after 45 minutes of failed negotiations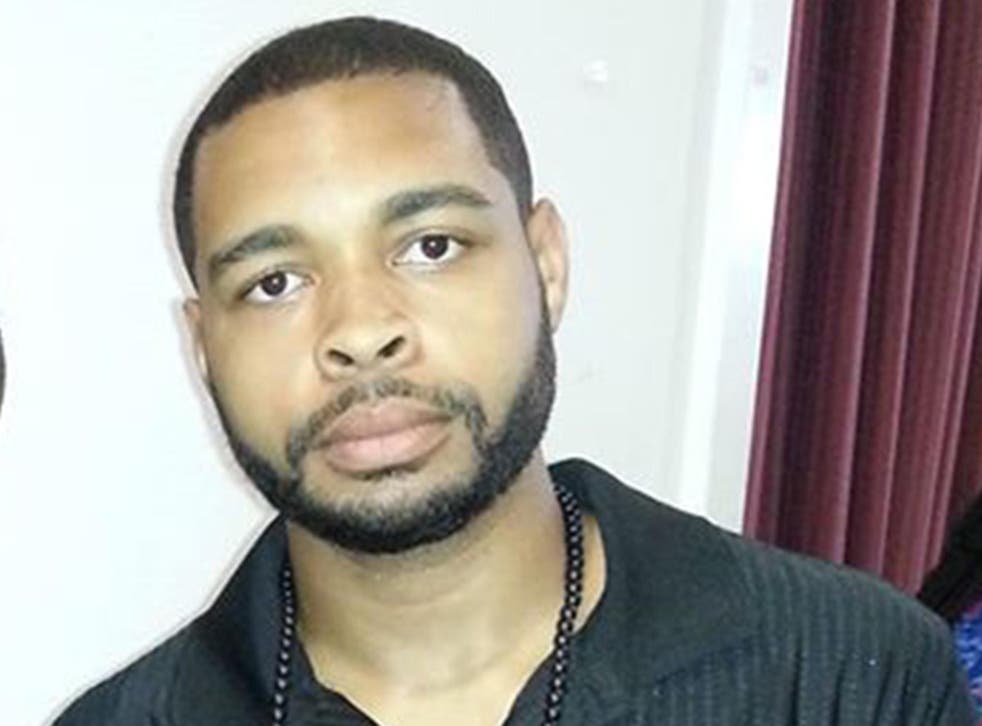 It is more than half a century since Dallas first became synonymous with violence, as the site of President John F Kennedy's assassination. The Texas city will now make another unwelcome appearance in the history books, after the deadliest day for American law enforcement since 9/11 unfolded on its downtown streets.
Five Dallas police officers were killed and seven others wounded by gunfire on Thursday evening, amid protests over the fatal police shootings of two black men in Louisiana and Minnesota earlier this week. The first shots rang out at around 8.45pm, as hundreds of demonstrators processed through the centre of the city, chanting the now-familiar slogan of the Black Lives Matter movement: "Hands up, don't shoot!"
Witnesses said the gunman, later named as 25-year-old Micah Johnson. appeared to wait until the protesters had passed before opening fire on officers who were policing the rally. Video footage from the scene showed the crowd scattering in panic at the sound of multiple gunshots. "Everyone just started running," 21-year-old Devante Odom told the Dallas Morning News.
The attack turned into a lengthy standoff between police officers and the shooter. Wearing body armour and armed with an SKS semi-automatic rifle, Johnson retreated to a covered car-park, exchanging fire with police and telling them that there were bombs planted across the city. After approximately 45 minutes of failed negotiations, he was killed by a bomb robot, the first time such a device has been used with lethal force by US police.
Automatic Gunfire Rings Out in Dallas City Center During Sniper Shooting
Johnson, who was 25 and lived in Mesquite, a Dallas suburb, reportedly had no known criminal history or links to extremist groups. On his Facebook profile, however, he described himself as a black nationalist and liked several militant groups including The New Black Panther Party and the African American Defense League. His sister Nicole posted a message to Facebook after Johnson was identified, insisting: "Those that knew him know this wasn't like him."
Dallas police reported that detectives found bomb making materials in the suspect's home, along with "ballistic vests, rifles, ammunition, and a personal journal of combat tactics".
Police Chief David Brown told reporters that the shooter had said during the stand-off that he was "upset about the recent police shootings", that he "wanted to kill white people, especially white officers," and that he was acting alone. Mark Hughes, a protester whose photo was shared widely online as a possible suspect during the attacks, was cleared as a person of interest by police.
A former US Army reservist who was deployed to Afghanistan as a carpenter from 2013 to 2014, Johnson is believed to have lived at home with his mother. A black SUV found at the scene of the shootings was said to be registered to a Delphine Johnson. Despite the gunman's claims, no explosives were found in two extensive searches of the Dallas downtown area.
Police officers killed by sniper at protests in Dallas

Show all 20
Retired FBI Special Agent Steve Moore told CNN that, given the amount of ammunition and weaponry involved, the attack most likely required some level of advance preparation. "This was an attack planned long before, waiting for an opportunity to go," Mr Moore said. "They may not have planned the location, they may not have planned the vantage point. But they had prepared for an attack before last night's shooting is my guess."
Four of the officers killed were from the Dallas Police Department. The fifth, 43-year-old Brent Thompson, was a Dallas Area Rapid Transit officer. The agency said he was recently married, and that his wife was a fellow transit officer. Dallas Police Officer Patrick Zamarripa, 32, a Navy veteran with a toddler daughter, was also among the deceased, as was 40-year-old Michael Krol, who previously served in the Sheriff's Department of Wayne County, Michigan.
Most of the injured officers were released from area hospitals early on Friday. Two civilians were also injured in the attack, including Shetamia Taylor, 37, who had attended the protest with her four teenage sons. Her sister told the Associated Press that Ms Taylor flung herself across her children to protect them as the bullets flew; she was struck in her right calf.
The protest came in the wake of two recent police killings of black men, both of which were captured on video. On Tuesday, 37-year-old Alton Sterling was shot multiple times while pinned down by officers in Baton Rouge, Louisiana. The following day, 32-year-old Philando Castile was shot dead during a traffic stop near St Paul, Minnesota. His fiancée live-streamed the aftermath of the killing on Facebook.
In recent years, police killings of black men have led to violent unrest in communities such as Baltimore and Ferguson, Missouri. Two officers were targeted in a retaliatory double-murder in Brooklyn, New York in December 2014. But an attack on police of this scale and deadliness represents an unprecedented escalation of the civil strife between US law enforcement and the civilians they serve.
Other similar demonstrations passed off peacefully on Thursday in cities including New York, Chicago, Philadelphia and Atlanta. Protester Wyatt Rosser, a 20-year-old from Dallas, told the Los Angeles Times that the shooter was a "radical" who did not represent the "strength, solidarity and peaceful action" of the crowds who had attended the march. "It was actually the most peaceful Black Lives Matter demonstration I'd been to," Mr Rosser said.
The protest in Dallas was not directly organised by Black Lives Matter, which has no local chapter, but by another group, the Next Generation Action Network. Leaders of the Black Lives Matter movement nonetheless condemned the violence, tweeting: "#BlackLivesMatter advocates dignity, justice and freedom. Not murder."
Some, however, were quick to blame the protests for creating an environment in which police had become potential targets. Speaking to Fox News, Texas Lieutenant Governor Dan Patrick described the protesters as "hypocrites", saying: "They turned around and ran the other way, expecting the men and women in blue to protect them." Mr Patrick, who is also a conservative talk radio host, went on: "I do blame people on social media with their hatred towards police. I do blame former Black Lives Matter protests... This has to stop."
The attack took place close to Dealey Plaza, the traffic intersection made infamous by Kennedy's murder in November 1963. President Barack Obama said he was "horrified" by the shootings, which he called a "vicious, calculated and despicable attack on law enforcement."
Speaking from Warsaw, where he was attending a Nato summit, Mr Obama said he had talked by phone to Dallas Mayor Mike Rawlings, offering his condolences and federal assistance. "Police across America, which is a tight-knight family, feels this loss to their core," Mr Obama said. "And we're grieving with them."
The White House later said President Barack Obama would cut short his trip and visit Dallas early next week.
Reluctant to speculate on the motives of the suspect or any of his potential accomplices, Mr Brown, who is black, pleaded simply for peace. "We're hurting," the Dallas police chief said. "Our profession is hurting. There are no words to describe the atrocity that happened in our city. All I know is that this must stop – this divisiveness between our police and our citizens."
Register for free to continue reading
Registration is a free and easy way to support our truly independent journalism
By registering, you will also enjoy limited access to Premium articles, exclusive newsletters, commenting, and virtual events with our leading journalists
Already have an account? sign in
Register for free to continue reading
Registration is a free and easy way to support our truly independent journalism
By registering, you will also enjoy limited access to Premium articles, exclusive newsletters, commenting, and virtual events with our leading journalists
Already have an account? sign in
Join our new commenting forum
Join thought-provoking conversations, follow other Independent readers and see their replies