Barack Obama says 'America is not as divided as some have suggested' in the wake of Dallas police shootings
The President, who was speaking at the end of a Nato summit in Warsaw, intends to cut short his current trip to Europe and visit Dallas early next week
Tim Walker
Dallas
Saturday 09 July 2016 22:10 Comments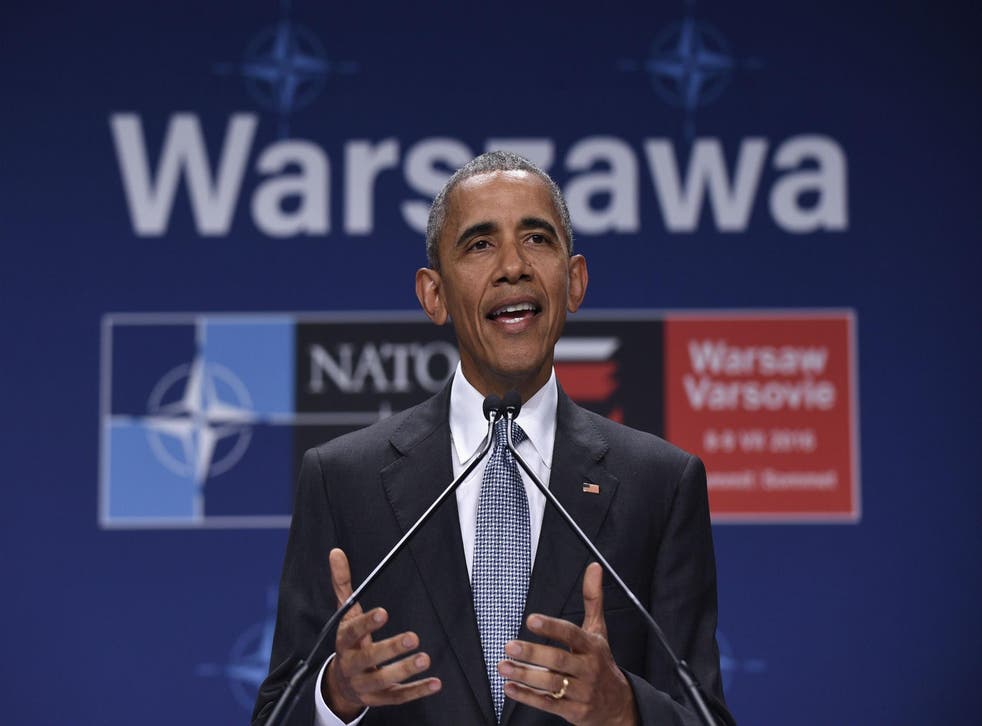 US President Barack Obama has insisted that "America is not as divided as some have suggested", following the murder of five Dallas police officers on Thursday, amid a peaceful rally over the recent police shootings of black men. After announcing plans to cut short his current European tour to return to the US, Mr Obama said: "Americans of all races and all backgrounds are rightly outraged by the inexcusable attacks on police."
Mr Obama, who was previously scheduled to travel back to Washington DC on Monday, will instead depart from Spain on Sunday night, returning to the US to pay tribute to the fallen officers and address national anxieties over race and policing on a trip to Dallas early next week.
Speaking in Warsaw, where he was attending a Nato summit, Mr Obama argued that alarm regarding police misconduct and support for the police in general were not mutually exclusive attitudes. "There is sorrow, there is anger, there is confusion about next steps," he said. "But there is unity in recognising this is not how we want our communities to operate. This is not who we want to be as Americans."
He went on: "We cannot let the actions of a few define all of us. The demented individual who carried out the attacks in Dallas is no more representative of African-Americans than the shooter in Charleston is representative of white Americans, or the shooters in Orlando or San Bernardino are representative of Muslim-Americans."
As the first black US President, Mr Obama is unique among occupants of the Oval Office in his capacity and willingness to address racial tensions. Yet he has also presided over a period in which those tensions appear to be as fraught as at any time since the Civil Rights era.
Rejecting the idea of a return to the 1960s, however, Mr Obama said he would reconvene an existing, White House-led task force of activists, civil rights leaders and law enforcement officials to tackle the troubled relationship between police and the black community. He also singled out the Dallas Police Department as "a great example of a department that is taking police shootings seriously."
It is almost two years since Michael Brown, an unarmed black teenager, was shot dead by a white police officer in Ferguson, Missouri, sparking violent unrest in the St Louis suburb that was repeated months later when a grand jury cleared the officer of wrongdoing. Since then, police killings in Baltimore, New York, Cleveland, Charleston and elsewhere in the US have generated a series of protests – some peaceful, some less so – and lent increasing prominence to the anti-police brutality Black Lives Matter movement.
Last week, the fatal police shootings of 37-year-old Alton Sterling in Louisiana and Philando Castile, 32, in Minnesota, were both captured on video, causing renewed and widespread anger, with demonstrations organised in several US cities.
Hours before the violence broke out in Dallas, Mr Obama lent his support to the Black Lives Matter movement in a speech that argued for law enforcement reform while also urging "appreciation and respect" for police officers, whose work he described as hard and often dangerous. "When people say 'Black Lives Matter,' that doesn't mean blue lives don't matter," he said.
As news of the Dallas attack broke, Mr Obama returned to the podium in Poland to say he was "horrified" by the shootings, which he called a "vicious, calculated and despicable attack on law enforcement".
Some conservative politicians and pundits nevertheless accused Mr Obama of complicity in fomenting the attack, with Republican Texas congressman Roger Williams saying in a statement: "The spread of misinformation and constant instigation by prominent leaders, including our president, have contributed to the modern day hostility we are witnessing between the police and those they serve".
Speaking to right-wing radio host Rush Limbaugh, commentator Heather MacDonald accused Mr Obama of having "embraced the Black Lives Matter myth that there is a racist war by white officers against black civilians in this country."
On Friday, peaceful demonstrations over police brutality went on in cities including Atlanta, Philadelphia and even London, where hundreds marched through Westminster chanting the now-familiar Black Lives Matter slogan, "Hands Up, Don't Shoot".
In Dallas on Saturday morning, a makeshift memorial to the dead continued to swell with flowers, candles and cards as members of the public mingled with officers in the plaza outside police headquarters. "I love you police. You are brave," went one simple tribute from a child. Another hastily scrawled message read: "All Lives Matter #Obama #Hillary #Trump."
Eva Weathers, 61, had come with her family from the nearby suburb of Grand Prairie to pay her respects. "This has brought the community and the police closer together – but there wasn't any tension before that," said Ms Weathers, who is African-American. "Dallas is different. The black community is much closer to the police than in other cities. We're proud of that."
Hillary Clinton, the presumptive Democratic presidential nominee, said she would continue to call for criminal justice reform even as she mourned the loss of the five Dallas officers, telling a conference of the African Methodist Episcopal Church in Philadelphia: "There is too much violence, too much hate, too much senseless killing, too many people dead who shouldn't be. No one has all the answers. We have to find them together."
In an uncharacteristically measured response to the bloodshed, Ms Clinton's Republican rival, Donald Trump, cancelled campaign stops and said in a recorded video that the Dallas shootings had "shaken the soul of our nation," but added: "The deaths of Alton Sterling in Louisiana and Philando Castile in Minnesota also make clear how much more work we have to do to make every American feel that their safety is protected."
Register for free to continue reading
Registration is a free and easy way to support our truly independent journalism
By registering, you will also enjoy limited access to Premium articles, exclusive newsletters, commenting, and virtual events with our leading journalists
Already have an account? sign in
Join our new commenting forum
Join thought-provoking conversations, follow other Independent readers and see their replies