Dan Johnson: Kentucky politician says child sexual assault claims are part of smear campaign against Republicans
'I don't think in every case women lie. Not at all,' says Kentucky state representative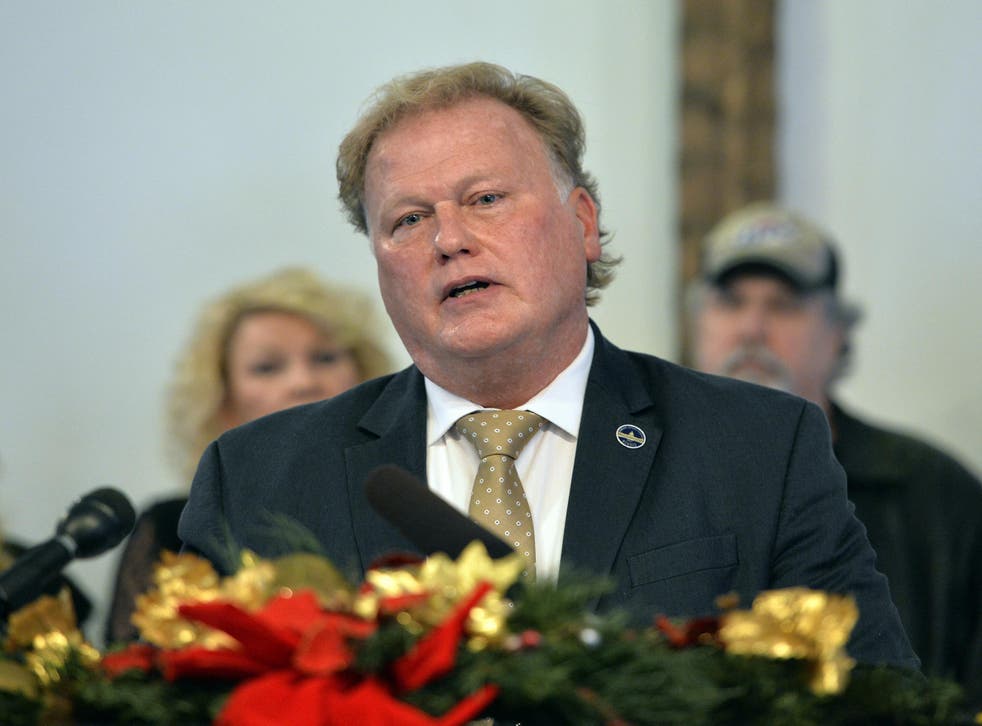 A Kentucky state representative has said allegations he sexually assaulted a 17-year-old member of his church are part of a broader smear campaign against Republicans.
Dan Johnson, who gained headlines for comparing Barack and Michelle Obama to monkeys last year, has faced calls to resign from both Republican and Democratic congressional leaders in the wake of the child sexual assault allegations.
The Kentucky Centre for Investigative Reporting published a story on Monday reporting allegations the Republican lawmaker woke his daughter's friend, Maranda Richmond, up during a sleepover in January 2013 and forced himself on her.
Ms Richmond, who was also a member of the church, claims Mr Johnson put his hands up her bra and down her knickers despite her begging him to stop. She said he eventually left and she managed to leave early in the morning before he woke up.
Police documents from an interview with Ms Richmond in 2013 support what Ms Richmond told the Kentucky Center for Investigative Reporting.
Mr Johnson has strenuously denied the allegations – branding her story "totally false" - and rejected calls to resign.
He argued it was part of a ploy to take down Republicans running for office and cited the example of Roy Moore – the Republican facing accusations from multiple women of sexual misconduct who just lost to Republican Doug Jones in the Senate race in Alabama.
Alabama Senate race: Roy Moore vs Doug Jones

Show all 12
"I don't think in every case women lie. Not at all," Mr Johnson said during an announcement at his church on Tuesday.
"I think it is the season. Last election it seemed to be racism. This one seems to be sexual impropriety. If the police or anyone involved had thought that this was a real case, don't you think they would have pursued that? There is no way they would have let up if they thought there was something to it."
Police documents found by the Kentucky Centre for Investigative Reporting show a detective closed the case because Ms Richmond would not cooperate. However, Ms Richmond has denied this and insisted she did not once want to stop the investigation.
While Mr Johnson, who won the House's 49th District seat in 2016, said he remembered the night of the alleged incident, he said "there was nothing that really happened."
His wife, Rebecca Johnson, has backed up his denial, saying Ms Richmond was sleeping in the same bed as the couple's daughter. She branded the accusations "crazy".
Referring to Ms Richmond, his wife said: "She had a lot of issues in her life and we tried to be friendly with her, be a family close to her. I counselled her a lot, just like a daughter. I don't know, I guess that didn't go over real good."
Mr Johnson said: "I don't want to blast this girl, I have a lot of compassion for her. I'm very sorrowful that she's in this dark place in her life."
He added: "For this to be laid against me as an accusation is horrible. I'm mad as can be. No one wants to be accused falsely."
Mr Johnson is listed as the bishop of Heart of Fire Church in Louisville – a place of worship which is famed for its "gun choir" which includes the lawmaker and others clutching an assortment of pistols and AKs while singing "Amazing Grace".
The Kentucky Centre for Investigative Reporting's report shows how Mr Johnson, who calls himself the "Pope" of his Louisville church, managed to build an image of himself as a pro-gun, pro-life "patriot" over the years.
Mr Johnson's denial comes after Mr Moore lost to Mr Jones in an embarrassing defeat in Alabama on Tuesday night. Mr Jones, who rose to fame for prosecuting two former Ku Klux Klan members who bombed a black church, signalled the first Democrat win of such a seat in the state for two and a half decades.
Mr Moore, who gained the backing of President Donald Trump, has denied the allegations launched against him and rebuffed them as an attempt to undermine his campaign.
Mr Johnson had not responded to The Independent's request for comment on the allegations at the time of publication.
Join our new commenting forum
Join thought-provoking conversations, follow other Independent readers and see their replies