David Copperfield accused of drugging and sexually assaulting teenage model
'I just completely blacked out,' claims Brittney Lewis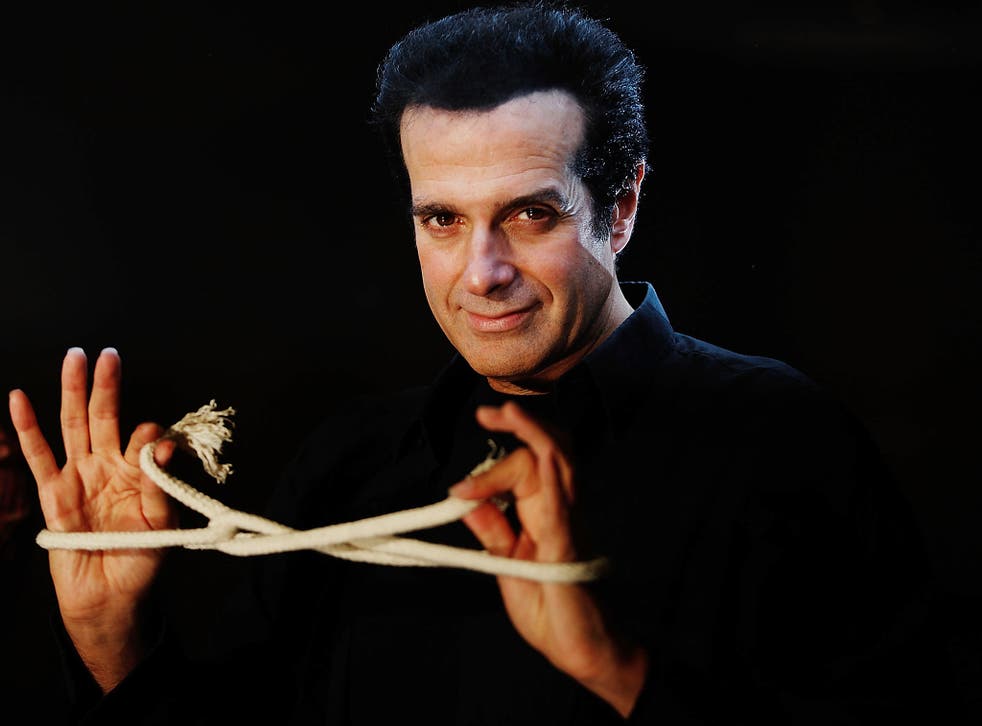 Veteran magician David Copperfield has been accused of drugging and sexually assaulting a 17-year-old model in 1988.
The accusations against him emerged just hours after he released a statement about the Me Too campaign, which saw him offer support for the movement while urging people not to "rush to judgement" once an accusation has been made.
Within hours, former model Brittney Lewis came forward to accuse Copperfield of sexual assault.
She claimed the illusionist invited her to one of his California shows after judging a modelling contest which she was competing in.
As she was only 17 at the time, Copperfield asked her grandmother Patricia Burton, for permission to travel to the show, Ms Lewis told The Wrap website. Ms Burton reportedly confirmed the story.
After the show Ms Lewis alleged that she witnessed the magician pour something into her drink while the two were at the bar.
She said: "I asked, 'What are you doing?' And he said, 'Oh, I'm just sharing'."
She added: "I remember my clothes being taken off. He was kissing my face and then I remember him starting to go down my body with his face, and then, as soon as he started going down, I just completely blacked out."
Ms Lewis claimed she woke up the next morning and Copperfield said "nothing happened" because she "was underage".
Highest paid magicians

Show all 7
Copperfield, now 61, allegedly made her write a letter saying she was okay after the incident allegedly took place.
The magician, who Forbes describe as the most commercially successful illusionist in history and a estimate to be worth $850m (£595m), appeared to be aware that Ms Lewis was about to go public with her allegations.
Shortly before the story broke, he released a statement about the Me Too campaign via social media.
He said: "The #MeToo movement is crucial and long overdue. We all want people who feel they've been victims of sexual misconduct to be empowered, and as a rule, we should listen, so more will feel comfortable coming forward. It's important."
He added: "But imagine what it's like, believing in the movement, and having also been falsely accused publicly in the past."
He appeared to be referring to accusations made in 2007 by former beauty queen Lacey Carroll, accused Copperfield of imprisoning and assaulting her at his Bahamas home. But although the claims were investigated, no charges were brought against him.
Copperfield said that accusations had turned his life and his family's life "upside down".
He added: "Three years and hundreds of stories reported on a false claim investigated by the FBI, where the end result was that the accuser was caught by law enforcement making the same false claim about another man. The proof was on tape. The accuser was arrested and charged.
"I've lived with years of news reports about me being accused of fabricated, heinous acts, with few telling the story of the accuser getting arrested, and my innocence. Knowing that false accusers can negatively impact the believability of others and are a true disservice to those who have been victims of sexual misconduct, I didn't draw attention to it.
"So while I weather another storm, I want the movement to continue to flourish."
Copperfield, who was named the world's highest paid magician in 2017 for the second year in a row, has walked through the Great Wall of China, made the Statue of Liberty disappear and levitated over the Grand Canyon.
He also manages his chain of eleven resort islands in the Bahamas which he calls "Musha Cay and the Islands of Copperfield Bay".
The Independent contacted Copperfield's representatives for comment, but none had arrived at the time of publication.
Register for free to continue reading
Registration is a free and easy way to support our truly independent journalism
By registering, you will also enjoy limited access to Premium articles, exclusive newsletters, commenting, and virtual events with our leading journalists
Already have an account? sign in
Register for free to continue reading
Registration is a free and easy way to support our truly independent journalism
By registering, you will also enjoy limited access to Premium articles, exclusive newsletters, commenting, and virtual events with our leading journalists
Already have an account? sign in
Join our new commenting forum
Join thought-provoking conversations, follow other Independent readers and see their replies