David Petraeus quits as head of the CIA after extra-marital affair
Most decorated soldier of his generation admits 'poor judgement' in tendering his resignation to the President
Richard Hall
Saturday 10 November 2012 09:00 Comments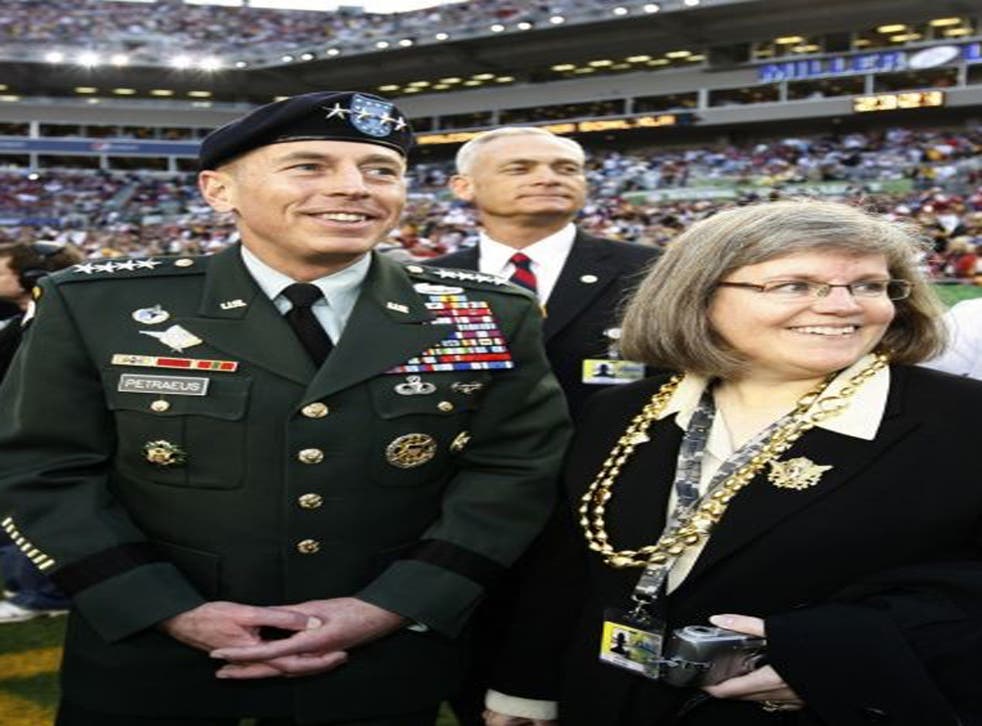 The director of the Central Intelligence Agency (CIA) resigned from his post yesterday, citing an extramarital affair as the reason for stepping down.
The sudden and unexpected departure of David Petraeus, a former four-star general who led the US military's involvement in Iraq and Afghanistan before becoming head of the powerful intelligence agency last year, came days after President Barack Obama was re-elected to the White House.
In a statement explaining his decision, Mr Petraeus said that the President had accepted his resignation. "After being married for over 37 years, I showed extremely poor judgement by engaging in an extramarital affair," Mr Petraeus wrote. "Such behaviour is unacceptable, both as a husband and as the leader of an organisation such as ours."
Mr Obama last night praised Mr Petraeus's "extraordinary service" to the United States. "By any measure, he was one of the outstanding general officers of his generation, helping our military adapt to new challenges and leading our men and women in uniform through a remarkable period of service in Iraq and Afghanistan, where he helped our nation put those wars on a path to a responsible end," Mr Obama said.
Mr Obama added that Michael Morell, the agency's long-time deputy director, would serve as acting CIA chief for the immediate future. Mr Morell had previously served as acting director following the departure of former CIA chief Leon Panetta.
Mr Petraeus's resignation comes at a trying period for the CIA, which has been busy fending off criticism for its handling of an attack on a US consulate in Benghazi, Libya, on 11 September.
The attack led to the death of US Ambassador Christopher Stevens and three other members of his diplomatic mission.
In the weeks since the incident, the US State Department and the CIA have offered different accounts of the event, and have engaged in a unusually public dispute over who was responsible for the security failure at the compound where the attack took place.
Mr Petraeus was scheduled to testify on the matter at a closed hearing before the House Intelligence Committee hearing next week.
While it is not clear whether Mr Petraeus will now attend that hearing, what is apparent is that yesterday's revelations have brought to an abrupt end the career of the US military's most respected figures.
As Commander of the International Security Assistance Force in Iraq, the then General Petraeus was widely credited for the "surge" of more than 20,000 soldiers there that helped improve security during the last years of the George W Bush administration.
Following his success there he was placed in charge of the US war effort in Afghanistan. There too, he led an increase in troop numbers into the country in an effort to bring about stability, but was unable to repeat his success.
Last year, Mr Petreaus was persuaded by Mr Obama to leave the Army after 37 years and take charge of the CIA. He took up the role in September 2011
Register for free to continue reading
Registration is a free and easy way to support our truly independent journalism
By registering, you will also enjoy limited access to Premium articles, exclusive newsletters, commenting, and virtual events with our leading journalists
Already have an account? sign in
Join our new commenting forum
Join thought-provoking conversations, follow other Independent readers and see their replies