David Rockefeller dead: Billionaire philanthropist and head of Chase Manhattan dies aged 101
Infamous banker passed away peacefully in his sleep in New York home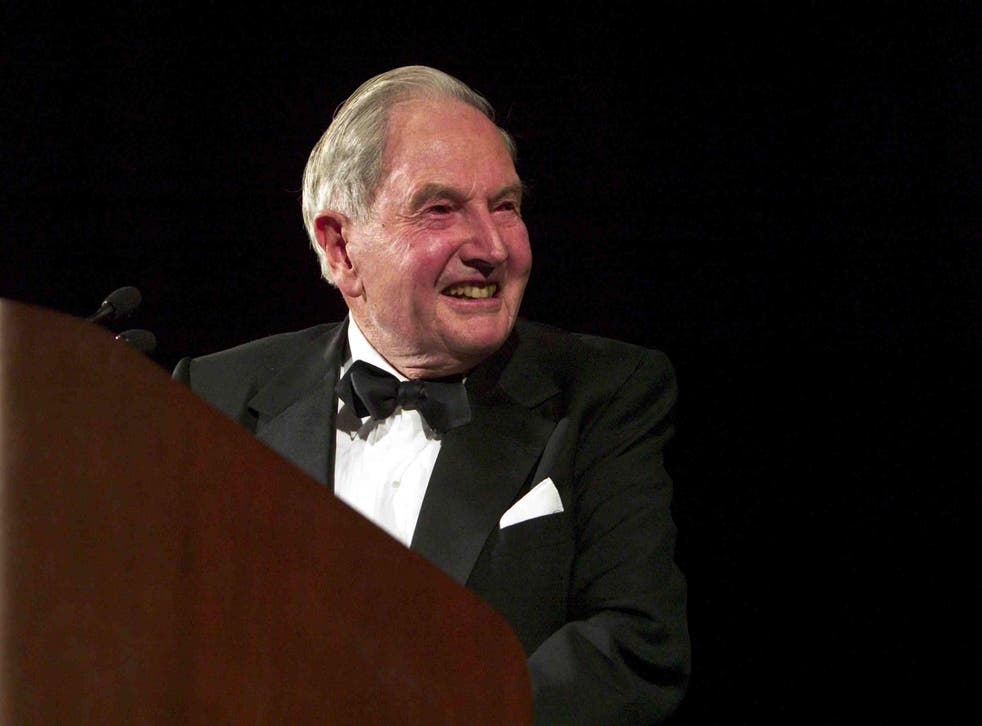 Billionaire philanthropist David Rockefeller has died at the age of 101.
His spokesperson Fraser P Seitel said the banker died peacefully in his sleep in his Pocantico Hills home in New York on Monday morning.
Rockefeller, who controlled Chase Manhattan bank for more than a decade, was the grandson of Standard Oil co-founder John D Rockefeller. The oil tycoon built such a hefty fortune he became America's first billionaire.
The late banker was the oldest living member of the fabled Rockefeller family - one of the most recognisable family names in America and one of the country's most famously philanthropic families.
Rockefeller, who is the sixth child of John D Rockefeller Jr, has been said to be the most influential of his siblings. While serving as chairman and chief executive of Chase Manhattan, it became widely known as "David's bank" as it expanded operations globally.
Notable deaths in 2016

Show all 42
The banker, who Forbes estimate to have a fortune of $3.3billion, was an influential voice on the world stage and advised many US presidents in his time.
He was known for his philanthropic efforts and marked his 100th birthday in 2015 by giving 1,000 acres of land next to a national park to the state of Maine. He earned himself a Presidential Medal of Freedom, the nation's highest civilian honor, in 1998, for his philanthropy.
Particular elements of the Rockefeller brothers' upbringing became famous, such as a 25-cent allowance, portions of which had to be kept aside for savings and charity.
But his public image was not free from controversy. He came under fire for his bank's substantial dealings with South Africa's white separatist regime and for helping the deposed and terminally ill shah of Iran come to New York for treatment back in 1979, the move that sparked the 13-month US embassy hostage crisis in Tehran.
Born in New York, he grew up in an eight-story house at 10 West 54th Street - the tallest private home ever built in the city at that time. The son of fellow financier John D Rockefeller Jr and socialite Abigail Greene "Abby" Aldrich, he was the youngest of six children. After attending the experimental Lincoln School in 123rd Street in Harlem, he went on to graduate from Harvard in 1936.
After serving in the army during the second world war, he quickly made progress at Chase Bank and was named as the company's president in 1961. It was not until 1981 that he retired at the age of 65.
Being born into such a wealthy family, he unsurprisingly lived much of his life in opulent splendour and privilege. As a young boy in Manhattan, he would roller-skate along Fifth Avenue trailed by a limousine just in case he or his siblings became tired.
Additional reporting from Associated Press
Join our new commenting forum
Join thought-provoking conversations, follow other Independent readers and see their replies