'Polar vortex' snowstorm plunging America into record-breaking cold snap may bring coldest day of 21st century
With Arctic winds plummeting temperatures to  -50C, much of North America has shut down as authorities warn of the life-threatening freeze
Tim Walker
Monday 06 January 2014 19:20 Comments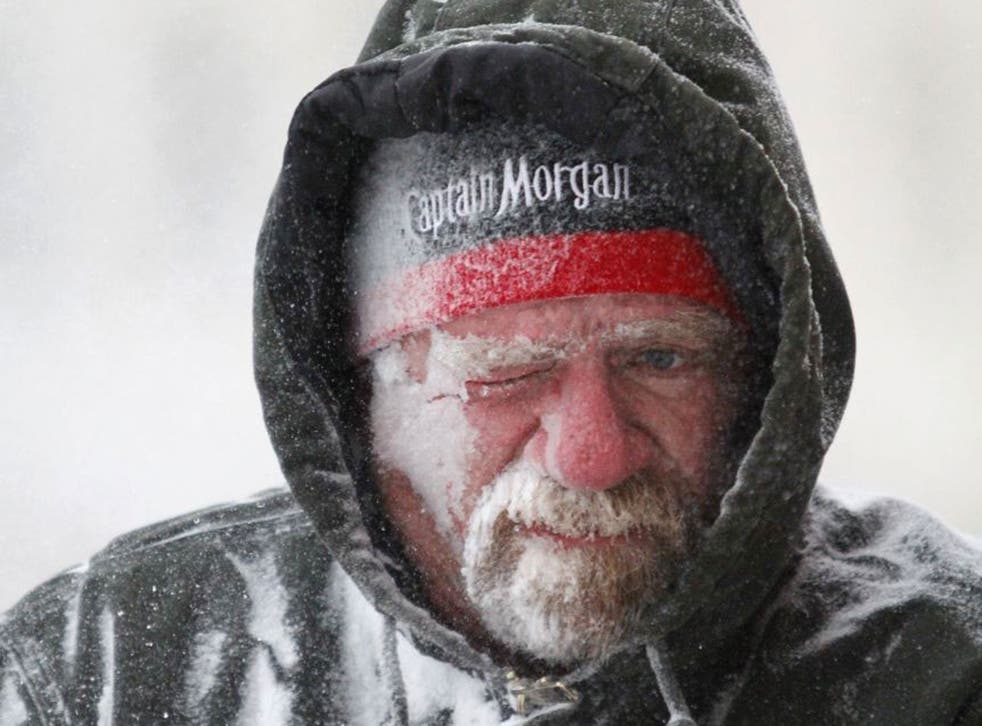 The coldest weather conditions for two decades show little sign of relenting in parts of America, as forecasters predict freezing temperatures could make today the coldest on record in the 21st century.
The dangerously cold polar air snapped decades-old records as it spread Tuesday from the Midwest to southern and eastern parts of the US and eastern Canada, making it hazardous to venture outside and keeping many schools and businesses closed.
Monday's temperatures broke records in Chicago, which set a record for the date at minus 16 Fahrenheit (minus 27 Celsius), and elsewhere.
In Toronto, a message on Pearson International Airport's official Twitter account Tuesday morning said "extreme cold (is) causing equipment freezing and safety issues for employees. Ground stop in effect until at least 9 a.m."
It sounds like a plot device from a bad disaster movie, but for vast swathes of North America, the weather phenomenon known as a " polar vortex" has become all too real, bringing misery to millions across the US and Canada, along with the lowest temperatures seen in almost twenty years.
More than 3,000 flights had been cancelled across the region by 10am yesterday morning. A further 3,700 had already been cancelled during the weekend. Schools were closed in major cities such as Chicago and St Louis, and residents advised to remain indoors.
Read more


Matt Rogers, president of Commodity Weather Group in Bethesda, Maryland, told Bloomberg today could beat 16 January, 2009, the coldest day of the century.
The Governor of Minnesota closed all the schools in his state, while the mayor of Indianapolis, Greg Ballard, banned driving except in emergencies – the first time the city has issued such a strict travel warning since 1978. Mr Ballard said: "This extreme cold poses a serious health and safety risk and for that reason the city is asking people to proactively prepare."
In many areas, particularly in the Midwest and Northern Plains, the cold was considered life-threatening. Hypothermia is a major risk at temperatures of below -25C, while frostbite can take hold in less than 10 minutes at -37C. At ‑45C, uncovered skin could freeze within five minutes. The windchill in Comertown, Montana, close to the border with Canada, is expected make temperatures feel as low as -52C.
In pictures: 'Polar vortex' hits US Midwest and Northeast

Show all 30
Chicago's National Weather Service office reported that Monday's low of -26C at O'Hare International Airport beat a record set in 1884 and equalled in 1988. In Fargo, the largest city in North Dakota, temperatures sank below ‑35C. Motorists were advised in that state and its neighbour South Dakota to carry survival kits and a charged mobile phone in case they found themselves stranded in the perilous weather.
At least 13 people are thought to have died as a result of the extreme conditions already, including several road accidents, a man who succumbed to hypothermia in Wisconsin, and a worker crushed by a massive pile of road salt at a storage facility in Philadelphia. An elderly Alzheimer's sufferer from rural New York state wandered out into the snow; she was later found dead from the cold, around 100 yards from her home.
The arctic freeze only exacerbated the problems caused by a weekend of heavy snowfall that had covered parts of Canada and the northern US in up to 60cm. In Detroit, where 25cm fell, the heavy snow was thought to have caused a roof to collapse, though no one was killed in the incident.
Meanwhile in St Louis, shopping centres, cinemas, restaurants and several major tourist sites were shuttered, including the zoo and the city's famous Gateway Arch. Even a nearby ski resort, Hidden Valley, was forced to close its slopes.
In Newfoundland, Canada, a power outage on Sunday left 90,000 homes without electricity, a pattern repeated in several locations across the US. Though northern states were the worst affected, record-breaking low temperatures were also expected as far south as Atlanta. While farmers in South Dakota worried about keeping their cattle alive through the dangerous chill, down in Florida, citrus farmers were reported to be equally concerned about the effect of a prolonged freeze on their crops.
There was at least one good news story to emerge from the bad weather, however. The family of a missing New York man, 20-year-old Nicholas Simmons, found him sleeping rough on the streets of Washington, DC, thanks to a newspaper gallery illustrating the effects of the polar vortex.
Mr Simmons reportedly left his home in upstate New York last Wednesday evening. His family reported him missing and set up a Facebook page to plead for help in finding him. Then, on Sunday, a photograph of a young homeless man warming himself on a Washington steam grate, taken by the Associated Press photographer Jacquelyn Martin, appeared in a photo-spread in USA Today.
The young homeless man was Mr Simmons, whose mother spotted the image and contacted Ms Martin and Washington DC police, who found the young man still in the area where he had been photographed. He was taken to hospital and later reunited with his parents.
Register for free to continue reading
Registration is a free and easy way to support our truly independent journalism
By registering, you will also enjoy limited access to Premium articles, exclusive newsletters, commenting, and virtual events with our leading journalists
Already have an account? sign in
Join our new commenting forum
Join thought-provoking conversations, follow other Independent readers and see their replies