Death penalty: Oklahoma votes to execute prisoners by asphyxiating them with nitrogen
Politicians say it is cheap and humane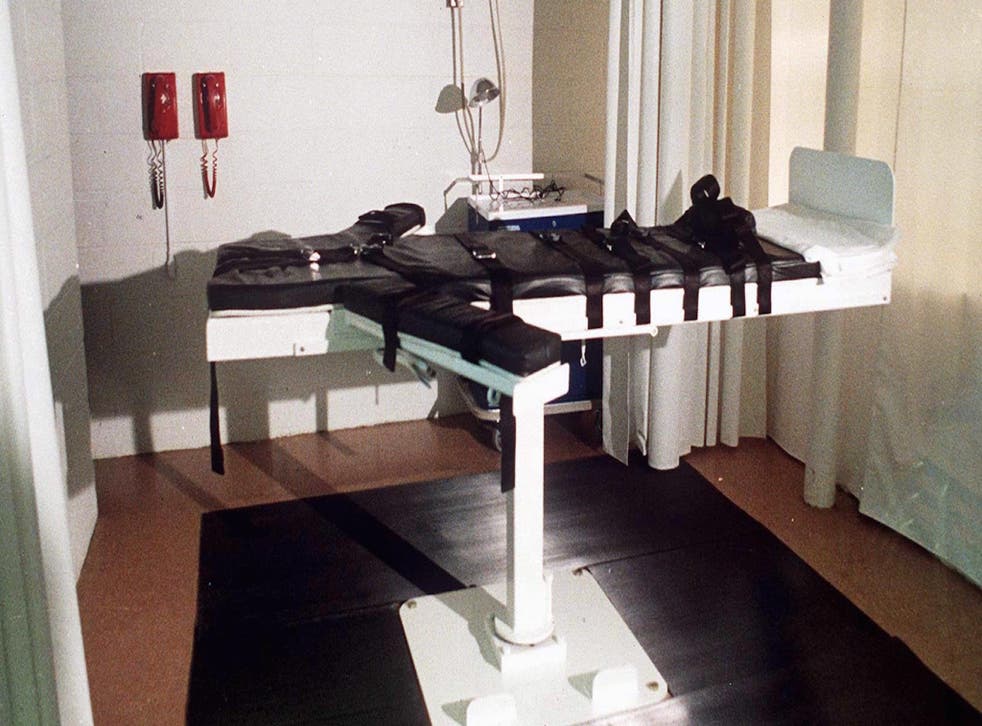 Politicians in the state of Oklahoma have come up with a new and largely untested way to execute death row prisoners – asphyxiation with nitrogen.
After the US Supreme Court put on hold the execution of three inmates due killed by lethal injection and amid an ongoing struggle to obtain the drugs used in the injection, politicians voted overwhelmingly to allow nitrogen be used.
State Representative Mike Christian, a Republican who sponsored the bill, claimed the process would be both painless for inmates and affordable for Oklahoma.
"Nitrogen hypoxia is a better way. It's a more humane way," he told Reuters. "I believe the use of nitrogen hypoxia will be the thing of the future once it's passed in Oklahoma."
Last week, the Oklahoma House of Representatives voted 85 to 10 to allow nitrogen be to be used. The process, which would require an inmate to be in a sealed chamber or wear a special mask, would slowly replace oxygen with nitrogen. The bill now has to be approved by the Senate.
In January, the US Supreme Court said it was temporarily halting the execution of three Oklahoma inmates who are challenging the state's lethal injection procedure.
The method has been under intense scrutiny since the flawed April 2014 execution of convicted murderer Clayton Lockett. He could be seen twisting on the gurney after death chamber staff failed to place the needle into him properly. The execution was halted and Lockett died about 45 minutes after it started due to a buildup of lethal injection chemicals in his tissue.
Yet despite the politicians claims that nitrogen asphyxiation is safe and painless, it appears there is little hard data on its use; no other state uses this method for putting inmates to death although a commission in Louisiana recently recommended using nitrous gas to kill condemned prisoners.
"I think you have to be concerned about that," Robert Dunham, of the Death Penalty Information Centre, told The Independent. "The absence of any scientific basis for the gas reduces the execution to an experiment and we do not know what will happen."
The Washington Post said Mr Christian commissioned a report from East Central University which recommend it as "a humane method to carry out a death sentence". However, the paper said none of those who carried out the study had a background in medicine or biology while one of the professors helped Mr Christian in his election campaign.
Amid the controversy over the use of lethal injections, many states have been looking to secure an alternative method of execution. Utah, which outlawed death by firing squad in 2004, voted last week to reinstate it while Tennessee and Alabama have voted to use the electric chair as a back-up method.
Register for free to continue reading
Registration is a free and easy way to support our truly independent journalism
By registering, you will also enjoy limited access to Premium articles, exclusive newsletters, commenting, and virtual events with our leading journalists
Already have an account? sign in
Register for free to continue reading
Registration is a free and easy way to support our truly independent journalism
By registering, you will also enjoy limited access to Premium articles, exclusive newsletters, commenting, and virtual events with our leading journalists
Already have an account? sign in
Join our new commenting forum
Join thought-provoking conversations, follow other Independent readers and see their replies