Outrage after police filmed kneeling on back of pregnant black woman
Protests continue amid demands for Kansas City police chief to resign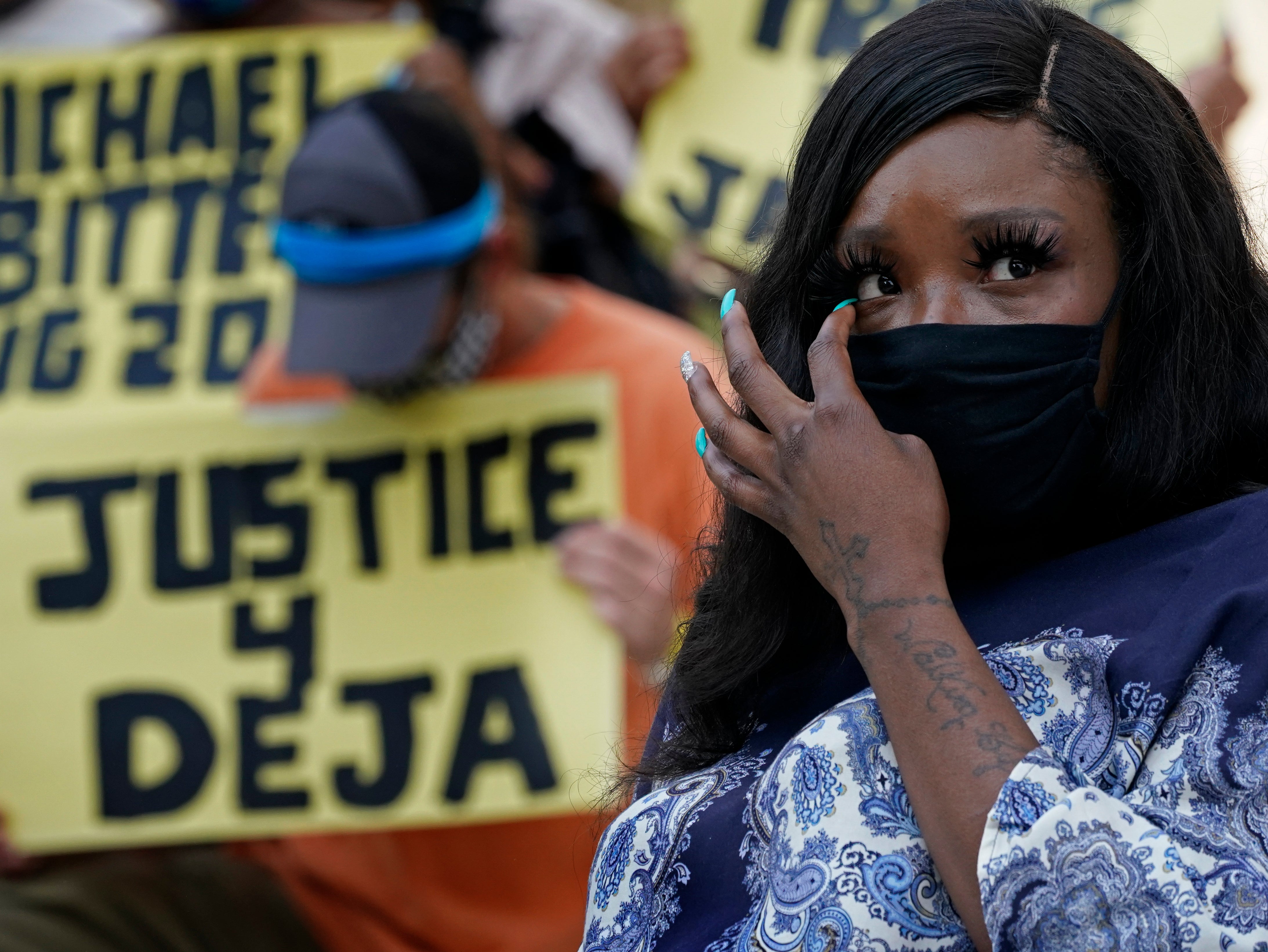 Protests have continued in Kansas City amid condemnation at a video showing an officer kneel on a black pregnant woman's back in an arrest last week.
Deja Stallings, who is nine-months pregnant, was held-down during her arrest on 30 September, in scenes similar to the arrest of George Floyd, who died in Minneapolis police custody in May.
Video posted on social media showed one police officer kneeling on the 25-year-old's back outside a gas station, whose security guard had called 911 with reports of a 20-person fight.
The Kansas City Police Department said in a statement that Stallings ended up on the ground because she had resisted arrest whilst standing.
Officers were instructed upon their arrival at the gas station to remove "everyone off the property who wasn't buying anything," including Stallings and as many as 20 others.
The crowd, said Kansas City police, then attempted to intervene in one man's arrest, and "At that time, a woman and man tried to pull the suspect away from officers,"
Security camera footage from the gas station showed some members of the group shoving each other before police arrived, which then led to the altercation involving Stallings.
The woman's attorney, Stacy Shaw, told CNN that she had not tried to pull the suspect away.
Stallings can be seen sepping between an officer and the man who avoided arrest and ran, whilst the pregnant woman moves out of view of the security camera.
That is when she resisted arrest, according to the police statement, and is seen in mobile video footage minutes later with an officer kneeling on her back.
On Thursday, Stallings struggled to address a crowd of demonstrators stationed outside Kansas City Hall, where she broke down in tears and sat down.
Stallings lawyer, Ms Shaw, read her statement, in which she described the physical pain and a bruise that endures on her back a week after the arrest.
"I cry every day because I am scared for my baby," she said. "My baby girl has not even been born yet and she is a victim of police brutality. I am trying to stay strong but I know my baby is a fighter. She needs to be the last child who is a victim of the KCPD. She needs the demands of this occupation to be met."
The attorney said doctors have checked the unborn baby, named Dsyre, and she appears to be healthy.
Protesters have demanded the resignation of Kansas City police chief Richard Smith and for the city to redirect 50 per cent of the department's budget to social services aimed at the city's Black community, the lawyer said.
Kansas City police spokesman captain David Jackson told CNN that "the chief will not be resigning," whilst the officers still remain on duty, pending an investigation.
Additional reporting by Associated Press.
Join our commenting forum
Join thought-provoking conversations, follow other Independent readers and see their replies